Five minutes with McQueen's jewelry master, Shaun Leane
You've got to hand it to Shaun Leane. The jewelry designer whose custom creations have adorned Bjork, Daphne Guinness and the Sultan of Brunei can conjure up breathtaking reveries on one hand (like his swirling...
---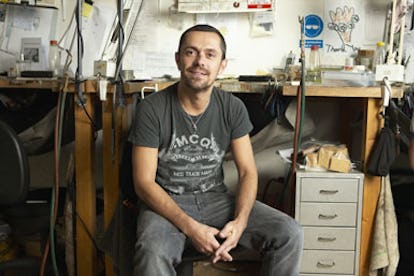 What are you doing to celebrate your tenth anniversary? We're having an exhibition. It was scheduled to be at the end of this year, but it looks like we're going to move it to the beginning of next year. We haven't even picked a venue, as we've been busy working on another project.
Which is? A bespoke piece I'm making for one particular client that I've been working on for about three years now. I wanted to unveil it first because it will be part of the ten-year celebration.
Who's the client and what is the piece like? That's under wraps, sorry. But you can think along the lines of what I do for Alexander McQueen—it decorates the body. But this time the piece is actually 18k white gold and diamonds.
What's been the most challenging piece you've ever been asked to do? The coiled corset for Alexander McQueen [from fall 1999, at left]. I had about two-and-a-half months to make the piece. We carved a concrete model of the girl so I had a template to work around. Every coil was made by hand and she was screwed down the side with little brackets. She was actually cocooned.
Do you have a favorite McQueen show? The one that sticks in my mind the most is the robot show [from spring 1999]. At the end he had a model walk out in a beautiful white dress with a big leather strap around the bust. And he had these two big robot arms, like those arms that spray paint cars. She spun around like a ballerina out of a jewelry box and these arms sprayed her with paint. It was amazing.
Above, a "glove" designed in collaboration with Daphne Guinness
Do you remember the very first piece you designed? I was at school and it was a knife, actually. Everyone else was making filigree spoons and I was the only one in the class who made a knife. I was 15.
If you weren't a jeweler, what would be your calling? An archaeologist. I love the idea of finding things and objects that have been around for thousands of years—I think that's why I love jewelry. Even now, if I gave up jewelry, I think I'd go to Egypt, start digging up the dead bits. Why not?