Mr. Know-It-All
A novel approach to the Web has brought Wikipedia's Jimmy Wales a unique sort of fame.
---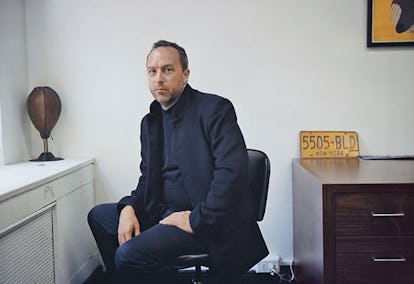 A nondescript man with thinning brown hair and a slight paunch is minding his own business at an airport. He is oblivious to a nearby stranger who is excitedly alerting the Web site Twitter to the man's presence. "I see Jimmy Wales at the airport," the spy texts.
Cut to a subway in Taiwan, where a fan spots the nondescript man and gets him to pose for a photo. The fan posts it online with a tagline: "I meet Jimmy Wales in Taipei!!!!"
At the Apple store in New York's SoHo, the man is merely trying to get his laptop serviced. "Are you the Jimmy Wales?" gasps a girl behind the counter.
Jimmy Wales isn't your usual swoonworthy celebrity sighting. He's hardly George Clooney or Tom Cruise. The founder of Wikipedia, the free online encyclopedia and the eighth-most-visited Web site in the world, ranking just behind MySpace, Wales, 42, is famous for revolutionizing the way information is gathered and disseminated on the Internet. In the seven years since he launched the site—which, unlike a traditional encyclopedia, is written and edited by its own readers rather than a paid staff—he's become an Internet celebrity, conference hopping to events such as the World Economic Forum in Davos, Switzerland; vacationing with Richard Branson and Jimmy Carter on Necker Island; and hobnobbing with Tony Blair, Al Gore and Bono. "Jimmy has a cultlike following, and I count myself a member," says the U2 frontman via e-mail. "But Wikipedia is actually an anticult. It is the democratization of information in a world where knowledge is power." All the while, gossip and tech Web sites like Valleywag have devoted almost as much attention to dissecting the twice-married Wales's love life as US Weekly has to Brangelina.
Wales with Steven Wynn, Martha Stewart and Ralph Nader.
"It's kind of weird," says Wales over lunch at Country in Manhattan. "It's intense fame."
Which is heady stuff for a guy who grew up the son of a grocery store manager in Huntsville, Alabama—a self-described "geek" who used to fill his free time after his job as a futures trader by writing computer code for fun and who had never traveled farther than Canada and Mexico until he started Wikipedia. But humble beginnings didn't prevent Wales from dreaming big. "He's always had high ambitions," remembers his first wife, Pam, whom he married at age 20 back in Alabama. "He was so sure of himself…. [I remember] flipping through the Robb Report at the grocery store where we worked, and there was this castle in England, and he said, 'Yeah, we're going to have that one day. I'm going to be a millionaire before I'm 40.' And it's like he's had a game plan ever since."
Though Wales doesn't have a castle or even a jet yet, his many followers, who refer to him as the "WikiPope," feel that his fame is still in its early stages. The Web site is groundbreaking, to say the least. It's available online in more than 250 languages and grows daily, bringing Wales ever closer to his self-proclaimed goal of spreading free knowledge to the entire world. It's also shockingly up-to-date: Wikipedia revealed Tim Russert's death almost 40 minutes before NBC's announcement. Alongside the encyclopedia, the nonprofit Wikimedia Foundation also runs free online offshoots like Wiktionary (a dictionary), Wikibooks (educational textbooks), Wikisource (a library), Wikinews, Wikiquote (a compendium of famous quotations) and Wikiversity (a learning site where students can follow courses like "Introduction to Swedish")—all of which consist of user-generated content. And Wales now travels so frequently as the face of the foundation that he carries his passport at the ready.
"Wikipedia is the history of our times," says Wales's friend Craig Newmark, creator of Craigslist. "It used to be that the people who won the wars got to write our history. Wikipedia changes that, since everyone has a chance to participate."
Wales believes that Wikipedia could even help save the world. "I'm a big advocate of freedom: freedom of speech, freedom of expression, freedom of thought," says Wales, who considers himself a libertarian. "What can we put into the hands of people under oppressive regimes to help them? For me, a big part of it is information, knowledge—the ability to defeat propaganda by understanding it. We can use technology to get information into people's hands." But as an avowed atheist and someone who once ran a Web group devoted to Ayn Rand's philosophy of objectivism, he bristles at the idea that his mission is in any way altruistic. "Altruism is sacrificing your own values for others. That participating in a benevolent effort to share information is somehow destroying your own values makes no sense to me," says Wales.
"To him, altruism was evil," remembers Pam, who says that Wales therefore discouraged her from pursuing a nursing degree when they were married. "His whole 'Mr. Save the World' is so contrary to what he said every day for seven years."
Some members of the very community in which Wales is a celebrity say all the jetsetting has turned this former soft-spoken nerd into a self-involved egoist. After the site took off, there were reports of fallings-out with former associates and misuse of the foundation's expense account (Wales and foundation officials denied any wrongdoing). He also edited his own Wikipedia biography, altering a sentence identifying a former colleague as Wikipedia's cofounder (this is a big etiquette no-no: Wikipedia policy states that "unsourced material obtained from a Wikipedian's personal experience" is a violation, and Wales later told the press he regretted having done it).
"The only thing that matters to him [now] is fame," says a former associate. "I miss the old Jimmy Wales."
As Wales's profile grew, those close to him say he also started dressing in extravagant outfits such as a red satin Mao jacket (though he now wears all black because "everything matches"), took to referring to himself as the "benevolent dictator" of Wikipedia in internal e-mails and became prone to name-dropping. "I can't speak to you right now; I have to go pour Nelson Mandela his orange juice," one colleague remembers Wales saying on the phone.
This spring he landed in the news when he broke up with sexy Canadian political pundit Rachel Marsden via an announcement on his Wikipedia user page. Shortly thereafter, steamy instant messages between them surfaced on Valleywag, and Marsden—who's hardly press-shy herself—put Wales's clothes up for sale on eBay. "He's as phony as a three-dollar bill," says Marsden now. "I think his driving force might be to live like a rock star and bang lots of chicks." After the scandal, Wales wrote on his blog that he was separated from his second wife (with whom he has a daughter), but he declined to comment on Marsden or his marriage for this story.
Wales mugs at the 2006 Time magazine 100 Most Influential People dinner, with, from top, Mort Zuckerman, Condoleezza Rice and Arianna Huffington
Wales himself occasionally laments that by making Wikipedia not-for-profit, he's missing out on the $5 billion that one estimate pegs as its worth. (Reportedly, a now removed section of his Wikipedia bio estimated Wales's worth as less than $1 million.) "I always joke it was the dumbest thing or the smartest thing I ever did," he says. He won't make that mistake again. In 2004 he started the for-profit Wikia Inc.—a so-called "wiki farm" backed by such investors as Amazon.com and fellow cybercelebs Pierre Omidyar of eBay and Lotus founder Mitch Kapor­—where users create Web sites about subjects like Grand Theft Auto. And earlier this year Wales also launched Wikia Search, a user-controlled search engine that is aiming to take a bite out of Google's 60 percent domestic market share. But Wales downplays his latest maneuvers toward commercial success. "I just get up every day and do what seems like the most interesting, fun thing to do," he insists.
His friend John Perry Barlow, cofounder of the digital-rights advocacy organization Electronic Frontier Foundation and a former Grateful Dead lyricist, believes him. "Jimmy has a mission," he says. "Had he changed a few elements of Wikipedia, he would've had starlets and yachts in the French Riviera. But he doesn't have any interest in getting toxically wealthy. He's deeply committed to the right to know and giving people the opportunity to learn."
But if Wales's current projects grow as exponentially as Wikipedia has, he may well be reveling on the Riviera after all. "We are still in the very beginnings of the Internet," he says happily. "I like to think about how there are about a billion people online now, and in the next five to 10 years there is going to be the next billion coming online. Interesting things are going to happen."
Wales mugs at the 2006 Time magazine 100 Most Influential People dinner, with, from top, Mort Zuckerman, Condoleezza Rice and Arianna Huffington; and with Steven Wynn, Martha Stewart and Ralph Nader.
Additional Pphotos: Patrick McMullan/PMC