A Guide to the Hogwarts Uprising Against J. K. Rowling
Daniel Radcliffe, Emma Watson, and more alums respond to J. K. Rowling's transfiguration into a TERF.
---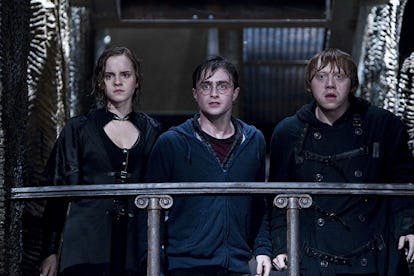 © 2011 Warner Bros. Entertainment Inc.
It's been five days since J. K. Rowling decided that now—amidst a pandemic, a nationwide uprising, and Pride Month—would be the right time to remind her 14 million-plus Twitter followers that she does not consider transgender women to be real women. And for four blessed days, it seemed like that was that. But on Wednesday, the Harry Potter author went above and beyond in proving she wasn't finished: She posted (and blocked the replies to) a tweet linking to a 3,670 word blog post that only made things that much worse.
At first, the outrage was simple. Fans have speculated that Rowling might be a TERF—shorthand for a trans-exclusionary radical feminist—for years, at least since she liked a prominent anti-trans campaigner's tweet about "men in dresses" in 2018. (Rowling's spokesperson later dismissed it as a "middle-aged moment," though never clarified Rowling's beliefs.) That certainly wasn't the first hint of Rowling's potential transphobia, and certainly not the last. On Saturday, the 54-year-old author jokingly expressed her skepticism at using the term "people who menstruate" instead of "women." But there was nothing joke-y about the tone of the tweet storm that followed, prompted by replies—which now exceed 31,000—from followers who disagreed.
Rowling didn't just use her blog post to acknowledge the criticism and expand on her beliefs. She made it unequivocally clear that she fits the definition of a TERF, and is still completely ignoring or simply not caring about the dangers of publicly attacking one of society's most vulnerable communities. Oh, and she also dragged people with autism into the mix.
At this point, even the Human Rights Campaign has weighed in, denouncing Rowling's "appalling" use of "her massive platform to spread anti-trans propaganda," and accusing her of "trafficking in harmful lies at a time when the trans community is facing unspeakable violence."
To say legions of Harry Potter fans are crushed may be an understatement. Among them are several of the films' stars, who are now using their platforms to fight back. Rowling, of all people, should have seen that coming; Hogwarts may no longer be Harry's home, but it's always home to the resistance.
Katie Leung
Roughly 12 hours after Rowling posted her first tweet, Katie Leung (aka Cho Chang) became the first Hogwarts alum to publicly weigh in—sort of. "So, you want my thoughts on Cho Chang? Okay, here goes…(thread)," she tweeted on Sunday morning. The thread was instead a series of ways to support the Black Lives Matter movement, followed by the hashtag "#AsiansForBlackLives." Once a Ravenclaw, always a Ravenclaw.
Noma Dumezweni
This isn't Noma Dumezweni's first Harry Potter drama rodeo; even after Rowling clarified that she "loves black Hermione," some fans couldn't wrap their heads around the Harry Potter and the Cursed Child role going to Dumezweni. And while the British actress has alternated between defending and denouncing Rowling—"I'm confused," she wrote on Wednesday, after deleting one of her tweets—she definitely started out on a critical note.
Daniel Radcliffe
The first real response to Rowling came from Harry Potter himself. It turned out Daniel Radcliffe had been silent up until Monday because he was busy writing an essay in response—and worrying that the media would construe it as "in-fighting" between Rowling and himself. "While Jo is unquestionably responsible for the course my life has taken, as someone who has been honored to work with and continues to contribute to The Trevor Project for the last decade, and just as a human being, I feel compelled to say something at this moment," Radcliffe wrote. The nonprofit, which provides crisis and suicide intervention services to LGBTQ youth—also provided Radcliffe with a crucial statistic: "78% of transgender and nonbinary youth reported being the subject of discrimination due to their gender identity."
"Transgender women are women," Radcliffe continued. "Any statement to the contrary erases the identity and dignity of transgender people and goes against all advice given by professional health care associations who have far more expertise on this subject matter than either Jo or I."
Radcliffe's longest—and seemingly sincerest—paragraph was his conclusion. "To all the people who now feel that their experience of the books has been tarnished or diminished, I am deeply sorry for the pain these comments have caused you," he wrote. Rowling's sentiments, he seemed to acknowledge, go against the series's core messages, leading to what. And he also seemed to make a bold suggestion to readers: remove any association between Rowling and Harry Potter. "If these books taught you that love is the strongest force in the universe, capable of overcoming anything; if they taught you that strength is found in diversity, and that dogmatic ideas of pureness lead to the oppression of vulnerable groups; if you believe that a particular character is trans, nonbinary, or gender fluid, or that they are gay or bisexual; if you found anything in these stories that resonated with you and helped you at any time in your life—then that is between you and the book that you read, and it is sacred. And in my opinion nobody can touch that. It means to you what it means to you and I hope that these comments will not taint that too much."
Emma Watson
It was only a matter of time before Emma Watson (aka Hermione) spoke up, but it took much longer than fans would have thought. For many, the hours between Rowling's blog post and Watson's response were filled with anxiety, but eventually, the actress delivered via four tweets. The celebrations that followed were filled with memes.
Bonnie Wright
Bonnie Wright (aka Ginny Weasley) responded shortly after Rowling shared her blog post. The 29-year-old actress kept it short and sweet: "If Harry Potter was a source of love and belonging for you, that love is infinite and there to take without judgment or question. Transwomen are Women. I see and love you."
Evanna Lynch
None of the actors who've spoken up on Twitter have @-ed Rowling. But Evanna Lynch (aka Luna Lovegood) was one of the first to explicitly cite Rowling's name. On Tuesday, she tweeted four screenshots of her Notes app. "I think it's irresponsible to discuss such a delicate topic over Twitter through fragmented thoughts and I wish Jo wouldn't," Lynch wrote, going on to aim most of her criticism at the app, not Rowling: "That said, as a friend and admirer of Jo I can't forget what a generous and loving person she is. I am so sad to see fans reduce Jo to her tweets and seemingly dismiss her incredible philanthropic work and her determination to help humanity." Lynch's fans didn't mince words in how they felt about that response:
Eddie Redmayne
On Wednesday, the criticism expanded outside of the main Harry Potter universe—and that was even before Rowling shared her blog post. Eddie Redmayne, who stars in the spin-off franchise Fantastic Beasts, issued a statement to Variety, making it "absolutely clear" that he disagrees with Rowling: "Respect for transgender people remains a cultural imperative, and over the years I have been trying to constantly educate myself. This is an ongoing process." (And one that seems to have come a long time since 2015, when Redmayne's portrayal of a trans woman in The Danish Girl won him an Oscar nom.)
Honorary Alums
At this point, the vast majority of fans seem to be done with Rowling, and ready to move on. Currently, they're at the "crying over all the new damning details and laughing at all the new memes" stage of grief.
Related: J. K. Rowling Sues Her Former Personal Assistant for Spending Her Money on Cats