Joaquin Phoenix and Rooney Mara Are Reportedly Expecting a Child
The notoriously private couple is allegedly expecting their first child.
---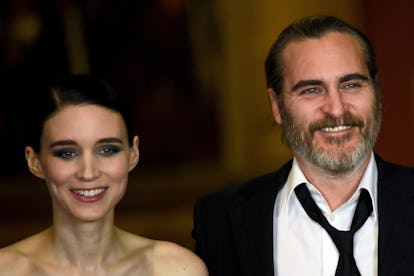 Dave J Hogan/Getty Images
Many have theorized that the pandemic will end in both a lot of breakups, and a lot of babies. For everyone who speculated that there would be a lot of babies by the time we're all let out of quarantine, well here's another drop in your bucket: Joaquin Phoenix and Rooney Mara are allegedly going to the next Hollywood power couple to become parents.
Last summer it was reported that the couple (who had already been living together) were engaged to be married. The two had collaborated on Spike Jonez's 2013 film Her, but didn't start dating until after they had wrapped Mary Magdalene, a retelling of the relationship between Mary Magdalene (played by Mara) and Jesus (played by Phoenix). Though historical record cannot confirm this to be fact, the controversial biblical figure is a woman who some claim had at least two children with Jesus in the first century.
Now, Page Six and The Daily Mail report that Phoenix and Mara are expecting a child, although the couple has yet to make an official announcement of their own. Quarantined together in Los Angeles—where the paparazzi has made it a mission to capture the glove-wearing, hand sanitizer distributing pair every time they run an errand—both Phoenix and Mara have kept their characteristic low profile, so it should not come as a surprise that they have not shouted about a reported pregnancy thus far. It's just not their style.
This would be the first child for both Mara and Phoenix, who one might assume could inherit the spirit of activism present in Phoenix, who urged people to combat their participation in the systemic racism present in Hollywood as well as teaming up with animal activists at a Los Angeles slaughterhouse during awards season, and Mara, who recently went undercover to investigate factory farms.
Whether or not Phoenix and Mara will have a socially distant wedding or baby shower in due time remains to be seen, but one thing is for sure—there will be no pie.