Jodie Foster Is Not Afraid to Compare Superhero Movies to the Fracking Industry
Wonder Woman be damned, the actress-director is most definitely not a fan of superhero movies.
---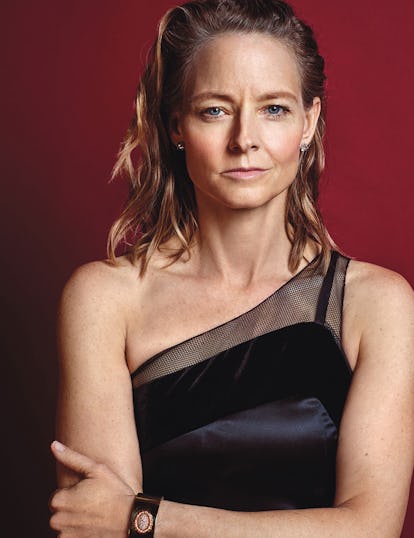 Photo by Mario Sorrenti, styled by Edward Enninful.
Ever since the Harvey Weinstein scandal broke in October, opening the floodgates for an extremely belated discussion about sexual harassment and sexism, proffering outspoken opinions about the way Hollywood operates has become almost de rigueur for those in the industry (and plenty of other fields, too). That's already continued into 2018, as 300 prominent actresses, agents, writers, directors, producers and entertainment executives, including Reese Witherspoon, Shonda Rhimes, and Selena Gomez, announced they've formed an initiative to address the industry's rampant sexual harassment—and "recognize [their] privilege" in having such a platform, promising to include working class women in their efforts to have "all victims and survivors … able to access justice and support for the wrongdoing they have endured."
Now, on the second day of 2018, more strongly worded opinions from another prominent woman in Hollywood have been circulating—though Jodie Foster has opted for quite a different topic than what you might expect. The actress-director—who, by the way, already made the case that "every man over 30 has to really look and start thinking about their part" in sexual harassment—just directed a new episode of Black Mirror, and is now doing her best to make sure you don't get the wrong idea about the direction she's headed in, not to mention her feelings about the industry at large.
"I don't want to make $200-million movies about superheroes," Foster, who's long been something of an industry superhero herself, having kicked off her career at just 12 with an Academy Award-nominated role opposite Robert De Niro in Taxi Driver, told Radio Times last week. "It's ruining the viewing habits of the American population and then ultimately the rest of the world."
"It" more specifically refers to the current climate of cinema—or how, in the words of Foster, "going to the movies has become like a theme park." To further illustrate the way she sees it, she made a comparison to hydraulic fracturing, an extremely destructive and polarizing method of extracting natural gas, which several states and countries have banned: "Studios making bad content in order to appeal to the masses and shareholders is like fracking—you get the best return right now but you wreck the earth."
Still, Foster hasn't completely ruled out superhero movies, which definitely have seen some changes as of late, with the runaway success of Wonder Woman and the highly anticipated release of Black Panther beginning to diversify the genre's age-old formula. The actress-director conceded she'd consider making a superhero movie only if said superhero had "really complex psychology." No one would doubt her capacity to dream up such a protagonist, though, after her Black Mirror episode starred a single mom who implanted software into her daughter's head when she was a toddler allowing her to see what she can see.
Related: Forty Years After Taxi Driver, Jodie Foster Recalls the Making of a Classic
Jodie Foster Makes the Case That "Sting Is the Perfect Man":