Joe Jonas Didn't Get a Tattoo of Sophie Turner, But the Couple Does Have Matching Body Art
Tattoo artist Curt Montgomery shared a photo of Sophie Turner's thigh featuring a new tattoo that matches one fiancé Joe Jonas got a few weeks ago.
---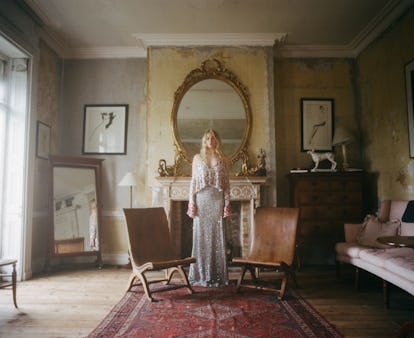 Sophie Turner wears an Altuzarra dress, $24,000, altuzarra.com. Photo by Cole Sprouse, styled by Ryann Foulke.
Earlier this month, Joe Jonas sent the internet into a tailspin when he posted a photo on Instagram of his newest ink, done by Toronto-based tattoo artist Curt Montgomery, featuring a simple line drawing of a naked woman with her eyes closed and knees pulled to her chest, all enclosed in a small box. At the time, many speculated that it was a rendering of his fiancé Sophie Turner, possibly in character as Sansa Stark in Game of Thrones.
That speculation seems to have been disproved by Turner herself, who appeared on Curt Montgomery's Instagram page a week after Jonas. (Cosmopolitan discovered the post.) That photo, a close-up of the front of Turner's thigh, shows a tattoo that looks a lot like Jonas's — another line drawing of what looks like the same woman, this time with her back turned, looking over her shoulder — and it seems unlikely that she would get a tattoo of herself. Though the photo doesn't show Turner's face, it's definitely her leg, since the double-banded diamond engagement ring with which Jonas proposed to her in October is fully visible in the shot.
Turner has been inked by Montgomery before: On March 12, the day after Jonas showed off his own tat, Turner posted a photo of a faceless rabbit freshly tattooed on the back of her arm, tagging Montgomery in the caption.
Related: Joe Jonas and Sophie Turner's Vacation Includes a $45,000-a-Night Private Island