Sophie Turner And Joe Jonas Are Engaged
Turner made the announcement on Instagram.
---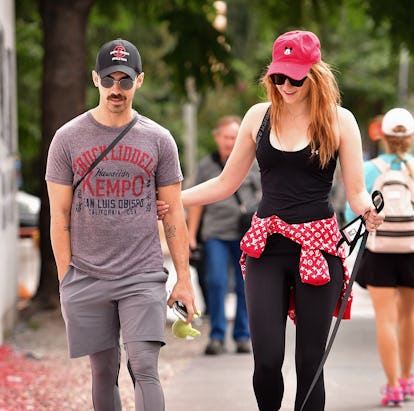 James Devaney/GC Images
Game Of Thrones star Sophie Turner, 21, and DNCE frontman Joe Jonas, 28, are officially engaged. The couple, who have been dating for about a year and adopted a Siberian husky together last month, made the announcement via a chic picture of their hands, featuring a sizable teardrop-shaped diamond ring, posted to Turner's Instagram and captioned simply, "I said yes." Jonas posted the same photo on his Instagram, and similarly captioned it, "She said yes."
Less than an hour after going up, the post has already attracted hundreds of supportive comments from fans excited to see the young lovers make it legal. It will also be nice to see Turner involved in a wedding that she's actually excited for, unlike the many tragic nuptial ceremonies her character on Thrones has partaken in or witness.
The couple has been semi-private about their relationship, sometimes hinting at it in interviews and often posting pictures of one another on social media, but they don't do red carpets together or any joint appearances. But this news is too big to keep from the public, and everyone wants to wish them well. Joe's brother Nick Jonas also tweeted the picture with a message of congratulations:
Joe is the second of the Jonas Brothers to find himself a wife; big brother Kevin got married in 2009 to Danielle Deleasa, and they now have two adorable daughters.
We're still waiting for a post from Turner's Game Of Thrones co-star and real-life best friend, Maisie Williams, but we're sure it's forthcoming. Turner told W this summer, "Maisie and I have the purest form of true, true friendship…She's been my rock. We are kind of the only two people who know what it feels like to go through this very scenario from pretty much the same background, and ending up where we are and kind of finding ourselves as we go. I think that's why people respond so well to our friendship, I guess. They see the true, pure love between us."
The two even appeared on Carpool Karaoke together. Maisie's definitely the frontrunner for maid of honor.
Congratulations to the happy couple! Here's hoping their wedding is as wonderful as The Red Wedding was terrible.
Related: Cole Sprouse Photographed Game of Thrones Star Sophie Turner for New Shoot
How Sophie Turner Has Grown Up on the Red Carpet, From Game of Thrones to X-Men
Sophie Turner attends the DVD premiere of Game of Thrones at Old Vic Tunnels on February 29, 2012, in London. Photo courtesy of Getty Images.

Getty Images
Sophie Turner attends the Elle Style Awards on February 11, 2013, in London. Photo courtesy of Getty Images.

Getty Images
Sophie Turner attends HBO's Game of Thrones season three San Francisco Premiere on March 20, 2013, in San Francisco. Photo courtesy of Getty Images.

Getty Images
Sophie Turner attends the Another Me photo-call during the 8th Rome Film Festival at the Auditorium Parco Della Musica on November 15, 2013, in Rome. Photo courtesy of Getty Images.

Getty Images
Sophie Turner attends the Another Me premiere during the 8th Rome Film Festival at Auditorium Parco Della Musica on November 15, 2013, in Rome. Photo courtesy of Getty Images.

Getty Images
Sophie Turner attends the Game of Thrones season four New York premiere at Avery Fisher Hall, Lincoln Center, on March 18, 2014, in New York City. Photo courtesy of Getty Images.

Getty Images
Sophie Turner attends the Arqiva British Academy Television Awards at Theatre Royal on May 18, 2014, in London. Photo courtesy of Getty Images.

Getty Images
Sophie Turner attends the Glamour Women of the Year Awards at Berkeley Square Gardens on June 3, 2014, in London. Photo courtesy of Getty Images.

Getty Images
Sophie Turner attends Entertainment Weekly's annual Comic-Con celebration at Float at Hard Rock Hotel San Diego on July 26, 2014, in San Diego. Photo courtesy of Getty Images.

Getty Images
Sophie Turner attends the 21st Annual Screen Actors Guild Awards at the Shrine Auditorium on January 25, 2015, in Los Angeles. Photo courtesy of Getty Images.

Getty Images
Sophie Turner attends HBO's Game of Thrones season five premiere and afterparty at the San Francisco Opera House on March 23, 2015, in San Francisco. Photo courtesy of Getty Images.

Getty Images
Sophie Turner attends the 67th Annual Primetime Emmy Awards at Microsoft Theater on September 20, 2015, in Los Angeles. Photo courtesy of Getty Images.

Getty Images
Sophie Turner attends Entertainment Weekly's Celebration Honoring the 2016 SAG Awards Nominees held at Chateau Marmont on January 29, 2016, in Los Angeles. Photo courtesy of Getty Images.

Getty Images
Sophie Turner attends the 88th Annual Academy Awards at Hollywood & Highland Center on February 28, 2016, in Hollywood. Photo courtesy of Getty Images.

Getty Images
Sophie Turner attends the X-Men: Apocalypse Global Fan Screening at BFI IMAX on May 9, 2016, in London. Photo courtesy of Getty Images.

Getty Images
Sophie Turner arrives at the premiere of HBO's Game of Thrones season six at the TCL Chinese Theatre on April 10, 2016, in Hollywood. Photo courtesy of Getty Images.

Getty Images
Sophie Turner attends the Louis Vuitton show as part of the Paris Fashion Week women's wear fall/winter 2016/2017 on March 9, 2016, in Paris. Photo courtesy of Getty Images.

Getty Images
Sophie Turner attends the Kineo Diamanti Award Ceremony during the 73rd Venice Film Festival on September 4, 2016, in Venice, Italy. Photo courtesy of Getty Images.

Getty Images
Sophie Turner arrives at the 68th Annual Primetime Emmy Awards at the Microsoft Theater on September 18, 2016, in Los Angeles. Photo courtesy of Getty Images.

Getty Images
Sophie Turner attends the Louis Vuitton show as part of the Paris Fashion Week women's wear spring/summer 2017 on October 5, 2016, in Paris. Photo courtesy of Getty Images.

Getty Images
Sophie Turner attends the 74th Annual Golden Globe Awards at the Beverly Hilton Hotel on January 8, 2017, in Beverly Hills. Photo courtesy of Getty Images.

Getty Images
Sophie Turner attends the Louis Vuitton show as part of the Paris Fashion Week women's wear fall/winter 2017/2018 on March 7, 2017, in Paris. Photo courtesy of Getty Images.

Getty Images
Sophie Turner attends the 70th EE British Academy Film Awards (BAFTA) at Royal Albert Hall on February 12, 2017, in London. Photo courtesy of Getty Images.

Getty Images
Sophie Turner attends the 23rd Annual Screen Actors Guild Awards at the Shrine Expo Hall on January 29, 2017, in Los Angeles. Photo courtesy of Getty Images.

Getty Images
Sophie Turner attends "Rei Kawakubo/Comme des Garçons: Art of the In-Between" Costume Institute Gala at the Metropolitan Museum of Art on May 1, 2017, in New York City. Photo courtesy of Getty Images.

Getty Images
Sophie Turner attends the Louis Vuitton 2018 resort show at the Miho Museum on May 14, 2017, in Koka, Japan. Photo courtesy of Getty Images.

Getty Images
Sophie Turner attends an event in honor of Louis Vuitton and Nicolas Ghesquière at Lincoln Center in New York City on November 30, 2017. Photo courtesy of Getty Images.

Getty Images
Sophie Turner attends the Louis Vuitton show during Paris Fashion Week fall/winter 2018 on March 6, 2018, in Paris. Photo courtesy of Getty Images.

Getty Images
Sophie Turner attends the 2019 Billboard Music Awards at MGM Grand Garden Arena on May 1, 2019, in Las Vegas. Photo courtesy of Getty Images.

Getty Images
Sophie Turner attends a screening of Game of Thrones season eight at the Waterfront Hall on April 12, 2019, in Belfast, Northern Ireland. Photo courtesy of Getty Images.

Getty Images