Joey King and Jack Kilmer Are Really Into Each Other in Summer '03 Trailer
Your next favorite coming-of-age film.
---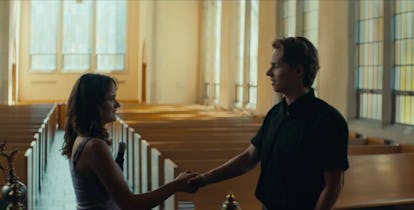 Youtube
Joey King might be having a better 2018 than anyone else. After breaking out—and gaining 6 million followers because of it—in The Kissing Booth, the actress is getting ready for her next major coming-of-age film: Summer '03.
Today brings the first look at the film, which costars Jack Kilmer (son of Val Kilmer), Paul Scheer, Erin Darke, Stephen Ruffin, Kelly Lamor Wilson, Logan Medina, and June Squibb. In it, King plays 16-year-old Jamie, who's forced to navigate high school and her first love in the wake of her grandmother's death.
"I don't have much time left," her grandmother tells her as the trailer opens. "One thing in this world that you need to know: Learn how to give a good——." She never does finish her sentence. At the funeral, Jamie's life is changed when she meets Luke, played by Kilmer, an altar boy at her local church.
"I don't believe in love at first sight, but I do believe in seeing someone and knowing instantly they're gonna matter to you," King says in a voice-over as they get to know each other in the film, which was written and directed by Becca Gleason.
King recently opened up about Summer '03, telling Deadline, "You'll come of age when you see this. Everybody's going to come of age!… [Jamie is] your typical teenage girl. She's kind of lost. She's exploring options and she's making mistakes, and it's awesome and it's crazy and it's funny."
The film isn't just a coming-of-age story for teens, though—Jamie's parent also experience their own ups and downs. "Every character here goes through a little bit of a journey," as Scheer explained to Deadline. "Now that I've become a parent, you realize that parents are not like this flawless person who knows the answers to everything. So my wife and I, played by Andrea Savage, we also go a little bit nuts around this matriarch dying, and so it's interesting to see."
King couldn't be more thrilled for the movie to come out, as she shared on Instagram. "HOLY SHIZ IM SO EXCITED!!," she wrote. "My movie Summer '03 hits theaters in a limited release SEPTEMBER 28th ?!!!