Jo Malone Edited John Boyega Out of His Own Ad Campaign in China
The actor has stepped down from his role as Jo Malone London's first male global ambassador after the brand edited him out of his own advertisement.
---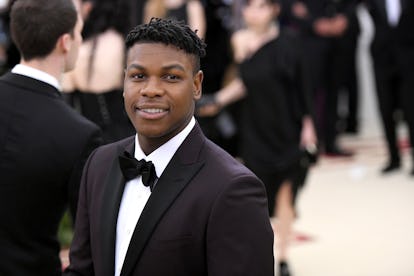 Photo by Noam Galai/Getty Images for New York Magazine
John Boyega made history when he was named fragrance house Jo Malone London's first male global ambassador in 2019. The actor, who created the idea behind the short film that launched the campaign in addition to directing it, appeared in the video alongside his real-life friends and family.
Now, he has decided to step down from the position, due to what the fragrance brand has called a "misstep" in a statement given to The Hollywood Reporter.
It was more than just a simple blunder, though. In fact, what happened is something that happens far too often, and passes through far too many channels of approval without raising enough red flags to put an end to the decision before it becomes a mistake.
Rather than just airing the advertisement that Boyega already filmed, Jo Malone created a shot-for-shot remake in which they replaced Boyega with Liu Haoran, a Chinese actor. Boyega's campaign took place in the Peckham area of London, as an homage to his hometown and Nigerian heritage, as well as the neighborhood's ethnically diverse demographic. Not a single Black person was included in the remade advertisement that aired as part of Jo Malone's campaign in China.
"John is a tremendous artist with great personal vision and direction. The concept for the film was based on John's personal experiences and should not have been replicated," the apology from Jo Malone London read. "While we immediately took action and removed the local version of the campaign, we recognize that this was painful and that offense was caused."
It's not the first time the actor has had a brush with anti-Blackness within Chinese media. When Star Wars: The Force Awakens was released in 2015, the poster distributed for the film in China shrunk down the depiction of Boyega's character Finn, making him barely visible. Characters in the film that were portrayed by Oscar Isaac and Lupita Nyong'o were removed entirely from the Chinese version of the movie poster.
And just a couple weeks ago, Boyega discussed the minimization of his character that occurred in the scripts and in Disney's rollout of the Star Wars sequels he was initially supposed to be a much larger part of, as well as the other characters of color in the film portrayed by Kelly Marie Tran and Oscar Isaac. "You get yourself involved in projects and you're not necessarily going to like everything," he said. "[But] what I would say to Disney is do not bring out a Black character, market them to be much more important in the franchise than they are and then have them pushed to the side. It's not good. I'll say it straight up."
Jo Malone has since removed the remake of Boyega's campaign, but the actor's sister, Grace Boyega, shared the edited version of the advertisement that aired in China on Twitter, alongside the original. "While many brands understandably use a variety of global and local ambassadors, dismissively trading out one's culture this way is not something I can condone," Boyega wrote of the incident on Twitter. The actor has yet to be compensated for the brand's misuse of his creative direction in another copycat video.
Related: Naomi Campbell Says Her Ads Still Don't Run in Some Countries Because of "the Color of My Skin"