John Boyega Speaks Out About His Character's Treatment in 'Star Wars'
In a new interview, the actor tells the story behind his speech at the London Black Lives Matter rally, and how Disney didn't do his character Finn justice.
---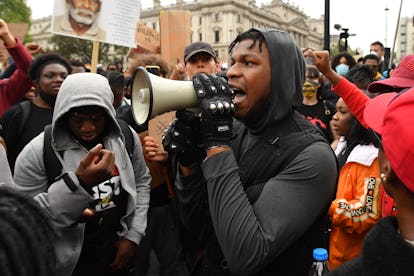 The last time the general public saw John Boyega was not in his 2015 breakout role as Finn in Star Wars: Episode VII — The Force Awakens—a character that arguably thrust the Peckham-born actor into stardom. It was on June 3, 2020, when Boyega appeared at a Hyde Park rally in London, during the crest of the Black Lives Matter protests. "I need you to understand how painful this shit is," he said at the time in front of a crowd of people, holding back tears. "I need you to understand how painful it is to be reminded every day that your race means nothing. That isn't the case anymore. It was never the case."
In a new interview with GQ, Boyega has told the story behind that scene, in addition to laying bare a series of revelations associated with his time on set for Star Wars and while working with Disney.
According to the article, the 28-year-old actor went to the demonstration with plans to "protest quietly." But when Black Lives Matter organizers with whom he'd been in contact on Instagram asked whether he'd be interested in saying some words before the next scheduled speaker went on stage, he obliged—and ended up spending five minutes in front of a megaphone giving a speech that solidified his spot in the history of this movement.
But the portion of the article receiving the most attention is Boyega's comments on his role as Finn, which started out in Star Wars as a main character, then faded into obscurity thereafter.
"It's so difficult to maneuver," he told GQ. "You get yourself involved in projects and you're not necessarily going to like everything. [But] what I would say to Disney is do not bring out a black character, market them to be much more important in the franchise than they are and then have them pushed to the side. It's not good. I'll say it straight up."
"Like, you guys knew what to do with Daisy Ridley, you knew what to do with Adam Driver," he continued. "You knew what to do with these other people, but when it came to Kelly Marie Tran, when it came to John Boyega, you know fuck all. So what do you want me to say? What they want you to say is, 'I enjoyed being a part of it. It was a great experience…' Nah, nah, nah. I'll take that deal when it's a great experience. They gave all the nuance to Adam Driver, all the nuance to Daisy Ridley. Let's be honest. Daisy knows this. Adam knows this. Everybody knows. I'm not exposing anything."
The actor also stated that during the press junket for The Force Awakens, his stylist "[cringed] at certain clothes I wanted to go for," and his appointed hairstylist had zero experience working with a Black man's hair, but "still had the guts to pretend."
"Obviously, at the time, I was very genuinely happy to be a part of it," he said. "But my dad always tells me one thing: 'Don't overpay with respect.' You can pay respect, but sometimes you'll be overpaying and selling yourself short."
Following the publication of the article, Boyega urged people to read the whole piece and consider the nuance therein, rather than focusing on any potentially drama-inducing soundbites.
Related: John Boyega, Star Wars Hero, Stays Up Too Late Watching The Affair