Why Is John Mayer Seemingly at Every Wedding?
He'll always be "that guy at the wedding."
---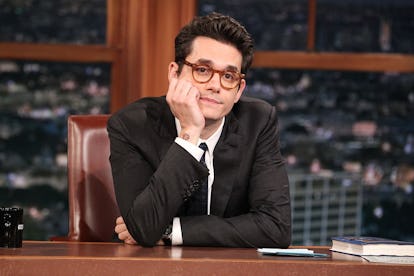 CBS Photo Archive/Getty Images
It would appear that weddings and John Mayer go together like vodka and Red Bull at the reception's open bar. Abd we're not just talking about songs like "Daughters" or "Your Body Is a Wonderland," which have been fixtures of wedding playlists over the last 17 years, but the man himself. Mayer just seems to pop up in the most surprising places.
When Boy Meets World star Danielle Fishel got married this weekend to comedian Jensen Karp, naturally Fishel's sitcom family showed up to show their support. And when Ben Savage and Will Friedle, who played brothers Cory and Eric Matthews on the '90s television series, posed for a selfie after the ceremony, a surprising guest photobombed their Instagram photo.
Sneaking into the corner of the photo is Mayer, noted wedding enthusiast. "When you try to take a cool 'Reservoir Dogs' kind of shot with your TV brother but are photobombed by John Mayer. Thanks John! My favorite picture of an amazing night at Danielle and Jensen Karp's wedding! We love you guys!" Will Friedle wrote in his Instagram caption of the photobomb. A comment of Mayer's was captured by none other than Comments by Celebs, wherein he referred to himself as "that guy at the wedding."
The Fishel-Karp union was not the only wedding Mayer turned up at in recent memory. In fact, he seems to have a penchant for appearing at some seemingly random nuptials for actors from '90s ABC family sitcoms. In October, the sad boy singer-songwriter shared a photo from the wedding of Full House's Bob Saget and his wife, Kelly Rizzo. "Like I said, I had a thing last night. And what a beautiful thing it was. Congratulations Kelly and Bob!" Mayer captioned the photo.
Mayer also once famously reunited with his now ex-girlfriend Katy Perry at Allison Williams's wedding in 2015.
And while this doesn't quite qualify as Mayer, Ubiquitous Wedding Guest, in 2017, a Thai couple made headlines for throwing a John Mayer themed wedding. The couple spoke with BBC News last year, saying, "Those who attended our wedding know how important John Mayer is to us. We love him and would have wanted him to join us but we knew that it couldn't happen, so we thought we should throw a wedding that made us feel he was with us in spirit," while showing off their viral wedding promo photo complete with the wedding hashtag #TellJohnWeGotMarried. "We wanted to portray our admiration for him. We had John Mayer masks. And we used the music we love from all his albums, his pictures as well as his quotes about love from in the reception area," the groom told reporters. Mayer himself noticed the couple's hashtag and wedding photos on Twitter, which featured a life-size cutout of the guitarist that wedding attendees posed with at the reception. "Congratulations! I want to have a John Mayer-themed wedding, too," he tweeted.
Forget having something borrowed, blue, old, or new; it seems that having Mayer at your wedding is the ultimate good luck token for marriage in 2018. And if you can't conjure up the man himself, you can always keep a cardboard cutout around for the reception.
Related: John Mayer Unveils the Secret to His Super-Smooth Skin: "I Don't Love Anybody"