How Comments by Celebs Became a Celebrity-Approved Destination for Meta Celeb Commentary
The creators behind Comments by Celebs explain how they went from two young women with a fun Instagram account to celebrity-approved meta-commentary.
---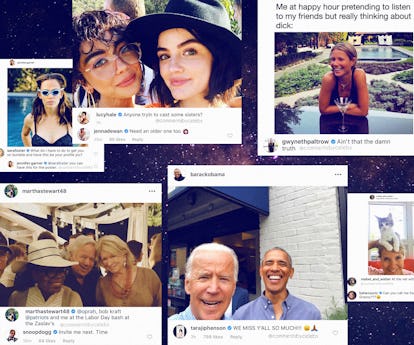 Comments by Celebs exists in the midst of Instagram's sprawling landscape of meme accounts, celebrity content, and bots, simply capturing the comments celebrities leave on one another's posts, and sharing these screenshots with more than 700,000 followers.
The concept is simple, but one that had not yet been immortalized into a coherent Instagram account until two Syracuse University students, Emma Diamond and Julie Kramer, bonded in class over their love of celebrities and pop culture nearly four years ago (they graduated in 2015 and 2016, respectively), and decided to run a shared celebrity-content Instagram account.
When Instagram changed its algorithm in 2017 to make it easier to see comments by verified accounts across the platform, the two friends formed @commentsbycelebs in an effort to capture the cheeky and witty comments celebrities post on one another's photos and videos on the app. Now, instead of combing through the comments section of their favorite celebrities' Instagram accounts, users of the app can go straight to one destination. Sometimes it can be easy to miss if a celebrity says something outrageous in a comment on another person's post, or claps back at a hater in the comments of his or her own Instagram, but whenever it does happen, Comments by Celebs is going to snatch it up, fast.
After the account went viral, it became clear that not only did regular plebeian Instagram followers find joy in Diamond and Kramer's eagle-eyed capturing of celebrity conversation, but celebrities themselves were falling in love with @commentsbycelebs, too. Suddenly, celebrities like Gwyneth Paltrow, John Mayer, and Bethenny Frankel were responding to memes about themselves in the comments section of @commentsbycelebs. Kelly Ripa, most notably, is a frequent commenter and has established herself as a celebrity ambassador of sorts for the account, becoming the first guest to be featured on the Comments by Celebs podcast that was recently launched by the account's co-creators. It's one thing to curate a collection of content from celebrities and slap it on the main feed of an Instagram account, but it is quite another to curate a collection of celebrity content that is actually celebrity-approved.
Diamond and Kramer called W to explain the good-natured humor behind the account, how they became Instagram friends with Kelly Ripa, and how they see their brands evolving in the future.
How did you two decide to form this Instagram account?
Emma Diamond: We started it in April 2017, when Instagram initially changed its algorithm. Julie and I have always been really into pop culture and constantly on Instagram. We started seeing all of these celebrity comments that we'd never seen before. So I said to myself, I have to capitalize on this and I have to make an account. I knew that Julie was the only other person that I wanted to run it with me, so I asked her if she wanted to do it and she said yes, and here we are!
How often are you staring at your phones then? The speed with which you capture and share these celebrity comments is almost unprecedented.
Diamond: It's not as excessive as it sometimes can appear. Instagram really did a beautiful thing with that algorithm change, so all of the verified comments go to the top. Initially, when we first started it, it was far harder because you would have to kind of catch things at the moment. You couldn't see them all, or you'd have to scroll, but now all of the verified comments go to one area. And we're so lucky because we've amassed this following of over 700,000 people who send us something the second they see it.
So people are thinking of @commentsbycelebs as this premiere destination for celebrity news, in a way?
Diamond: Right. The second that any big comment happens, we immediately have at least 50 DMs that people have sent to us. Within a minute.
Do you have notifications turned on for any celebrities that you follow?
Diamond: No, we actually don't!
Who is your favorite celebrity to follow?
Julie Kramer: I think Will Smith has an incredible Instagram. But comment-wise, I would have to say Chrissy Teigen.
Diamond: I love Kate Beckinsale's comments! I always get a kick out of looking at her responses to people. She's really great.
Which celebrity engages with @commentsbycelebs the most and is the best sport about your account?
Diamond: I mean, the answer is Kelly Ripa. She has been so supportive from the beginning. The funniest part about it is that she's so engaged herself, and she loves it. Not only is she an avid commenter on her own, but she loves our posts.
How did that start happening? How did you get so close with her on Instagram to the point where she became the first guest on the Comments by Celebs podcast you just started?
Diamond: In February, we posted a comment of hers that she left on Andy Cohen's post. She wasn't following us at the time, but she saw our post and started following us. She'd been following for a couple of weeks, and then we were mentioned in this article, and we made it our Instagram Story. I said, "Guys, we've gone international!" and this woman who works for MTV U.K. responded to the story and told us where she worked and that CBC had been mentioned on their show yesterday. I was like, This is crazy, if CBC makes it to Live! With Kelly and Ryan, I'm gonna lose it altogether. Kelly responded to our Story—and we didn't tag her or anything—with, "Done!" We had this very funny back-and-forth that day, and later that night I messaged her asking if it would be okay to post our interaction, and she said, "Yes," so I posted the entire DM conversation. And the next day on her show, she talked about us.
How did you decide to evolve the account to the podcast?
Diamond: It was first important for us to understand the logistics of how to run the account. Once we got that down to a science we felt more comfortable expanding. We didn't want to start something before we knew we could manage it. It was really just seeing how well people were responding. We were blown away! It was a totally untapped market. This had never been done before, you know? And also the fact that once we started to realize it was becoming a news source, that was when it really clicked for us. In terms of the podcast, [the podcast network] Betches reached out to us and it seemed like a very natural thing. We always wanted to do a podcast.
Do any celebrities ever get mad at you or upset with you for posting their comments on your main feed?
Diamond: We have been lucky in the sense that we don't get any hate, really. I think we perfectly curate the content in a way to make it lighthearted and fun, and there are so many comments that we don't post because we can sometimes totally see them being sources for hate. It's our number-one priority for the celebrity followers to know that we respect them. It's not our goal to gossip about them. There are many times we'll get in the comments and we're not sure if they'd be okay with it, so we just ask them. We don't want to draw attention to something they'd rather us not to, and sometimes they'll say to hold off, but either way they appreciate us asking.
Since there's so much content and it can be so time sensitive, what are your plans for the future of your growing platform?
Diamond: Our plan, in terms of expansion of the brand, is that there's a lot of opportunities coming our way and we're trying to be strategic in the way that we approach them, but in terms of the actual account, we are going to have to bring on more members. But it's something that we are very hesitant to do, because confidentiality is so key with what we're doing. We're constantly interacting with celebrities, and one mistake could totally jeopardize our integrity, which is what we pride ourselves on.
Do you remember your first Instagram?
Kramer: Our first post was a Paris Hilton comment, I believe. She had commented on Kim Kardashian's post; it was just fire emojis, if I remember correctly. But for my first personal Instagram, I remember being in the very early days of high school. I remember I used to post my Starbucks order. It was so different back then.
Diamond: I definitely do not remember mine! I do know that as I got older I became highly selective with what content I would decide to post.
What's the best way to slide into someone's DMs, especially if you're into the person?
Diamond: Hmmm. Are we talking romantically? [Laughs.] I think making it concise, but unique!
Kramer: Responding to a Story is also a good way to do it!
Diamond: I think that any time you can establish an inside joke or something where you two have something in common, that goes far.
What are your opinions on thirst traps?
Diamond: Ugh. Okay. I think they've become incredibly common. I get it, as long as you can be honest about the fact that it's a thirst trap. You know what I mean? I hate it when a girl posts a picture, and her ass is front and center, and the dog is in the corner. And she's like, "Oh, my adorable dog!" No one is looking at the dog! You can just say, "My ass looks great!" Just own it.
What pisses you off on social media?
Diamond: This is a cliché answer, but I am so not a fan of the "take me back" Instagram.
Kramer: I would say that also. Or when people post Instagrams well after vacation, but they're pretending like they're still on vacation and you know that they're back. I think Chrissy Teigen tweeted about that once.
How many times a day should one post to Instagram?
Diamond: On our account, every single day Julie and I say, "We're not going to post more than three times today," then, 90 percent of the time, we end up posting six to seven times. The content just comes in! Sometimes it's either time sensitive and going to be a headline, or it's really funny and we want to get it out. I would be hypocritical to say to post just once a day, but on my personal Instagram I don't post more than once a week, if that.
Kramer: I think it always depends! I don't post often on my personal account, but I would say there are exceptions to a rule. If you do something, you can post about two Instagrams in a day. You can do whatever you want! I think an Instagram every single day is excessive, but if you have something that you're doing, or if you're on vacation, or at a really cool event, that's totally fine.
How do you unplug?
Diamond: Personally, I'm still working on it. [Laughs.]
Kramer: It's definitely difficult! If I'm out to dinner, I won't take my phone out. It's such a small amount of time, but it's nice to be able to put it away. There are times during the day where I need 30 minutes without it.
Diamond: I struggle with it! It's the nature of the job. Especially now that it's become a news source, a lot of things are time sensitive.
Related: Slide Into Charlotte Lawrence's DMs If You Must, but Make It Funny