John Mayer Unveils the Secret to His Super-Smooth Skin: "I Don't Love Anybody"
The 40-year-old singer-songwriter has returned to beauty vlogging in an attempt to explain how he somehow hasn't aged.
---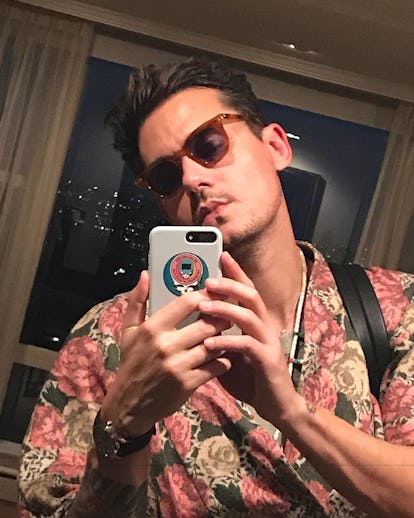 Courtesy of @johnmayer
It was just a year ago that John Mayer was performing his songs with titles like "Moving On and Getting Over" and "Still Feel Like Your Man" on TV, but let Mayer make one thing clear: He is definitely no longer in love. In fact, he's now arguing that the truth is right there his face, and, more specifically, with his undeniably silky skin.
On Sunday night, Mayer was engaging in the relatable activity of staring into the mirror and examining his pores. We know this because Mayer documented himself doing so in a series of videos he posted on Instagram stories—marking his return to beauty vlogging, which he first experimented with in 2016 in a series of Snapchats he titled "Skincare Secrets with John." Back then, Mayer revealed his "skin hacks," including his favorite ($600) products and techniques. These days, though, it appears he's left all that behind in favor of simply letting nature take its course.
Whatever Mayer has to say about skincare, we're listening: As showcased in the standout video from his series of weekend Instagram stories, his skin is just as unwrinkled and ageless at age 40 as it was in the #TBT he recently posted from 1999. In an apparent late-night realization that the ability to skirt the aging process deserves some examination, Mayer posted a video overlaid with typewriter-font text "How is my skin so smooth?" and went on to answer his own question.
After exclaiming "wow, that's really close," and beginning to stroke his somewhat scruffy cheek, Mayer spilled his secrets: "I don't smoke and I don't drink anymore and I don't go out in the sun and I don't eat and I don't love anybody and I don't…" The video then cuts off, leaving us all to wonder what else Mayer doesn't do, but there's still certainly enough material in the koan that did make the cut. (He doesn't eat? Excuse me?)
Watch a 7-Year-Old Interview Katy Perry:
Most interesting, of course, is that Mayer's "skin hack" is to not "love anybody." Sure, it seems entirely plausible that Mayer isn't currently in love: He's made a point to tell the public that he's over his ex Katy Perry—even though he still watched her sleep on the internet during her 96-hour livestream—and has also made it clear that he's a pro at looking for love in the wrong places.
Whether it's the lack of love in his life that's behind his enviably smooth skin, though, is certainly up for debate. What happened to his favorite $600 Diamond Life Infusion cream of yore? Has he opted to live a largely routine-less life à la Kate Moss? Is his body simply a wonderland? Stay tuned. Given Mayer's nonstop posting, which has included everything from more closeups of his hands and face to a "history lesson" about Werther's Originals in the last 24 hours, he'll no doubt provide more answers soon.
Related: Kate Moss Just Discovered the Gym and Juicing, Is Still Hesitant about Skin and Hair Care