John Mayer Admits He Watched Katy Perry's Live Stream
She did say he was her best lover.
---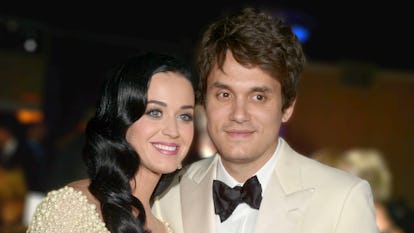 Lester Cohen/WireImage/Getty Images
John Mayer is just like the rest of us when it comes to checking in on (read: Internet stalking) an ex. On Monday's episode of Watch What Happens Live With Andy Cohen, the singer-songwriter admitted that, yes, he did indeed tune in to Katy Perry's 96-hour live stream in June. But not all of it, of course. "I think you'd have to watch all 96 hours to get the final verdict," he said, when asked for his opinion. "When I sit there, I'm like, that's her thing, man, to go big and bold. Yeah, I checked in with it. It's definitely odd to watch your ex-girlfriend asleep."
When Cohen said it probably would have been weirder not to watch the live stream, Mayer took the opportunity to call out everyone who'd say they're above doing such a thing. "The way I see things now, I call it stand in the middle of the boat," he said. "If someone says, 'I don't watch that,' it's like, yes, you do." The "Your Body Is a Wonderland" singer also said there's no shame in texting one's ex. "If you want to text someone…I texted Katy happy birthday and it was like 4 in the morning. It was like a post-midnight, haven't-gone-to-sleep-yet, it's-technically-your-birthday send. Because how weird is it to be like, 'I want to say happy birthday now, but I'm going to wait until tomorrow afternoon? Just be a person, man. Text when you want to text, watch when you want to watch it. Be human about it."
Since Mayer seemed to be on a truth-dishing roll, the host brought out a "Shady Dancing Bear" to ask him a string of rapid-fire questions. One of them was, of course, about Katy Perry's assertion that Mayer was the best lover she's ever had. "So who's the best lover you've ever had?" asked the bear. "What's the way out of this? Right here," he said, in reference to his mind. "So far, it's on a little SD card, I've been creating it myself. I have been my best lover so far." Uh, nice save?
Related: Katy Perry Confesses to Crying to Some of Her Own Songs