John Mellencamp's Model Nephew Debuts His New EP
Ian Mellencamp already looks like a rock star, which is perhaps why he's landing modeling gigs for Calvin Klein and Tom Ford. But Cougar's nephew is going out on his own now.
---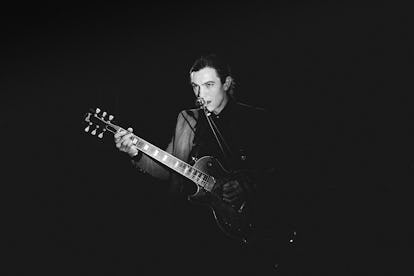 Jammi York
Ian Mellencamp, 33, describes his style as "Frank Zappa meets Andy Warhol." With free-flowing long hair, soft facial features, and a cut figure, he's not too far off. Mellencamp says this with an ironic chuckle, though. Despite being the nephew of Rock and Roll Hall of Famer John Mellencamp and a successful model, he doesn't take himself too seriously. This is made all the more apparent by the title of his new EP, "Free AF," which dropped today. (In case you were not aware, that translates to "Free As F—.")
"I wanted to be independent," Mellencamp says of his latest career move. "I didn't want anyone telling me what I could and couldn't do as an artist." After a series of creative clashes with the label he was signed to, the musician decided to go out on his own this year, hence the EP title. "I feel like a lot of people can relate to the freelance thing these days," he continues. "There's a scary element involved of letting go and trying to figure it out on your own. But it's also liberating and rewarding. It's a mentality of: 'I'm going to go for it and see what happens.'"
Originally from the midwest, Mellencamp's first CD was Green Day's "Dookie." He received his first guitar in high school, and proceeded to start bands with names like Whiplash and Bluff. He's lived in New York City for the past six years, however, and is currently based in Bushwick. He likes to take breaks from writing music with a run through the city or by meditating on his couch. On weekends, you might find him raving at Bossanova.
Through a college friend who was also a model, Mellencamp found himself at a Calvin Klein casting in Cincinnati back in 2011. "I just kept booking, and it kind of took over my life," he recalls. "Next thing I knew, I was coming to New York to meet a bunch of strangers in a room and enter an industry that I didn't know anything about."
In addition to Calvin Klein, Mellencamp has also posed alongside Gigi Hadid for a Tom Ford campaign. He recalls crouching down next to her nearly nude while holding a small child, who proceeded to urinate on him during the shoot. "Everyone said, 'Keep going! This is great!' That was definitely one of my top moments on set," he recalls, adding: "Besides working with Bruce Weber — his style and way of shooting is almost like a meditative experience. It's influenced how I treat other people and musicians I work with."
And while Mellencamp isn't done with modeling — he's currently signed to ONE Model Management — he says he's spent the past few years really focusing on his musical career: "I try to be creative in every aspect." In addition to writing and producing all the songs, Mellencamp also does the album covers and videos himself. In his Instagram bio, he calls himself a "transducer."
"As a transducer, you're the middle man turning one source of energy into something else," he explains.
"Free AF" has roots in grunge and electronic, but Mellencamp also says he was influenced by house, jazz, and hip-hop. And as far as his rock star uncle is concerned, he hasn't heard it yet. "I keep it separate," Mellencamp says of mixing work and family. "But they do ask. [My uncle] hasn't heard the new EP yet, but I haven't shown it to many people. Once you show it to someone, they have something to say about it. I don't really want to be influenced by anyone. But when it's out, they can hear it! And I hope they like it!"