Play Ground
Johnson Trading Gallery is a hotbed for three rising design stars.
---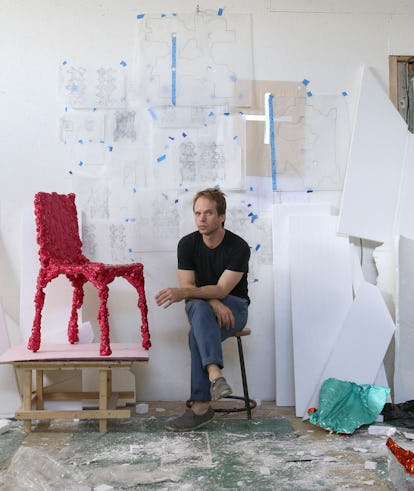 At Johnson Trading Gallery, Paul Johnson's whimsical design space in Queens, even the more established names on the roster are pretty out-there. But it's a trio of wunderkinds, Jack Craig, Chris Schanck, and Katie Stout, who are truly stretching the parameters of form—not to mention functionality. "Becoming a designer saved my life," says Schanck, 39, whose Alufoil furniture series, made from steel, foam, rubber, and resin, was a highlight of Design Miami/Basel. While the connection between Schanck's goopy, Nyquil-colored chairs and Craig's amorphous side tables (picture a geode on a shiny molded plastic base) is not immediately apparent, the designers' shared sense of humor and penchant for experimentation are. (They are friends and former roommates.) Craig, 35, recently began casting bronze onto wet concrete to create free-form tables inspired by ancient Anatolian construction techniques. "The collapse of those buildings reveals that internal stone channels were carved out and replaced by poured metal," he explains. "Here, the use of metal is inverted." Stout, a 26-year-old Rhode Island School of Design graduate, is the youngest of the three, but her outlandish ceramic lamps and paper-pulp tables have already won her high-profile admirers like the artist Bjarne Melgaard. Her stuffed-furniture series—hand-sewn chairs in wild prints and textures—is similarly guided by tactile ingenuity and visual play. When musing about concepts for an upcoming show, Stout allows, "it sounds ridiculous when I say them out loud." We beg to differ.
Chris Schanck. Photograph by designer.
Schanck's Alufoil chair. Courtesy of Johnson Trading Gallery.
Jack Craig. Photograph by Chris Schanck.
Craig's PVC: Pressed Table. Courtesy of the artist.
Katie Stout. Photograph by Andres Altamirano.
Stout's Red Billards Lamp. Courtesy of Johnson Trading Gallery.