Jonathan Anderson and Loewe: Past, Present, Future
In a wide-ranging interview from Madrid, the designer talks rumors of his departure from the Spanish label, Hillary Clinton and Donald Trump and luxury and elitism.
---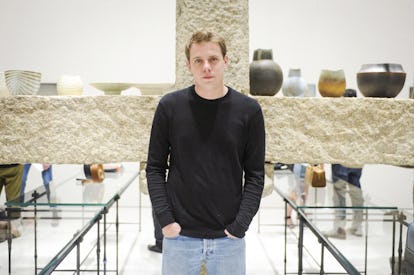 In late November, Jonathan Anderson perched on a couch on the second floor of the newly renovated Casa Loewe store in Madrid, which would officially open that night. Above him hung Richard Smith's "Both Halves (A)," one of the British artist's kite paintings from 1977. To the right of him, the architect Janette Laverrière's painted metal light fixture "Chapeau Chinois II" jutted out from the wall. A waiter approached, offering a tray of little cakes, which Anderson politely declined, asking instead for coffee. "I have never done something like this before and I was quite daunted by it," he said. "I didn't want it to feel like some sort of corporate venture." He was talking not just specifically about the store opening – it was not his first time around the block in the regard, and, in fact, in a few weeks, he would be unveiling newly-installed works by the painter William McKeown and the sculptor John Ward at the Loewe store in Miami just in time for Art Basel. This was also about Loewe's reintroduction to Madrid, which includes not just the store, but an exhibition in the botanical gardens just behind the Prado, of Loewe ephemera, and lush photographs by Steven Meisel of flower arrangements in telescoping frames. All around the city could be seen banners emblazoned with an image of an anonymous blonde woman in a backless suede top, and the words Loewe: Past, Present, Future.
A lot of the art and the design you selected for this store is very process oriented in so far as it draws attention to its making—which is something that you are also doing at Loewe. The It-bag is a puzzle, the clothes seem to flaunt rather than disguise the way they are made. It's the cross pollination of things—everything is interlinked. It's my brain thrown on the floor. Everything is a collection of thoughts from over the last year and a half.
You have often referred to designing as story telling. But did you have an idea coming into Loewe that this would be the story wanted to tell? Not at all. I took that first year out and it was the best decision I made because it meant that I got world right, I got the logo right, and we were able to come up with the idea of Loewe as cultural brand—about past, present, and future. And if you apply that to everything it works. I have one big massive issue and that's I am a control freak and I have to design everything— the coffee table, the ceilings, the walls, the cabinets. Everything in my head is the world of Loewe when I'm here and when I'm at J.W., it's all about that. I envision things very three dimensionally—how I want the lighting to be, the mood. This week was planned for a year and a half. A year and a half I've been working on this whole thing because I wanted to have the brand ready enough to come back to Madrid. We worked with Steven Meisel who shot these amazing still lives of flowers. I'm obsessed with [the British decorator and society florist] Constance Spry.
I would have never suspected those were Meisel pictures. When you see them tonight, framed in a dark room, they look real. And because of Constance Spry we hung them in the triple frames designed by Gluck, who was Spry's lover. She was a painter who at one point stopped painting because she couldn't get the paint color right. And then downstairs here in the flower shop you have all of the original Constance Spry flower vases—we've been searching the globe for all the vases she designed. I like that there are all these interrelationships.
How do you have the energy to go down all of these different worm holes? I just weave it into my life. It is my life unfortunately, I think. My life is this. I do have a personal life but everything feeds into it. If I see something on the street – [snaps] – okay, that's going in. Or I go to an exhibition, I say, 'Let's get that.' I remember walking down Bond Street and I saw this Richard Smith and for me it was Loewe. That is what we need for the store.
At the risk of sounding like a philistine, the Smith looks like untreated leather being primed for a bag. I like to think the art and design in the store are moments of pause. Luxury stores are such a difficult thing because ultimately their purpose is to sell but I do think you can get more out of a store. There is a utopia out there—that I believe. There can be books, or handmade leather bowls, you can have flowers. For me it's the first time everything we've done can be thrown into one room.
But it's interesting that when luxury brands were expanding globally the idea was that every store had to offer the exact same experience so that no matter where you were in the world you had to feel that you were in the world of that brand. And you are taking the opposite tack, making each one unique. For me there has to be a thread. The agate ceiling here is taken from the original buildings by Javier Carvajal that were done in the '60s and '70s. They always had a green roof. He was a very famous Spanish architect and he became creative director of the brand. For me it could be details you have in a bag, like stitch that's always recognizable or a swinger or a puller or whatever. You don't want a building to be an eyesore to the outside world. It should fit within that community. Like in Milan where we have a store in a protected building, we can't do anything to it—how amazing! Leave it as it is. We worked with Italian ceramicists and I put in important pieces of arts and crafts furniture from the 1920s, so that's one thing. Then you go to the Miami Design District where we moved a granary building from Spain and stuck it inside.
There's something very perverse about that. That was one of my favorite moments. When I joined Loewe the plan for the building was, well, not possible. And I jokingly turned round to Paola, the internal architect with whom I work really closely with and said, 'If no architect has any idea just move an old building and stick it in it.' Like as a joke. I think it was at the end of the day. The following week we were going through plans and she said, 'Well, I bought the building, we got permission from the government to dismantle it and we have to return it ten years.' It just happened. I'm really proud of it because it opened my mind—took the genie out of the bottle in a weird way. And it wasn't even very expensive to do. It's amazing what you can do when you apply yourself. Anything is possible.
All of the artwork here is acquired by the Loewe Foundation. When you select things are you thinking primarily of the stores? Or of the legacy of the foundation? The foundation has been going for around 21 years. It started off with poetry, it's supported dance. The poetry prize is one of the biggest prizes in the Spanish language which I only learned when I got here, but it's very highly acclaimed. So within that we introduced the Craft Prize which will be awarded next year. That's been phenomenal. We have had people from Bangladesh to Argentina to Iceland applying—more than 5,000 applications. In stores we need to have other things to talk about so I said we should buy works through the foundation and put them in one store and move them to another and enrich the brand and support art and support people. It can be Korean moon jars by five of the most important ceramicists in Korea or work by Richard Smith or Howard Hodgkin or Edmund de Waal. All of these things are super inspiring to people who are not in fashion or who are in fashion or are in art or not in art. They are beautifully designed things. And I would rather that they sit within a platform that can be borrowed or loaned — I think it's better than making something that's disposable. We're so used to that in fashion. I like that they are permanent objects. Permanent things.
You've said the fastness of fashion doesn't bother you. For me it's a personal thing. I can only work with speed. If things move to slowly, I lose my train of thought and – [snaps] – it's over. I lose patience and I can't deal. Everything is a running dialogue. It has to keep running. The pace of fashion is fundamentally what the world tells you to do. Can't tell the world to slow down. I think we're just living in a weird moment.
Contemporary visual culture encourages people to just look at things on the surface. And the way you draw attention to the process and the way things are made almost forces people to slow down a little bit. Or so I'd like to think. I hope people take the time to digest. But I think then you have to make the content real. The problem is that there is so much bad content out there. To be honest there's a lot of s–t. I love social media, but I remember what my grandfather always says to me about drinking alcohol – it's better to drink it in moderation. And I feel like the more I use social media, the more I realize that if it's not in moderation we're going to go mad. Britain and America are two examples where social media will only show you what you like.
That's the problem, we've created an echo chamber. We surround ourselves with likeminded people and read only the news that reinforces our own opinions. It makes the world smaller, which is such an irony. The veil is off now. I was up four nights ago watching TV and was fascinated to hear that Hillary Clinton had hundreds of news publications backing her and Donald Trump barely any. And yet he won the election. And then I kind of was like, I hope every single newspaper digested that memo.
Now the refrain is 'What did the media do wrong?' I grew up in Northern Ireland, in the middle of nowhere, and when you are poor you are really poor. And when you are rich you are very rich. This is not a new phenomenon. We need to engage with all demographics. Like for me this store, I would hate to think someone couldn't walk through the door. How embarrassing. It should welcome people.
But luxury by definition is elitist. It's not meant to be for everybody. I don't believe in that. That's why we do publications that cost the brand serious amounts of money to produce and we give them away for free. When I was a kid I remember the fear of going into big brand stores. You didn't want to go in because you felt like you couldn't afford anything. That's why I've harped on about it, and it probably bores people, this idea of a cultural brand. But the reason why Loewe is important culturally for Spain is because we employ loads of people and each of those people have families. It's this giant ecosystem. People in Spain should be proud: you can go five miles up the road and they are making the bags in the factory. It's incredible that still survives today. In Britain we got rid of so much. And now we're in this moment where we need people to be making domestic products. It should be exciting to learn to sew. I think it's important. And I think this store is a beacon of that. This brand is important in Spain to people. This brand has been here for 107 years. It started as a cooperative. One of my favorite department stores is John Lewis because it's owned by everyone. It's this amazing utopia in Britain where you buy all of your household goods. To have that sense of welcomeness you have to engage. You can go into the flower shop here and even if you don't buy something you can smell it. Those things matter. I still have swing tags, or envelopes or things that I got when went to a shop. I remember going to Prada and picking up a look-book by Craig McDean. I was obsessed by it. I still have it. For me that was enough. I didn't have to buy anything. but then when I got older and earned money I went and bought my first pair of jeans. We're in the period of debranding.
What do you mean by debranding? Debrand to rebrand. You have to implode something. You start to fractionize things in different ways so you aren't always talking about the same thing. You're not always saying, we have to sell bags. Of course, bottom line we have to sell bags. But I'm hoping this week is a tipping point for the brand. The team has worked so hard on it, and I believe it's a very honest portrayal of the brand. I think the store is very honest. It wasn't a very expensive store to build. It may look like it was but that's the idea. The walls are made out of stucco which is the most commonly used surface, the flooring is the flooring you see in many Spanish buildings.
Any number of designers would come into a job like this and say we're going to erase everything and start over again my way, and you're coming in and seeing beautiful things that have been there all along that no one paid much attention to. When Delphine Arnault said to me on day one, 'Go to the factory and see what you think,' I was like, how has no one jumped on this? It was unchartered territory. I was only meant to be here for one day, I spent two days, one full day in the archive, and I was meant to be a researcher, undercover. [Laughs] There's an amazing thing I found, a little box which was made for putting kids' teeth in. It has a little mouse on top of it. And then you flip it over, and there's word Loewe, from the '20s, de-embossed inside. It looks like our new logo. I remember when we changed the logo the uproar in this country was a nightmare. And now they are fine with it. Time always helps. Hopefully by tomorrow morning they will finally forgive me.
In light of certain LVMH related rumors, do you ever think about not being here and what might happen to all the good work you've done if someone else comes in? There will be a time when I'm not here. Of course that person should break it up and start again. But I'd like to think I built a frame work. The history of the brand is there. I just put it on the table.
Jonathan Anderson Forecasts Loafers with Socks and Carpet Bags at Loewe Spring 2017