Jonathan Anderson: Wonder Boy
At 30, fashion's can-do kid is taking the reins of a major European luxury house.
---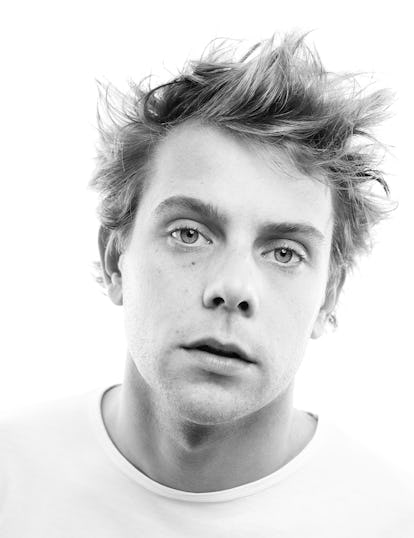 Photographer: Willy Vanderperre Stylist: Benjamin Bruno
The scene backstage at the J.W. Anderson spring 2015 men's wear show is in some ways typical for that of an up-and-coming designer. Lanky models are disrobing between racks of clothes. Young fashion editors dressed in flamboyant streetwear are mixing with sedate design types in black sweatshirts. But because the venue is a military training center in Central London, there are also soldiers milling around, in full camo gear, looking thoroughly bemused. What's more, this is Anderson's first show since LVMH bought a stake in his business and installed him as the creative director of Loewe, so the crowd is noticeably bigger—and definitely buzzier—than in seasons past.
Anderson has a loyal following in London, where his clothes are worn by the more adventurous members of the fashion set, like the blogger Susie Bubble and the consultant-cum-street-style star Yasmin Sewell, and are carried by stores like Dover Street Market and LN-CC. But the LVMH stamp of approval now has those who might once have dismissed his aesthetic as too challenging taking notice. Some have come to see whether corporate culture has tamed the designer, who is famous for refusing to make a distinction between men's and women's wardrobes. (It hasn't: The show had men in knitted crop tops with plunging necklines and tunics knotted across one shoulder.) Others have come seeking evidence of the conglomerate's cash injection, noting, say, the expensive-looking carpet that covers the entire space. And at the center of it all, there is Jonathan Anderson, appearing cheerily, almost eerily, calm. This collection was ready days ago, he says. As for his inaugural men's wear range for Loewe: "It's done!" he boasts, grinning. His only cause for concern is the state of the new Loewe headquarters in Paris. The men's presentation is supposed to take place there 11 days from now, but at the moment it's a construction site. That gut renovation is just one indication of the extent to which Anderson is reinventing the heritage brand, and of how determined he is to control every detail of the process. Meanwhile, he is still figuring out how to deal with both the benefits and challenges of his sudden career leap—not least is the need to be in two fashion capitals at once.
At a glance, Anderson and Loewe are not the most predictable match—a 168-year-old Madrid luxury house favored by the Spanish royal family and a 30-year-old London-based designer from Northern Ireland known for his radically unisex approach to clothing. But Anderson has hinted at the actual range of his talent and ambition. He spent four years as the creative director of Sunspel, an old-school British cotton-basics manufacturer, where he successfully brought hipster allure to T-shirts and 1950s-style underwear. And the capsule collection he designed for Versace's Versus label in 2013 had a slick, in-your-face sexiness that was a world away from the clunky sobriety of his own label. "These showed his versatility," says Pierre-Yves Roussel, chairman and CEO of the LVMH Fashion Group, who, together with LVMH scion and de facto talent scout Delphine Arnault, began talking with Anderson in the summer of 2013 about investing in his seven-year-old label. "To build a brand is about much more than being an exceptional artistic director," Roussel says. "You need to have a 360-degree way of looking and exceptional drive. Jonathan has all that—and he knows how to surround himself with great people, and really thinks globally. There are not many people out there with all those characteristics."
LVMH acquired a minority stake in J.W. Anderson in September 2013 and soon began expanding the creative andbusiness teams. "We were growing very quickly," Anderson says, "and you need a lot of capital to do that." Taking on Loewe was not part of the original deal, but when Roussel mentioned that he was looking for someone to head the Spanish company following Stuart Vevers's departure to Coach, Anderson jumped at the chance. "I did it because it was a different type of challenge," says the designer, who, when his enthusiasm runs away with him—which is often—will absentmindedly twist his sandy-colored hair around his fingers, a habit that makes him look even younger than he is. His job application came in the form of a meticulously crafted book. "It was about shapes, aesthetics, ethics, culture, fabric, touch, emotion—everything. It was brilliant," says Roussel, who claims he didn't discuss the Loewe post with anyone else. "Jonathan was the obvious choice."
A key component of Anderson's pitch was a 1997 Steven Meisel shoot for Italian Vogue, starring a gaggle of models—Kate Moss, Amber Valletta, and Maggie Rizer among them—hanging out on a beach. "For me, that was Loewe," says Anderson, who went on to use those very images in his first ad campaign for Loewe. "I liked the honesty of saying, 'Here's my mood board.'" His vision for the brand, he says, came to him within an hour of that conversation with Roussel. It was instinctive and deeply personal, inspired by memories of childhood holidays at his family's vacation home on Ibiza. "A lot of my fashion references come from those trips," he tells me over coffee in a North London café. "I'd sit on Agua Blanca beach and see a culture that was so forward and free." Anderson traveled to Ibiza last spring with a vintage suede Amazona—Loewe's signature bag—and watched as it became abraded by the sea and sand. "I thought, That's why this bag is perfect," he says. "Because, fundamentally, it is made for this kind of culture. It's meant to be used." It was quite a departure from the work of his predecessor: Vevers's darkly baroque, high-glamour approach was perhaps best summed up by the extravagant fin de siècle hotels and lavish, neoclassical palaces in which his ad campaigns were shot—night to Anderson's day.
The new Loewe headquarters takes up the first four floors of a grand apartment block in the sixth arrondissement that's home to such celebrated Parisians as Catherine Deneuve. Despite Anderson's concerns, on the morning of his men's presentation, the first-floor show space is ready, its big French windows looking out onto the church of Saint-Sulpice. The walls are painted the smoky shade of white Anderson chose for the Loewe packaging, a reference to the Portland stone used to build the British Museum in London. Each piece from the collection is presented on its own stand with a plaque stating its name, function, and composition, as if it were an artwork in a gallery. The proportions of the room, however, are almost cozy, and dotting the perimeter are William Morris wicker chairs—just some of the Arts and Crafts furniture that Anderson has been hunting down at auctions for his redesign of the Loewe stores. "We just bought two Rennie Mackintosh chairs," he says. "I'm obsessed." Learning about Javier Carvajal, a Loewe creative powerhouse from 1950 to 1960, stoked Anderson's interest in interiors. An architect rather than a designer, Carvajal introduced an international modernism to the brand. "His early stores were an interpretation of Swedish culture in a Spanish context," Anderson says. "Which is kind of wrong but actually works really well." So even if the new Loewe is about days on the beach, Anderson feels it needs to be presented in a cultured, domestic, and architecturally literate setting. "It's British Museum–slash–French–bohemian aristocracy," he quips.
And Anderson does, in fact, give the impression of a museum guide, as he leads group after group of editors on a tour of the collection. There are parkas in Loewe's recently developed waterproof leather; bags revived from the archive, like the Flamenco, a smooth, curvaceous, brightly colored little purse that he reimagined as a large messenger-style cross-body in sandy suede; brand-new carryalls like the Puzzle, which folds flat thanks to Anderson's characteristically off-kilter pattern cutting; key rings, leather jackets, and Oxford shoes bearing leather pieces cut like Meccano, the classic English metal-construction toys; and lots and lots of big, fluffy beach blankets.
Anderson likes to talk, and, having kept silent about his plans for Loewe for the past eight months, he has a lot to say. "To restart a brand, you have to make people forget what it was. So I wanted to change everything: the space, the logo, the hanger. The reward is, I'm not looking at this hanger wishing it was something else, because it took three months to develop, and we got it right. I have been very controlling of this whole process, I will admit."
The art directors Mathias Augustyniak and Michael Amzalag of M/M (Paris), known for their intellectual and illustrative approach to creating fashion books and magazines, were brought in to work on every aspect of Loewe's new visual identity. They began with a redesign of both the logo and what the house refers to as its "anagram," the swirly symbol formed by four L's, which is used to brand leather. In June, Anderson posted an ad image of boxes featuring the redesigned logo on his personal Instagram account, and eventually revealed the entire campaign. "I love the immediacy of Instagram," Anderson says. "My feed really is my train of thought. If I'm really excited about something, I'll just put it up."
It is this same sense of immediacy that Anderson hopes to bring to the once sleepy brand. The day after the men's presentation, Loewe's revamped website went live, making almost 100 items for both men and women instantly accessible. (Not surprising, many of the bags are unisex.) The stores had stock within a couple of weeks. Anderson likes to move quickly "to beat that element of boredom," he says, although it's unclear whether he means the consumer's or his own.
Boredom is often a driver for compulsive creativity, and it may be significant that Anderson was born in Magherafelt, a small town in Northern Ireland where not a lot happened. His mother was an English teacher at his elementary school, and his dad was the captain of the Irish national rugby team. Growing up, Anderson turned to fashion as a means of escape. "I would buy all these magazines and obsess over, say, a massive wide-leg trouser on a kid on a swing in a photo styled by Alister Mackie," he says. A love of drama led him to the National Youth Music Theatre in London in his teens, and then to Washington, D.C., to study acting at the Studio Theatre. But after a botched Juilliard audition, he headed home and took a sales position at a Dublin department store. He returned to England to study men's wear at the London College of Fashion, but by his own admission he was not the most attentive student, devoting most of his energy to his part-time job as a visual merchandiser at Prada, where he worked with Miuccia Prada's right hand, Manuela Pavesi, dressing mannequins and creating window displays. By the time he graduated, the work of setting up J.W. Anderson had already begun.
A week after the Loewe men's presentation, we meet again—this time in West London, where Anderson is seeing an acupuncturist in an attempt to give up smoking. It hasn't worked yet, he says, as he lights a cigarette, but the treatments do help him relax. He's just gotten back from hosting a big Loewe dinner in Madrid—still the heartland of the brand, and where its leather craftsmen make the bags. He admits this was the event he was most nervous about. "There's so much good will for Loewe in Spain. They see it as their only luxury brand, so they're very protective of it. And I've changed the logo! But they were very supportive." The reviews of the men's collection, meanwhile, have been nothing short of rapturous, praising everything from the ad campaign to the products themselves. The only criticism so far has been of his use of Meccano, with one journalist pointing out that Balenciaga did something similar not so long ago. And other brands before that, Anderson says, worrying that some critics are missing the point: "I didn't reinvent clothing; I reinvented the edit." But he had already moved on to preparations for Loewe's women's show. The men's collection had merely been "a good warm-up," he says. "Women's is harder; the market is more competitive." He explains that his women's collection is "a different chapter to the men's, but still looking at this idea of ease." Like the men's, it recalls the early days of Ibiza as a party destination: "The nightclub Pacha, the 1970s, that sense of freedom and hedonism. It's 'organic,' in the good sense of the word."
Next on his agenda are the Loewe retail spaces. He'll fly to Tokyo to oversee the renovation of the store in Omotesando and then to Miami, where, in collaboration with the British Museum, he plans to install a defunct Spanish granary inside the Loewe store there to house the bag collection. "Work is an addiction," he says of his punishing schedule. "I've always done too much. It's in my nature." He recently reviewed 1,700 products in a single day, but he insists that taking on Loewe has not left him overburdened. With LVMH, he has expanded the design staff of both Loewe and J.W. Anderson: "You cannot work at this level without mega teams."
And he will need all the help he can get. Since the LVMH announcement, the number of stores buying J.W. Anderson has quadrupled. London prides itself on the independence and waywardness of its designers, and some up-and-comers fear that working with a conglomerate means surrendering their creative autonomy or diverting energy from their own brands. But, from the very beginning, Anderson had always imagined that he would sell his label one day. "My fundamental experience with LVMH is that I trust Delphine, I trust Pierre-Yves," he says. "They allowed me to take that building in Paris and do the marketing plan the way I wanted. You cannot succeed without belief at that level."
It may very well have been the strength of Anderson's self-belief that made him so attractive to LVMH in the first place. "I've said it before: I am extremely competitive," he admits. "If you're in this industry and you're not, why bother?" Leaning back in his chair, he looks satisfied as he reflects on his progress thus far. "Loewe should be competing on a global scale, and I think I did that justice. It has the foundations to be the biggest brand in the world, and that's what I want it to be."
Jonathan Anderson, in his own T-shirt, photographed in Paris in September.

Photographer: Willy Vanderperre Stylist: Benjamin Bruno
The foyer of the new Loewe headquarters in Paris.

Photographer: Willy Vanderperre
Loewe top, trousers, and clutch.

Photographer: Willy Vanderperre Stylist: Benjamin Bruno
The facade of the new headquarters.

Photographer: Willy Vanderperre
Photographer: Willy Vanderperre Stylist: Benjamin Bruno
Jonathan Anderson wears his own T-shirt. Model wears Loewe dress and loafers.

Hair by Duffy for Vidal Sassoon at Streeters London; makeup by Lynsey Alexander for Estée Lauder at Streeters London; manicures by Brenda Abrial at Jed Root. Models: Anne Catherine Lacroix at One Management; Maria Veranen at Hakim Model Management. Digital technician: Henri Coutant. Lighting technician: Romain Dubus. Photography assistants: Corentin Thevenet, Mickael Bambi.

Photographer: Willy Vanderperre Stylist: Benjamin Bruno
Hair by Duffy for Vidal Sassoon at Streeters London; makeup by Lynsey Alexander for Estée Lauder at Streeters London; manicures by Brenda Abrial at Jed Root. Models: Anne Catherine Lacroix at One Management; Maria Veranen at Hakim Model Management. Digital technician: Henri Coutant. Lighting technician: Romain Dubus. Photography assistants: Corentin Thevenet, Mickael Bambi.