Meet Josh Whitehouse, Burberry's New It Boy
He's young, rocks some serious curls, and prefers to shower without a curtain. Or so Burberry would have us believe.
---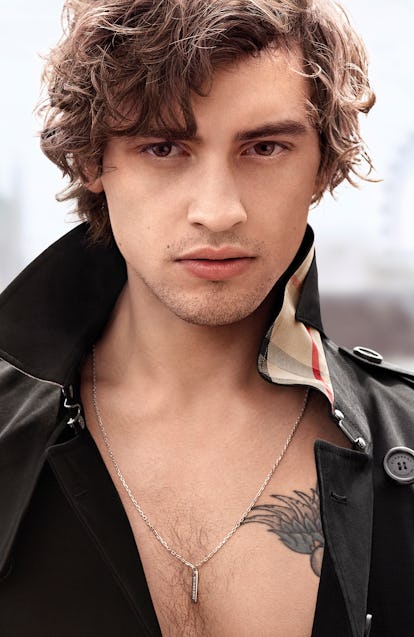 British actor, musician, and model Josh Whitehouse is the new face of the heritage label's latest fragrance, Mr. Burberry. And yet, before shooting the campaign and short film directed by the legendary Steve McQueen, he never wore cologne. "I might steal some from a friend if we were going out, but it was never something I bought," said Whitehouse, 26, who first made a splash in 2014 with his debut performance in Elaine Constantine's Northern Soul. Even though he's now joined the ranks of Burberry campaign stars like Hugh Dancy and Eddie Redmayne, he still keeps his beauty routine about as low-key as his fragrance use. A little Lucas' Pawpaw Ointment, Arm & Hammer toothpaste for his pearly whites, Tiger Balm, and he's set. He even showers without a curtain (well, at least in his new Burberry ad campaign, he does.) Here, the Brit heartthrob shares the details of his grooming regimen, the women's beauty ritual he most certainly doesn't envy, and more.
What's your first grooming memory? Stealing my brother's razor and shaving my cheeks when I was about 9 in the hope that it might help me develop some facial hair
Describe your daily grooming routine. For shampoo, I use Aussie 7N1 Total Miracle shampoo. I shower with Mr. Burberry shower gel and of course the Mr. Burberry fragrance. I'd love to use their beard oil but I don't have a big enough beard.
If we opened your medicine cabinet, what would we find? Nothing too unusual. I love a bit of Arm & Hammer toothpaste, Listerine mouthwash Nivea face wash for men, and my monogrammed Mr. Burberry fragrance, I love that it's got my initials on it. I also always have Tiger Balm.
If we pulled back your shower curtain, what would we find? Didn't you see the campaign video? I don't have a shower curtain.
Is there one product you can't live without? Lucas' Pawpaw Ointment—I always seem to have one on me.
What's currently in your dopp kit? Is there a system to what goes in your travel dopp it? No system particularly, just the Mr. Burberry basics— shower gel, moisturizer, cologne, deodorant, and of course, my toothbrush/toothpaste and hair brush.
Is there a woman's fragrance that melts you? Is there a moment or memory attached? There are many, but I couldn't tell you what they were because I have only ever experienced them through spending time in the company of others who have been wearing them. That's what is so mysterious and enticing about fragrances to me, I tend to associate them with a person, not a brand.
Are there any women's products you envy? Not sure about envying a product, but to be honest I think it's most attractive when a woman looks natural and make-up free.
Women's products — or beauty rituals — you pity? Waxing. I have never met a woman who says it is enjoyable.
Where do you get your hair cut and beard trimmed? Usually, I just let my hair grow until my next job. That way you always give your employer the choice of long or short.
Which male celeb do you think has the best hair? Noel Fielding.
What beauty look on women do you love? Nothing is more beautiful than being comfortable in your own skin.
What beauty look on women do you scratch your head at? It is more about confidence for me. If someone completely owns what they are wearing or the way they style their hair, then you never really think twice about it.
If you were given a spa day gift certificate, how would you spend it? Massages… all day. And saunas.
Photos: Meet Josh Whitehouse, Burberry's New It Boy
Josh Whitehouse in the Mr. Burberry 2016 campaign. Photo courtesy Burberry.
Josh Whitehouse, Brooklyn Beckham and Day-Lewis at the Burberry Menswear Show. Photo by David M. Benett/Dave Benett/Getty Images for Burberry.
Mr. Burberry fragrance. Photo courtesy Burberry.
Josh Whitehouse at Burberry Menswear Fall 2016 show in London, England, January 2016. Photo by Karwai Tang/WireImage.
Josh Whitehouse at the Burberry Womenswear Fall 2016 show in London, England, February 2016. Photo by Getty Images.