Jude Law and Sadie Frost's Teen Daughter Iris Law Is Just Starting to Figure Out This Modeling Thing
Following in the footsteps of her mother, her older brother Rafferty Law — and her godmother Kate Moss, of course.
---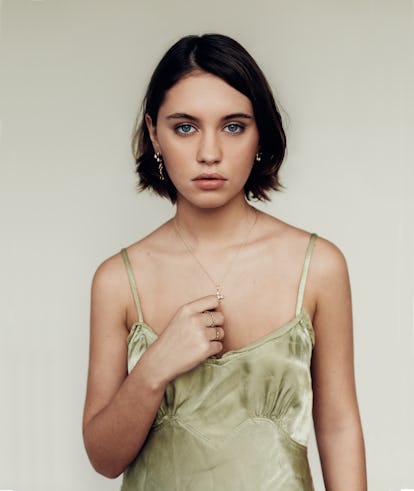 by David Urbanke. Produced by Biel Parklee.
When Jude Law is your father and Sadie Frost is your mother, the genetic lottery is most definitely in your favor. And those odds certainly panned out for Iris Law, who at 15-years-old — well, 16 as of tomorrow — has already modeled for the British label Illustrated People x Violetta Fancies You and starred in a look book for Miu Miu resort. Plus the London-based full-time student has a yet-to-be-announced cosmetics campaign in the pipeline for spring (anyone keeping tabs might speculate this confirms earlier rumors of a Chanel gig, but we'll have to wait and see).
On a quick trip to New York while older brother Rafferty Law was in Capri shooting a campaign with Dolce & Gabbana, the budding model chatted about her personal style, her ideal birthday celebration and the diamond baubles she inherited from her godmother, Kate Moss.
I love your velvet pants. These are my mum's but I actually have the exact same pair for myself. But I forgot to bring them so I brought my mom's. Both this [bottom] and this [top] is from Ghost. I'm obsessed with them. If I ever have to wear a dress, I wear Ghost. I wear their simple slip dresses. They have simple ones with just a simple see-thru butterfly here [on the chest].
Do you pilfer from your mom's closet often? We're a similar size; I'm taller than her. She has a range. Sometimes she gets one really nice piece. But usually the stuff I steal she hasn't worn for ages. After that it just turns out to be mine, it's not like we share, really. Except for a Chanel bag which is my mum's. And I'm always like, "Can I borrow it for this weekend?" And then she gets it for the weekdays and I get it for the weekend. And I get a text: "I found it in your room again, it's mine for the next three days!"
You should draw up a contract. Is what you're wearing now how you tend to dress every day? Yeah. I love looser clothes. I don't wear jeans very often; I usually wear trousers. And then I'm either wearing Doc Martens or [Adidas] Ultra Boost trainers because I like simple things. I'm more likely to wear trainers, but I wear these a lot. I don't wear other smart shoes other than Doc Martens. And then I just like loose trousers. Then sometimes I'll be wearing a t-shirt and sometimes I'll be wearing a blouse. The way I change my outfit is usually with my top half. I keep the bottom half simple.
And if you go out, do you wear heels? Never. I don't want to look like I'm trying to go out.
And you have quite a collection of jewelry going on. These three [rings] are from Annina Vogel, which I'm obsessed with. This is like a necklace for your finger. This one [diamond ring] my godmum [Kate Moss] got for me. There's a Supreme necklace — I just took the pendant off and put it on my hoop earring. And these two are from Dover Street Market; they're, like, skull and cross bones [earrings]. And then this [necklace] I bought when I was in New York. I found some shop where A$AP Rocky and [others go]. They had hundreds of things; I had to go back and kept looking. And some of the stuff was so naff, and then some of the stuff was amazing. You could tell it was a rapper's heaven. Everybody used to get grills there and stuff. This doesn't even look like it came from there. It's quite classy. Usually I wear two silver necklaces and I always hated how they clashed with my earrings and my rings. But I love the necklaces. The only diamonds I have are what my godmum got me.
You had your first modeling campaign about a year ago, for the British label Illustrated People x Violetta Fancies You. I actually didn't know what it was. I mean [Violetta Kassapi] is like my best friend now, we're so close. I had never really met her apart from when I was a baby. I just got this email. She's so cool, she just kept it so casual. I turned up and there was such a good vibe. She's stayed up all night and cut up all the pajamas and handmade these gloves for us to wear. She styled it herself. I could tell instantly, This is going to be such cool pictures, but I never expected them to be… I was just really proud of myself because I'd never really done anything before. And she made it really cool. It was such a good first experience. Now we make stuff together all the time and we want to do shoots again.
Had you thought about modeling before that? I really enjoy it. And I like the product. And I like the idea of having pictures as memories. I also like looking at other people modeling, the way that it's structured. When it's done really beautifully it's like a little work of art. And I like pictures of me as well. [But] I was never a little kid who talked about modeling. I was more like, "I wanted to be an underwater vet." I don't know what I thought it was, but I just wanted to live underwater and be a vet. And then I wanted to be a chef.
Are you a good cook? I like cooking a lot. I like making sauces. Different types of sauces. I like lots of chopping. It's satisfying. It's the most flavorsome part of the dish.
Once you did the campaign with Violetta, did you know you wanted to keep pursuing modeling? Definitely. Because in the past few years I've gotten really interested in fashion and photo shoots. Just looking at them, being involved with them, anything to do with putting them together really interests me as a job in later life. I don't know if I'll be a model forever. But I want to work in something to do with it. When I got to that first shoot and realized quite soon after that Violetta and I had become friends, and I'd met someone who was already helping me — like, we went out shopping and stuff like that. I like people who inspire me to be more aware of creativity, aware of what's in trend and going on in the fashion world.
But you go to school full-time? Yes. I've got a two-week half-term. I'm on half-term for my birthday. I always am. So that's really good.
Right, your birthday is Tuesday! What would be your ideal way to celebrate? I would want to do karaoke.
What's your go-to song? I'm not sure, I need to find one that would make me sound good. I went recently with my friends, but I was too shy to sing. But it made me really want to do it so I could actually sing. It's my birthday, no one can judge me!
Who are some of your favorite musicians whom you might want to choose for karaoke? I think Amy Winehouse would be fun to sing. Or Blondie. Or David Bowie.
Your godmother is Kate Moss. Has either she or your mom given you modeling advice? I don't really chat with Kate about modeling. When I see her, it's just nice to see her and chat. I tell her what's going on.
And your mom? I don't get too nervous. I think she knows I know how to handle it. I mean, there's not much advice to give, is there? She just says "good luck" and I think if she thought I was doing something wrong, she'd probably give me advice.
Do you have any dream designers or photographers you'd want to work with? I want to do Gucci.
What was your childhood exposure to fashion? I went to a Vivienne Westwood show when I was like 10. Obviously, I was exposed to fashion before then, just through family and looking. I had such crazy fashion choices when I was younger. My dad and mum stopped dressing me when I was quite young and, I mean, they would buy me really cute pieces but… my mum had trousers, like cute velvet pantaloons from Vivienne Westwood that were purple velvet. This was when I was 8 and had a short bob like now. And I used to wear these purple velvet pantaloons with these tights underneath. And I had these Chloé trousers that are high-waisted, and I used to tuck in fluffy blouses and rock t-shirts.
Do you have a uniform at school? At my old school, I used to always get in trouble. You were allowed to wear whatever you wanted on your bottom half, but I'd come in in bright red Doc Martens and the teachers would be like, "You're taking it a bit too far. We meant, like, Sketchers." I'd come in tights and boots. I used to come in in pajama bottoms with my school shirt — it was a polo, with a jumper, a random uniform. It was weird. Now I'm looking back on it and thinking, "I should have worn trackies every day and been comfy." Because when you're sitting in a classroom all day, why would I be wearing jean shorts and stuff that's super uncomfortable?
You've talked about being into photography and art. Are you studying them or is it a hobby? I do art, so I take photos to paint. I do portraits. At the moment I've just started a project where I took three photos of my friend Elliot who's got freckles all over his face and who I painted before. I do a lot of Violetta [Kassapi], as well. They're my main two muses. We have a 10 hour [GCSE art] exam and also a five hour mock exam. I did [a mock exam] last year to get used to how to manage your time. I did, like, three paintings that come together to make one. You feel like you're going crazy. You can't speak. You can't listen to music. You have an hour in between to eat. You can bring snacks in that are silent snacks.
What's a silent snack? Exactly. I had, like, a little cup of gummy bears next to me. I hate gum, but I was chewing gum so much just to get into a rhythm. I felt like I was going insane. And also when you're doing oil painting you're so close — I do the veins and pores and hairs on the eyebrows.
Is that something you want to do long term? I mean, I can't imagine selling my art. I like involving my friends in my art. I want to give it to them or their parents. I'm probably going to be a little old lady retired painting to myself, listening to my music. So I'm just going to paint in my free time and I'm never going to stop. My dad always liked to do art. We've got an art room in our house so my dad is doing art in his free time. It's so lovely. And he's just started learning to play the piano again. What I mean is when you're older, you can pick stuff up again and carry stuff on. I don't want to just do work and not keep up with the stuff I do when I'm younger.