Dame Judi Dench Is Now on TikTok
The 85-year-old actress has been hitting the woah with her grandson, who happens to look exactly like Ed Sheeran.
---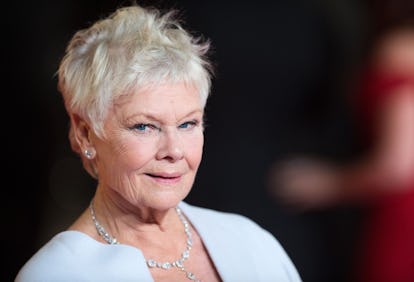 Getty Images
Dame Judi Dench, who is 85 years old, recently revealed that she has not watched or read anything about Cats. But don't get the wrong idea; Old Deuteronomy is not out of touch. This week, she proved as much by making like a teen and hitting the woah on TikTok.
The Oscar and 10-time BAFTA winner did have some help in finding her way to the app. Her grandson, a 22-year-old teaching assistant named Sam Williams, has endeavored to up her TikTok presence ever since posting a "Famous Relative Check" with the hashtags "#cats," "#jamesbond," and "#judidench." Thanks to FaceTime and an iPad, Dench herself eventually joined him, and promptly beat him to the punchline of all of his corny jokes.
Clearly, Dench is getting the hang of things. On Wednesday, she moved on to the dance trend stage, which Williams again captured via FaceTime on an iPad. From a lush garden, against the backdrop of a brilliantly blue sky, Dench expertly joined Williams in a routine to Yung Gravy's "Cheryl."
As you may have noticed, Williams bears a certain resemblance to a certain flame-haired, tatted musician. Twitter users definitely have; "Holy shit she's Ed Sheeran's grandma" sums up seemingly every repost and reply. According to Dench, her grandson regularly "gets mobbed" with requests for selfies. He gets it, as a Sheeran fan himself. But mostly, he's a diehard Dench stan. He even owns and actually wears Cats merch.
At the same time, Dench has started making videos of her own. So far, the entirety of her oeuvre stars the dame herself, wearing a floppy dog-shaped hat.
Related: Jane Fonda Joins TikTok to "Work Out for the Planet"