The Network Behind Alias is Turning Julia Child Into the Next Sydney Bristow
Julia revisits Child's pre-culinary icon life, when she had top-level security clearance in the OSS.
---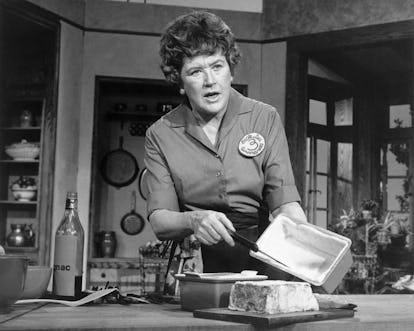 Bettmann/Getty Images
The idea that the culinary icon Julia Child was once also an international spy for the CIA sounds much more like a cooked-up concept for a TV show rather than an actual turn of events, but it turns out to be both: In the latest development of all of the women-led spy, assassin, and super thief movies currently in the making, Child's true-life spell as a spy is in fact being turned into an hour-long TV series for ABC known simply as Julia. ABC, of course, is the network behind the progenitor to this wave, Alias with Jennifer Garner as Sydney Bristow.
It's not that unusual for celebrities to have surprising side hustles before finding fame—for example, Martha Stewart famously first dipped her toes into modeling, Queen Elizabeth II was a wartime driver and mechanic, and James Franco, well, worked at McDonald's—but Child's little-known tenure at the OSS, or the Office of Strategic Services, which preceded the CIA, during World War II, definitely takes the cake—especially since she wasn't just tending wounds or stationed in the kitchen, but instead working as an agent and intelligence officer. (Not that she ever really went undercover—something that her 6'2″ stature and booming voice likely would have impeded anyway, as the former did when she was rejected from serving both the Women Accepted for Volunteer Emergency Service and Women's Army Corps.)
The series is set to be dramatized, but the true-life story is pretty action-packed in and of itself: Child quit her job as an advertising manager at age 28, and then described it as "a most interesting position" in her application letter to the OSS, despite the fact that she had previously been working at a furniture store. Still, she somehow nailed the interview: "Good impression, pleasant, alert, capable, very tall," her interviewer reportedly wrote of Child, resulting in her hire in 1942 for clerical work, and eventual move to work closely with William Donovan, the director of the OSS and so-called "Father of American Intelligence."
Definitely Not "Bond Girls": Meet the Most Badass Women Who've Starred Alongside—and Tried to Kill—James Bond
A former fighter pilot in the Soviet Air Force, Famke Jenssen's Xenia Onatopp becomes an assassin, in part motivated by the fact that killing apparently gives her sexual satisfaction. That much is clear in 1995's GoldenEye when, after crushing an admiral to death with her thighs during sex, she steals a helicopter and then the controls to a Cold War-era Soviet satellite weapon and kills the center's staff—all before she kidnaps the film's Bond girl, Natalya Simonova, and finally even meets Bond in the first place.

Metro-Goldwyn-Mayer Studios Inc.
As a child, Léa Seydoux's character Madeleine, whom we meet in 2015's Spectre, once shot and killed an intruder looking to kill her father, which led to her reticence when it comes to guns. In adulthood, she pursues medicine and works for Doctors Without Borders before she ends up meeting Bond—and threatens to kill him, too, if he touches her in her sleep.

Metro-Goldwyn-Mayer Studios Inc., Danjaq, LLC and Columbia Pictures Industries, Inc.
Karin Dor's character Helga Brandt is supposedly a secretary in 1967's You Only Live Twice, but before Bond knows it, she has him tied up in her room, where she questions him and threatens to torture him, plastic surgery implement in hand. The two end up consensually having sex, though Dor flees after they're finished, leaving Bond locked up in a private plane.

Metro-Goldwyn-Mayer Studios Inc.
Bond couldn't have done his job in 1967's You Only Live Twice without Akiko Wakabayashi's Aki, the Japanese secret service member and expert driver who both helps Bond on his mission and rescues him twice, with more than a few car chases along the way.

Metro-Goldwyn-Mayer Studios Inc.
Once Aki dies in You Only Live Twice, accidentally swallowing a poison intended for Bond, Mie Hama steps in as Kissy Suzuki, an agent chosen for her diving skills to help Bond stay undercover in Japan, which she also does by pretending to marry him. She later helps him uncover Spectre's hidden headquarters in a fake volcano—and enjoys the view of it exploding with him, after they both invade it and escape.

Metro-Goldwyn-Mayer Studios Inc.
After decades of being ceaselessly in-your-face about his masculinity, Bond was forced to answer to a woman from 1995 to 2012, once Judi Dench became the first woman as M, Bond's boss and the head of the British Secret Service. She squeezed plenty of chastising of the agent in in that time, starting with her very first Bond film, GoldenEye, when she calls the agent "sexist, misogynist dinosaur, a relic of the cold War."

Francois Duhamel, Danjaq LLC, United Artists Corporation, Columbia Pictures
The Second Officer in the Women's Royal Naval Service, and the helpful asssistant to M, the head of the British Secret Service who's also Bond's boss, Miss Moneypenny is not your ordinary secretary—especially when played by Samantha Bond in GoldenEye, Tomorrow Never Dies, The World Is Not Enough, and Die Another Day. Though other iterations of Moneypenny openly flirt with Bond, Samantha Bond's openly spurns 007; in 1999's The World Is Not Enough, she asks Bond if he brought her back any souvenirs from his mission in Spain, and promptly throws his gift of a cigar away.

Metro-Goldwyn-Mayer Studios Inc.
Finally, after decades, Miss Moneypenny gets a first name—and, played for the first time ever by a person of color, Naomie Harris, also adds M16 field agent to her accomplishments as well as secretary. In Skyfall, Harris's Moneypenny does get romantic with Bond, but the film actually starts with her shooting him—a revenge won for all Bond girls throughout the years, even if it was accidental.

Francois Duhamel, Danjaq LLC, United Artists Corporation, Columbia Pictures
Daniel Craig made his debut in the Bond movies opposite Eva Green, who almost steals the show in 2006's Casino Royale as the foreign liaison agent—and secret double agent—Vesper Lynd. After she saves his life with a defibrillator, Lynd later sacrifices her own life to betray Bond, which she does while the pair are on a supposed romantic getaway.

Danjaq, LLC and United Artists Corporation
Bond makes it his mission at the beginning of 1999's The World Is Not Enough to protect Sophie Marceau's Elektra King, a wealthy heiress who once went so far in colluding with a terrorist named Renard to steal her family's fortune that she cut off a chunk of her ear and sent it to her father. Her biggest move, though, comes later: She eventually kidnaps M, and manages to both torture and seduce Bond before he kills her.

Keith Hamshere/Getty Images
Halle Berry was criticized even before she appeared in 2002's Die Another Day, thanks to the film's marketing: Some 007 fans were upset that she was being treated as a costar of the film, thereby stealing the spotlight from Bond, then played by Pierce Brosnan. The film, though, definitely shows she deserves that status: As Jinx, Berry is an NSA operative and Bond's partner in tracking down the North Korean agent Zao, with Jinx taking down the M16 double agent Miranda Frost along the way.

Keith Hamshere, Danjaq LLC, and United Artists Corporation
After being introduced to Bond by none other than Madonna, who plays her fencing instructor, Verity, Rosamund Pike's Miranda Frost works alongside him as M has requested, not knowing that, in addition to being an Olympic gold medal winner, she's also a double agent—and the one who betrayed Bond years earlier in North Korea, leading to over a year of imprisonment and torture.

Keith Hamshere, Danjaq LLC, and United Artists Corporation
Camille Montes, played by Olga Kurylenko, became the first lead "Bond girl" not to have sex with Bond with the release of Quantum of Solace in 2008. Instead of "love scenes," which Kurylenko said she was "so glad" weren't included, the Bolivian Secret Service agent spends the film teaming up with Bond to get revenge on the man who raped and murdered her family.

EON Productions
In two years time, Child shifted to the OSS Emergency Sea Rescue Equipment Section and posted to Sri Lanka, then known as Ceylon, where she became the head of the secretariat and the documents control—and, in her free time, besides of course going out to restaurants, rode elephants. She ultimately ended up posted in Kunming, in southwest China, where she gained top-level security clearance and became chief of the OSS Registry—and met her eventual husband, fellow OSS officer Paul Child.
It was there, too, that she was awarded the Emblem of Meritorious Civilian Service, thanks to "her drive and inherent cheerfulness, despite long hours of tedious work, [which] served as a spur to greater effort for those working with her"—skills that of course served Child post-war, when she then turned to cuisine.
And while all that sounds like more than enough for a show, of course, ABC Signature Studios and the writer Benjamin Brand, who doesn't seem to have had any too recent projects, but did work on the film The Italian Job and the NBC series Nemesis: The Final Case of Eliot Ness, also have a few more things in store for their "darkly comedic dramedy": They plan to reimagine Child's post-war life so that includes the CIA dragging her—and her newfound celebrity status—back into service as a somehow "covert operative." (Despite the fact that she famously later denounced office life with the quip: "A party without cake is just a meeting.")
Still, the show actually does have some precedence: In the '90s, Child starred in a PBS program called Cooking for the C.I.A.—an acronym Brand told Deadline he was disappointed to learn stood for the Culinary Institute of America. In other ways, too, the seed for the show Brand had hoped has always been there: Child was no stranger to, say, butchering giant hunks of tuna, as well as defending America, onscreen.
There's no word yet on who's set to play Child—and wield her presumed arsenal of frying pans, cleavers, and rolling pins—but between playing a Russian spy who also falls for a CIA agent next year in Red Sparrow and her well-documented love of fried food—including the time she nearly ordered McDonald's fries from the Oscars red carpet, Jennifer Lawrence definitely seems up to the job.
But Meryl Streep, who portrayed Child to rave reviews in Nora Ephron's 2009 film Julie & Julia, of course has even more expertise of her own—despite admitting she didn't know "what a potato looked like" except in powder form until late in life. The actress not only has a serious history of acting her heart out in kitchens, but also has some surprising aquatic and assassin skills herself. Though little known to appear in action movies, Streep starred in 1994's The River Wild as an expert water rafter, in which she ultimately shoots and kills Kevin Bacon—a scene she followed up on a few years later in 2002's Adaptation, where she held Nicolas Cage at gunpoint in the midst of a swamp, and almost had him before a gator got there first.
Child no doubt would have understood her difficulties: While working in Sea Rescue, she also dealt with the pesky marine monsters of her own, ultimately developing the official OSS recipe for shark repellent to protect naval officers, as well rescue kits and "other agent paraphernalia". You can read all about it on the CIA's website, but as usual, Child summed it up much more succinctly: "I must say we had lots of fun," Child said in an interview decades later, as casually as if she were talking about preparing boeuf bourguignon.
Related: All The Female Spy, Assassin, and Super Thief Movies in Development
Chris Hemsworth Thinks Charlize Theron Should Be the New James Bond: