Julia Fleming Wants to be a Victoria's Secret Angel, Pretty Please
The American model reveals her beauty secrets.
---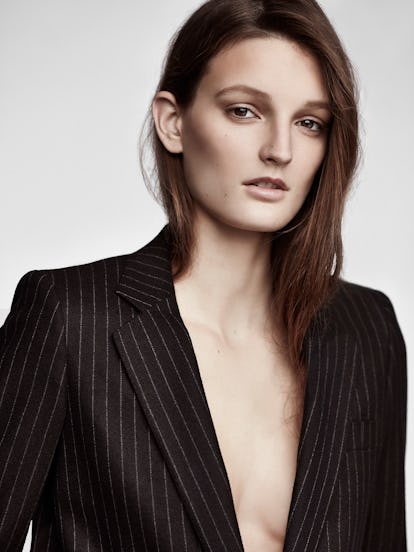 The Philadelphia native hit it big on the Spring 2016 runways. But she still harbors one ambition: to be a Victoria's Secret Angel. If only so she can put her sporty impulses to good use. Here, Julia Fleming shares her obsessive reading habits and go-to workouts. Your look in three words: Clean. Simple. Pretty.
Five-minute routine: Wake up. Brush teeth. Wash face. Go. Never brush my hair.
Never leave the house without: Food! Snacks. I try and have healthy food. Maybelline Baby Lips and makeup wipes.
Beauty from the inside out: A lot of it is about what you eat and how you treat your body. People who eat right and exercise almost have a glow. In our industry, there's a lot of skinny and athletic skinny. To me, there's huge difference.
Exercise regime: I pride myself on being super-athletic. I've been playing sports my whole life. I played lacrosse in college. Now I missed it, so I do boxing and a lot of Bar Method. My parents actually own two yoga studios back at my hometown in Philly so I do a lot of yoga too. I want to become an Angel so I can train all the time.
Nutritional lifesaver: Chicken and vegetables before fashion week. And lots of snacks!
Beauty essentials: Bumble and bumble thickening spray! Cetaphil. Dior lipstick in red.
In-tub must-read: Harry Potter! I reread the series 8 times.
Spa-cation at: My nail salon. I love getting a back massage there.
Fragrance of choice: I'm not a fragrance girl usually, but I am a Narciso girl. I opened the show!
Best advice from mom: Stay grounded. Always ask people about themselves when they ask you about modeling. It's nice to know that everyone wants me to stay the same.
Best advice from the pros: My agents gave me the lowdown on fashion week the night before! I didn't know who people were or know to impress, so I was just myself.
Beauty icons: The Victoria's Secret Angels.
Sittings editor: Emily Mazur. Hair by Matthew Tuozzoli, makeup by Kim Weber. Photography assistants: Michael Beckert, Josh Marten.