Julia Louis-Dreyfus Went Above and Beyond in Her DNC Mockery of Trump
"Just remember, Joe Biden goes to church so regularly that he doesn't even need tear gas and a bunch of federalized troops to help him get there."
---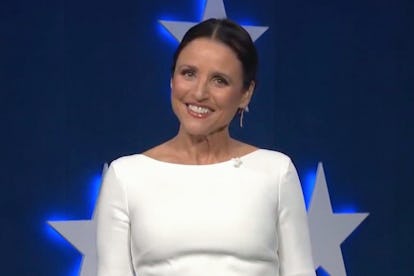 DNC via Getty Images
Well before he even took office, Donald Trump's presidential campaign—and eventually, of course, presidency—has been repeatedly compared to the HBO series Veep. It was only fitting, then, that Julia Louis-Dreyfus would host the final night of the first-ever virtual Democratic National Convention. "Tonight, I couldn't be prouder to be a loyal union member, a passionate climate activist, and a patriotic Democratic," she began. "Or as Donald Trump will call me in a tweet tomorrow, a washed up, horse faced has-been with terrible ratings. Well, with all due respect, it takes one to know one."
Loius-Dreyfus played Vice President Selina Meyer—a narcissistic, delusional, and all too powerful politician—for seven years, which saw her support for Biden blossom alongside her distaste for Trump. The fictional and real-life vice presidents first teamed up in 2014, when they pretended to get matching "45" tattoos in a parody video of the White House Correspondents' Dinner. At one point over the course of Biden's lengthy search for a running mate, he even joked that he would pick Louis-Dreyfus. ("I was of course flattered, but then I realized, this is America," she later said. "We can't make a totally unqualified, ill-equipped TV personality vice president. No, no, in this country we make him president.")
Like pretty much everyone who appeared on screen on Thursday night, Louis-Dreyfus repeatedly called on voters to text "vote" to the party's five-digit short code. "An easy way to remember 30330, is that's the way Donald Trump will finally release his tax returns," she offered. "30330―that would be the president's golf score if he didn't cheat. Okay, look, I'll admit that was a little nasty. But we all know he's a cheater. And I'm proud to be a nasty, nasty woman."
To be fair, one could easily have thrown in a joke about how Biden concluded an early Democratic candidate debate by mistakenly calling on viewers to visit the website "Joe30330." (His campaign later clarified that Biden was referring to a text hotline, and that the correct word was not "Joe," but "Join.") Of course, Louis-Dreyfus instead disputed the concerns over Biden's intellectual acuity. "Just remember, Joe Biden goes to church so regularly that he doesn't even need tear gas and a bunch of federalized troops to help him get there," she said, referencing how peaceful protestors were violently removed from Lafayette Square in June, apparently for a photo op in which Trump held up a bible in front of a church.
At one point, former presidential candidate Andrew Yang joined Louis-Dreyfus in one of her riffs. Nodding to the Republicans' deliberate mispronunciations of Kamala Harris's first name, the pair pretended not to know how to pronounce "Mike Pence." "Mika Pince. Or is it Pance?… Some kind of weird foreign name?," she asked. "Yeah, not very American-sounding," Yang replied.
On Twitter, viewers either fawned over Louis-Dreyfus or cringed. Harris was, of course, part of the former camp. "Veep to veep, you're crushing it!," the real-life vice presidential candidate tweeted at Louis-Dreyfus, just 34 minutes in.
Related: Julia Louis-Dreyfus Is Bonded to Larry David By Their Misery