Julia Roberts Reenacts Iconic Film Roles in Late Late Show Segment
Julia Roberts's greatest hits.
---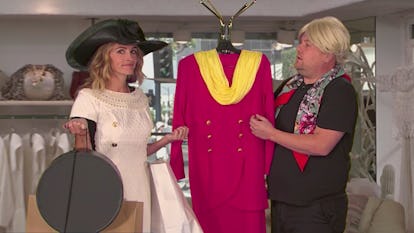 The Late Late Show With James Corden/Youtube
Sequels are not something Julia Roberts has often done, but if you've ever wanted to see her revive some of her classic characters you're in luck. On Wednesday's Late Late Show, host James Corden played Role Recall with Roberts, dashing through iconic scenes from her most famous films with the help of a blue screen and some quick-acting props people. It's kind of like Carpool Karaoke for actors, a rundown of their greatest hits in quick succession. And with Julia Roberts, there's no shortage of greatest hits.
All told, the duo managed to recreate lines from: Notting Hill, Mona Lisa Smile, Larry Crowne, Runaway Bride, Steel Magnolias ("drink your JUICE, Shelby"), Charlie Wilson's War, Mystic Pizza, America's Sweethearts, Eat Pray Love, Closer, Pretty Woman, Valentine's Day and Mother's Day, Stepmom, her upcoming flick Wonder, Mirror Mirror, Flatliners (the fun-bad original, not the really bad new one), Hook, Charlotte's Web, Erin Brockovich, The Pelican Brief, Sleeping With the Enemy, Mary Reilly (a film where her character falls in love with Dr. Jekyll and Mr. Hyde that no one seems to have remembered until now), Ocean's 11, Ocean's 12 (one of her few actual sequels), and My Best Friend's Wedding.
Takes a moment to breathe.
And then the pair sweetly ended the nostalgic segment with a singalong of Dionne Warwick's "Say a Little Prayer," an utterly delightful song memorably featured in My Best Friend's Wedding.
Watching Roberts run through these roles is fun, but it also shows just how many empowered and strong character she's played over the years. There she is telling people off in Erin Brockovich, telling people off in Ocean's, and most famously, telling off the snooty saleslady in Pretty Woman. You know the line.
Related: Julia Roberts Gives a Rare Interview About Fashion: "I Love It"
Julia Roberts, Jennifer Lopez, and More Actresses Who Define Aging Gracefully
Singer, actress, and dancer Jennifer Lopez looked half her age at the 59th Grammy Awards, wearing her hair sleek straight and middle-parted with a lavender smoky eye and luminous skin.

Photo by Getty.
Natural beauty Halle Berry has tried every hairstyle in the book–from her signature pixie, to long, flowing waves–and they all work for her.

Photo by Getty.
As the face of anti-aging skincare brand SK-iii, it's no surprise that Cate Blanchett has flawless skin. Case in point: the actress' radiant complexion at the 88th Annual Academy Awards.

Photo by Getty.
Brunette beauty Sandra Bullock has been in the public eye for decades, and always loves an understated, glamorous look on the red carpet.

Photo by Getty.
South African beauty Charlize Theron stunned at the 89th Annual Academy Awards wearing her hair in an elegant up do with light golden smoky eye and a satin pink lip.

Photo by Getty.
Jennifer Aniston has a go-to look: golden hair, sun-kissed skin, eyeliner, and a glossy lip. And it works for her.

Photo by Getty.
Actress Gabrielle Union always wows on the red carpet, with her bright smile and glowing complexion.

Bennett Raglin/Getty Images
Actress Kate Winslet poses at the EE British Academy Film Awards wearing her hair in tousled curls with creamy, porcelain skin and a satin red lip.

Photo by Getty.
Always radiating with luminous, sun-kissed skin and golden waves, Kate Hudson attends the 2017 Vanity Fair Oscar Party.

Getty.
Actress Amy Adams made her cinematic debut in the '90s, and is still a red carpet favorite today.

Pascal Le Segretain/Getty Images
Reese Witherspoon always knows how to keep her look timely and fresh, as she proved here at the 2017 Vanity Fair Oscar Party.

Getty.
For Eva Mendes, her luscious brown waves and luminous, sun-kissed skin have always been a red carpet staple.

Getty.
Angelina Jolie may no longer try daring hairstyles like a buzzcut, but she has maintained her classic beauty flawlessly.

Photo by Getty.