Watch Julia Roberts Go Down a Dark Spiral in New Homecoming Trailer
It's her first-ever TV series.
---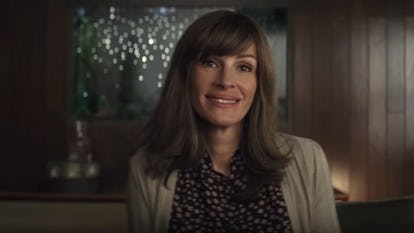 Amazon
One of the best parts of this era of "Peak TV" has been watching the world's biggest movie stars take creative leaps on the small screen. The latest defector is none other than Julia Roberts, whose new show, Homecoming, premieres November 2 on Amazon Prime.
In the just-released second trailer for the mysterious series, we see Roberts as Heidi Bergman, a caseworker who must confront her time working at a mysterious military reintegration program called, of course, Homecoming. "Homecoming is a safe space for you to process your military experience and think about what comes next," she's heard telling one of her patients (played by Race's Stephan James) in the trailer, before asking him to confirm that his participation is "voluntary and uncoerced." Bobby Cannavale and Shea Whigham also make brief appearances in the clip, as does Girls's Alex Karpovsky.
According to an official synopsis, courtesy of Amazon, Homecoming is "a Geist Group facility helping soldiers transition to civilian life." Years later, Heidi seems to have blocked out what happened during her own time there. But when a Department of Defense auditor starts poking around, Heidi "quickly realizes that there's a whole other story behind the story she's been telling herself." That, it seems, is what's happening in the latter half of the clip, as Roberts's character becomes increasingly unhinged and paranoid about what, exactly, is going on in the facility.
See her come perilously close to the edge in the full trailer, below:
That the show feels steeped in paranoia and mystery should come as no surprise, since it's the brainchild of Sam Esmail, the mastermind behind USA's hit cyberthriller Mr. Robot. Amazon's endless pursuit of a hit show in the vein of Game of Thrones has been well-documented, and though Homecoming feels a lot more contained and claustrophobic than HBO's sprawling epic, enlisting the services of an icon like Roberts is certainly a good place to start.