The 7 Overlooked TV Shows to Stream Before 2017 Is Over
It's not too late to binge these underappreciated shows you may have missed.
---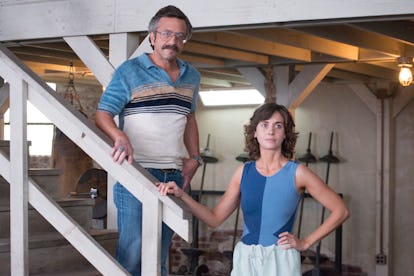 Erica Parise/Netflix
In 2017, there was so much original TV to stream across all platforms—from Netflix to Hulu to Amazon Prime—that it would have been impossible not to overlook some very worthy shows, but that's what this holiday weekend is for. Before the new year and its slew of new shows we can't hope to catch up with, let's take stock of all of the best TV from 2017 that flew under the radar still available to be binged. These 7 make the Peak TV cut.
American Vandal
Jimmy Tatro steals nearly every scene as Dylan Maxwell, the lovable douchebag accused of defacing his high school's parking lot in this sharp mockumentary of true crime dramas. While the details of American Vandal's second season have yet to be revealed, a new group of students will be under investigation by Peter Maldonado (played by Tyler Alvarez).
Dark
The first German series produced for Netflix, Dark is an intergenerational mystery that follows the disappearance of two kids in a small town. It is, as the title suggests, not the lightest of subjects, and weaves a complicated narrative that is hard to look away from and begs for a binge watch.
Mindhunter
Jonathan Groff jumps on the true crime bandwagon as he dares to journey into the depths of the minds of monstrous serial killers in Netflix's Mindhunter. Directed partially by David Fincher and based on a book by FBI agent John Douglas, Mind Hunter: Inside the FBI's Elite Serial Crime Unit, the adaptation centers around a series of chilling interviews with murderers killers conducted by Groff. Part buddy-cop procedural, part Silence of the Lambs, Mindhunter is not for the faint of heart, but it is addictive.
GLOW
In 1980s Los Angeles, a smarmy and cantankerous director played by Marc Maron forms the Gorgeous Ladies of Wrestling, otherwise known as GLOW. Playing opposite Betty Gilpin's all-American soap opera star-turned-wrestler, Alison Brie's performance as a struggling actress who finds herself on a ragtag wrestling team earned her a Golden Globe nomination for Best Actress in a Musical or Comedy series.
Marvel's Runaways
Runaways is Hulu's answer to Netflix's chokehold on the Marvel cinematic universe—wherein a handful of teenagers discover their parents are all super villains, and must band together to undo the evil deeds their ancestors have done.
Call My Agent!
The slice of life workplace comedy known in the states as Call My Agent! (the original French title being Dix Pour Cent) about a gaggle of talent agents who are both chic (they get to live and work in Paris) and hilarious (they are constantly in a state of disarray while trying to keep their clients happy). The second season, which touches on sexism and ageism in the entertainment industry, is now streaming on Netflix.
One Mississippi
Streaming on Amazon Prime, One Mississippi is Tig Notaro's semi-autobiographical comedy about her journey home to Mississippi after the death of her mother, and in its second season, the show fully finds its footing, tugging on your heartstrings one second and making you laugh until you choke the next.
Related: The 8 Netflix Original Movies to Stream This Holiday Weekend