Julia Stiles and Husband Preston Cook Welcomed Son Strummer Newcomb More Than a Month Ago
He was born on October 20.
---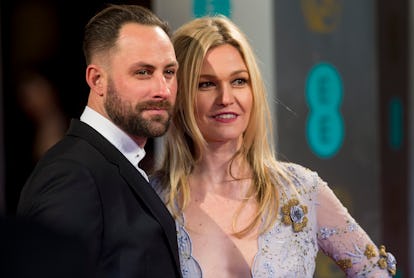 Mark Cuthbert/Getty Images
Belated congratulations are in order for Julia Stiles and her husband, Preston Cook. Although the newly married duo welcomed their first child together last month, they didn't reveal the happy news until this week, more than a month after their son arrived.
Stiles posted a sweet photo on Instagram on Tuesday in which her son's tiny hand grips (presumably) his dad's thumb. "Strummer Newcomb Cook, born October 20, 2017. Thanks and ever thanks to the extraordinary Doctors, Nurses and staff at Mount Sinai for helping bring this utter joy into our lives. ❤️✨ 'Hello, World!'" the Jason Bourne star captioned the photo.
Stiles and Cook, who met on the set of 2015's Blackway, in which Stiles starred and Cook served as a camera assistant, confirmed to People in June that they were expecting. Just a few weeks later, at the beginning of August, Stiles shared the first photo of her baby bump in a mirror selfie she posted on Instagram with the caption, "Alright, I couldn't resist." Later that month, she shared another photo of her bump, taken while on a third-trimester camping trip. "That time I went camping, nearly eight months pregnant," she captioned the photo from her non-traditional babymoon.
Then, toward the end of September, Stiles and Cook announced that they had tied the knot via—what else?—a meaningful Instagram photo. In the pic, the couple stands on a Seattle beach at sunset while they both rest their hands (with new rings in full view) on Stiles's white dress-clad baby bump. "Who doesn't love a shotgun wedding? ?✨" she wrote.
Looks like the duo sealed the deal just in time for Strummer's arrival. Double congratulations, then, to Julia Stiles and Preston Cook!
Related: Longtime Raf Simons Stan Leelee Sobieski Celebrates His New York Debut
Gigi Hadid, Karaoke Star, Takes On "Baby" by Justin Bieber: