Julia Stiles and Preston J. Cook Marry in Surprise Wedding
The pair are currently expecting their first child.
---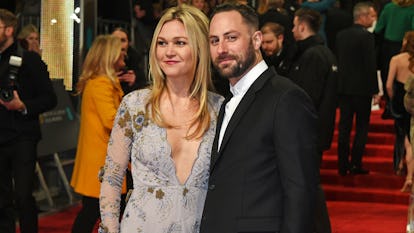 David M. Benett/Getty Images
Congratulations to Julia Stiles and Preston J. Cook, parents-to-be, who recently tied the knot in a surprise wedding on the beach, as Stiles revealed in an Instagram post on Tuesday.
"Who doesn't love a shotgun wedding?" Stiles captioned the picture, a close-up shot in which she cradles her growing belly with both hands while Cook rests his hand on top. The actress wears a white lace dress with elbow-length sleeves by Tiffany Rose Maternity and jewelry from Vancouver-based Reason + Madness, per her tags, while the camera assistant sports a classic white shirt and black suit combo. Cook's thick rose gold wedding band and Stiles's matching rose gold engagement ring and wedding band are on full display, and the photo's background and location tag imply that the nuptials took place on a beach in Seattle.
Stiles, 36, announced her engagement to Cook in January 2016, when she posted a photo to Instagram of her delicate engagement ring in front of a sunset in Isla Grande, Colombia. The Save the Last Dance star's rep later confirmed to People that Cook — who met Stiles on the set of 2015's Go With Me — had proposed on Christmas Eve. Not long after, Stiles told the magazine that she was taking her time planning the wedding. "I'm not getting a ton of marital advice," she said. "We're really slow on the wedding planning, so I haven't really been soliciting advice."
After keeping her lips zipped for most of her pregnancy, Stiles was photographed cradling her visible baby bump in a form-fitting black dress during a visit to London's Magic FM radio station over the summer, leading her rep to confirm the pregnancy news. In early August, Stiles shared a mirror selfie to Instagram in which she stands sideways in order to show off her belly, captioned, "Alright, I couldn't resist." And just a few weeks ago, she shared yet another bump-accentuating photo on Instagram, revealing in the caption that she was "nearly eight months pregnant." Looks like the newlyweds wanted to officially seal the deal before becoming parents sometime in the next few weeks.
Related: Kate Mara and Jamie Bell Are Married! See Their First Wedding Photo
See What's Trending in W Video: