Kirsten Dunst's Wedding Dress Is Being Designed by Rodarte
Prepare for the year's coolest wedding dress.
---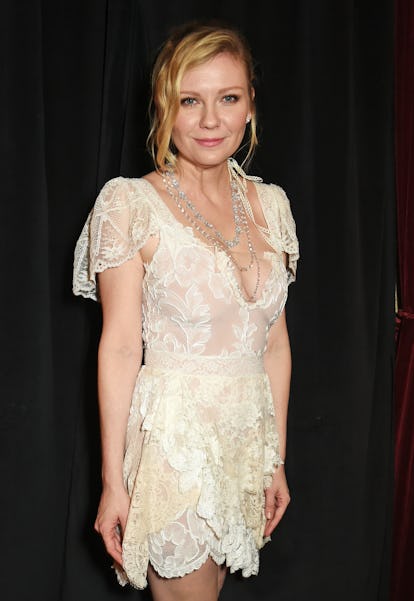 David M. Benett/Dave Benett/Getty Images for Chopard
Not even the cool girls are unaffected by wedding planning, not even Kirsten Dunst. The actress recently owned up to having a Pinterest wedding board. "I never thought I was that person who'd have a Pinterest board. I like doing all of that pinning things," she said on Live with Kelly & Ryan, referencing her upcoming nuptials with her Fargo costar Jesse Plemons. "It's really fun, and because we create it together from the beginning, it's a really nice thing to do together. It's going to be so personal and fun. We're having a really good time."
As for what Dunst's Pinterest wedding board looks like, she didn't say. But she did reveal who will be designing her wedding dress: Rodarte. "Laura and Kate Mulleavy — who do the clothing line Rodarte — who are the directors of the film that I'm promoting, they're making my wedding dress," she said. The collaboration makes sense. Both Rodarte and Dunst are outliers within their realms, known for their eccentricities and fierce independence. Plus, the two parties have a long history. Dunst was not only the first actress to wear the label's designs, and has worn many since, she stars in their feature length film debut, Woodshock, which sounds about as haunting as most of their designs as it centers around a mourning woman who experiments with a potent "reality-altering" drug. While Dunst didn't specify the aesthetic behind her wedding gown, you can bet that it will be ethereal and out of this world.
There's no point in guessing what kind of bride Dunst will be though, since she's resistant to categorization. "People tend to put people in boxes," she told New York Magazine, when speaking about Woodshock. "And that's always been very uncomfortable for me. I don't think I have a box, and I feel like that's confusing people. When I was in my 20s, I did Spider-Man, and that afforded me the luxury of doing what I wanted, doing indies and things like that. I think you have to figure out what artists you want to collaborate with, and that's what's exciting to me. I say no all the time, and it's hard. Sometimes it's like, Should I be doing this? But I think what you pick taste-wise ends up being the community that responds to you and will continue working with you, so …"
It may be a while, however, before Dunst's wedding dress will be revealed as she's said that she's not in a rush to get married. "I'm very relaxed when it comes to those kinds of things," Dunsttold PEOPLE in June, a handful of months after her January engagement, "I'm going to get married at some point!"
Related: Kirsten Dunst Says She's Ready to Have a Baby with Fiancé Jesse Plemons
Watch: Kirsten Dunst Takes W's Screen Test