The Ambitious Collector Julia Stoschek Is Single-Handedly Building One of the World's Best Video Art Collections
Who's afraid of video art? Not the German collector Julia Stoschek, who is behind one of the world's preeminent collections.
---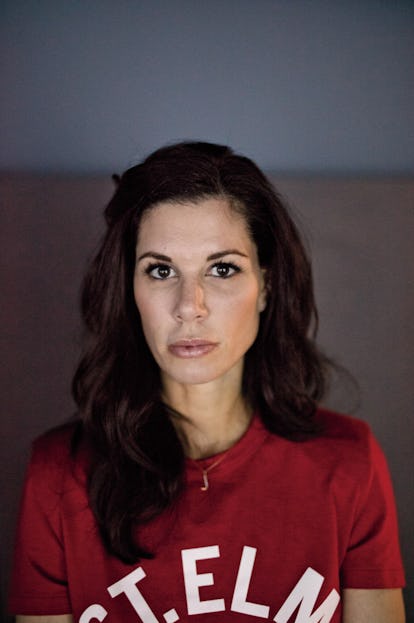 Portraits by Wolfgang Tillmans
One day this past July, the collector Julia Stoschek was sitting in her kitchen, a John Pawson–designed minimalist white cube in the middle of her open-plan aerie in Düsseldorf, when she was distracted by the artwork playing on an old TV monitor nearby. The 1994 video Egg Trying to Get Warm, by the German artist Rosemarie Trockel, features an egg spinning on a hot plate—Trockel's sly commentary on the sexist social assumptions implicit in the domestic setting. "It's funny that it's right here," Stoschek said with a laugh. "I'm a very bad cook. Maybe it will teach me something." Until recently, a tower of monitors by the pioneering video artist Nam June Paik stood nearby. But it had to be removed for fear of being toppled by Stoschek's newly mobile toddler son, Jacob, whose elegant white playpen, she admitted, could easily be mistaken for a Carsten Höller sculpture.
Though the Trockel was the lone video piece flickering in her home that day, it was hardly the only one playing in the 48,000-square-foot building: Below us, on two other floors of the 110-year-old former factory where Stoschek lives, all manner of moving-image works were activated. Forty-nine videos had been selected by the digital-art star Ed Atkins, who had been given carte blanche to choose from among the 800 works in the Julia Stoschek Collection, one of the most significant in the world focused solely on time-based art. Started by Stoschek in 2004, it includes analog and digital video, multimedia environments, internet-based installations, and performance pieces from 1963 to the present. Atkins's show, "Generation Loss," marking the 10th anniversary of the collection's opening to the public, spans the history of the medium, but does away with the customary isolated black-box presentation of video art. Instead, the works are projected on a variety of screens, nearly all in their own soundproof glass chambers, allowing the viewer to take in multiple pieces simultaneously, the way you would paintings in a gallery, without the confusion of competing soundtracks.
In this way, you can see Atkins and Simon Thompson's Sky News Live, a news feed depicting the unfolding results of the 2016 British general election, as well as Ian Cheng's live algorithmic simulation Emissary in the Squat of Gods, 2015. Farther along are Nathalie Djurberg and Hans Berg's unnerving 2008 clay animation We Are Not Two, We Are One; Jordan Wolfson's early screen saver turned film Star Field (Month 25), 2004; and Charles Atlas's Hail the New Puritan, his 1986 video capturing the antics of the then-emerging British post-punk ballet star Michael Clark.
"It's really a house for art," explained Stoschek, who at 42 cut a glamorous figure in a denim jumpsuit, her black hair pulled sideways into a loose braid to reveal gold crescent-moon earrings studding her lobes. "It was very important to me not to have an exhibition space and then a completely different grand apartment on top." The few analog works she owns reside in that apartment, which has largely unadorned white walls that allow her to periodically hit refresh. "I know so many collectors who put everything they have on the walls, but I love to have very little, because you can't imagine how many videos I look at every day." Light floods the main room through the windows encircling the 39-foot-high ceilings; a long catwalk, left over from the building's factory days, hovers above, affording bird's-eye views of a massive hanging sculpture by Carol Bove and chairs and tables by Franz West and Richard Artschwager. Her bold, spare taste in furnishings, Stoschek explained as we walked around, was influenced heavily by her former boyfriend, the German artist Andreas Gursky, with whom she lived for four years, until 2010. Gursky's Herzog & de Meuron–designed studio is nearby, and the two of them had met for a drink the previous night. (She is a single parent; her son's father is Mathias Döpfner, the CEO of Axel Springer, Europe's leading digital publisher.) Stoschek pointed to a photograph by Gursky of Cocoon, a techno club they used to frequent in Frankfurt, singling out Gursky's figure amid thousands of revelers. Living with him, she said, helped her learn how an artist works. "It's quite tough, their life," she said, adding playfully. "Also for partners!"
Stoschek's career path was unexpected. Growing up in a conservative, high-profile family in northern Bavaria, she was in line to assume the reins at Brose Group, the automotive-parts giant founded by her great-grandfather. (Today she's an active shareholder in the company, and has become increasingly involved.) Her father, Michael, the company's chairman, had briefly considered a career in photography, and there were always cameras lying around their modernist house, a rarity in the region. But the family was focused on business and competitive sports, not art. Michael collects rally cars and was the 2006 European Rally champion in the vintage-car division; he was also the Bavarian show jumping champion in 1992 and 1996. Julia rode on the German junior dressage team and studied economics.
It was while interning at a European bank in New York in 1998 that she began visiting galleries. Her first "video-piece experience," as she puts it, was seeing Douglas Gordon's three-channel Play Dead; Real Time at Gagosian gallery, in 2003. Gordon had filmed a circus elephant repeatedly lying down and then awkwardly struggling to rise, and showed it from different perspectives. "I was so fascinated with this very emotional piece," recalled Stoschek, who has yet to acquire it. "I spent hours and hours in the gallery." Back in Düsseldorf, she opened her own tiny gallery but turned away buyers because she refused to part with anything; a project space briefly followed.
Meanwhile, her friendships with Klaus Biesenbach, then a film and media curator at New York's Museum of Modern Art and the founding director of the Kunst-Werke Institute for Contemporary Art, in Berlin, and Harald Falckenberg, the German art-theory professor, deepened her network and interest. Biesenbach recalls advising her to stay close to institutions and artists. (She is now on the boards of MoMA PS1, where Biesenbach is the director, and the KW.) What nudged her into collecting video art was an impromptu "studio visit" with Aaron Young and Mika Rottenberg at MoMA PS1. Encountering the fledgling artists in the museum's café, she asked what they were working on; they pulled out their laptops. She was struck by Young's provocative High Performance, made in 2000, showing a motorcyclist doing burnouts on a painted floor, leaving black circles of charred rubber and thick white smoke. "It combined everything—performance, video, documentation, and painting," said Stoschek, who promptly bought her first piece of video art, directly from the artist.
Soon afterward, standing in front of the ruin of a former art-framing factory that was to house her collection, she understood that she faced some difficult hurdles. First up was convincing both of her parents—and Düsseldorf's historical-monuments office—to support her bold concept. "No, young lady," the lead city official initially rebuked her. "No video rental shop is moving into that building!"
Her single-minded focus on time-based works comes from her interest in "contemporaneity," she said, noting that she came of age with MTV. "I try with the collection to create an image of the social and cultural changes of my generation. We're surrounded by all these moving images. I absolutely believe that the task of art has changed, so the function is not only to generate unique images, but to seek reflection. Look how the post-Internet artists are working. They're creating a totally new artistic language. And I love how it's often political."
Stoschek follows the artists she collects over the long haul and buys pieces only at the time they are first made, unless she's filling in historical gaps and the pieces are masterworks. Such was the case with Hannah Wilke's 1974 Gestures, which depicts the American artist tugging at and hitting her face, a comment on the scrutiny of women's bodies. "It's important to see the relationship between the generations," said Stoschek, who recently added works by such rising stars as Rachel Rose, Jon Rafman, and Bunny Rogers, as well as filmmaker Arthur Jafa's searing 2016 collage of black lives in America, Love Is the Message, the Message Is Death. The piece will be on view beginning February 10, 2018, as part of the Julia Stoschek Collection's debut collaboration with London's Serpentine Galleries, which will be Jafa's first solo survey in Germany. "I'm not interested in acquiring 100 pieces by 100 artists," she said. "I want to get groups of important works so I can present solo shows."
She also supports nascent projects, knowing how difficult it is to raise funds to realize large media installations. She underwrote the 2016 Hugo Boss Prize winner Anicka Yi's 3-D video The Flavor Genome, which was shot in the Amazon and explores perceptions of the natural world, and cosponsored the past two exhibitions in the German Pavilion at the Venice Biennale. The first, Factory of the Sun, the surreal landmark installation by Hito Steyerl, depicts workers whose forced movements in a motion-capture studio generate artificial sunshine; the second, Faust, Anne Imhof's dark multimedia performance work replete with totalitarian imagery, won the Golden Lion, the top prize.
"She's incredibly fast and ambitious," says Biesenbach. "She takes the best out of what people tell her, and what she sees, and makes it her own." Not incidentally, Stoschek has served on MoMA's media–and–performance art acquisitions committee and donated several significant installations (though she can borrow them), among which are works by Doug Aitken and Allora & Calzadilla.
There are only a handful of other contemporary collectors so similarly dedicated, including Pam and Richard Kramlich in San Francisco, Ingvild Goetz in Munich, and Anita Zabludowicz in London. "We call ourselves 'digital sisters,' because we have a lot of artists in common," says Zabludowicz, who began acquiring art made using computers and the internet in the mid-1990s. "Julia is very focused and one of the only collectors I can relate to in that field because there really isn't much of a market for this kind of art, which means we can collect these artists on an institutional level."
Although now widely recognized, time-based art remains challenging. It doesn't sit passively among paintings and sculpture, and it requires different kinds of projectors, monitors, and spaces. "It takes a lot to collect video because it doesn't provide instant gratification," says Ryan Trecartin, the first post-internet art star, who recalls visiting Stoschek's Düsseldorf space at her invitation in 2011. By then, Stoschek had acquired Trecartin's 2009 Trill-ogy Comp, a maniacally mutable film, rife with multilinear narratives, simultaneous perspectives, and merry young pranksters of morphing gender, race, and identity. "Video activates multiple senses, and there's more expected of the viewer," he adds. "You can't just walk through a room and continue enjoying your conversation. To see her creating a space that was all about spending time with work that demands you spend a significant amount of time with it was inspiring."
When Stoschek buys a video installation, it's typically one of an edition of anywhere between three and 10. She receives a master copy of the piece, in varying formats ranging from analog tapes to digital files and virtual reality. Of course, the means by which moving images are produced—and the equipment necessary to show them—has changed rapidly. As a result, Stoschek and her team must regularly buy obsolete equipment on eBay and Amazon, such as the outmoded monitors used in Nam June Paik's 1995 Empire State Building.
Conservation is another issue: Stoschek stores all master copies of her collection in a state-of-the-art facility, in conditions ideal for magnetic tapes and films. One digitized copy is kept on the main server, another in her house, and a third copy of the work is used for exhibitions. Some artists don't mind if their work migrates to updated formats; others want it to be played only in the original. ("Generation Loss," the title of Atkins's show, which is up through July 2018, refers to the successive loss of quality that takes place each time data is copied.)
Since opening her collection, Stoschek has staged 25 exhibitions, including solo shows of Cyprien Gaillard and Sturtevant. She decided to add live performance after she spent a weekend at Marina Abramovic's old apartment in Amsterdam, listening to her recount anecdotes about her performances while they watched films of them together. Soon after, Stoschek hosted 28 performance artists in the Düsseldorf building over the course of 10 months—the cost and logistics of which still make her shudder. Tino Sehgal, Abramovic, and Joan Jonas were among the prominent figures who participated.
Her desire to reach a wider public led Stoschek to launch a second space in Berlin in 2016. Originally home to the Czechoslovakian Cultural Center and then a nightclub, the building is a classic East German prefab built in 1969 that Stoschek has kept in its original form, using the gym, vintage wooden cinema, and other quirky spaces to showcase the art to startling effect. But she's not stopping there. Already, she's imagining a museum custom-built to meet the technological needs of an ever-changing art form. She wants it to be located in the center of a city, but which one remains to be decided. "I'm dreaming of a tower where you can move in three dimensions through the floors," she said, "and a special surface outside, for projections."
Still, for all her talk of the coming landscape of augmented reality and the future, Stoschek harbors a passion for the past. Over lunch at a nearby café, she chastised herself for not having found the time to visit the major Lucas Cranach the Elder exhibition on view at Düsseldorf's Museum Kunstpalast. She was leaving for her summer holiday the next day and would miss its run. As it turns out, she's always had a thing for Old Master paintings, Cranach's in particular. She hasn't bought any yet, though she admitted that she was thinking seriously about it. "You could say I love the cutting edge and the old," she explained. "I simply cut out the in-between."
Kendall Jenner and Gigi Hadid channel famous performance artists: