Julie Delpy Loses Support from a "Sexist" Investor, Placing Her Newest Film on Hold
Julie Delpy's film My Zoe has lost funding from an unnamed "sexist" investor, leaving Delpy with just a week to secure finances before shooting the film.
---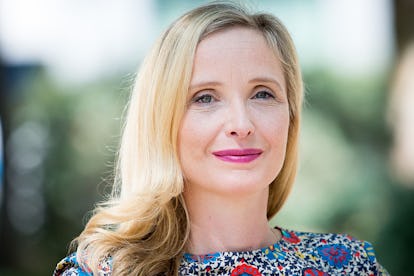 Pablo Cuadra/Getty Images
The French filmmaker and actress Julie Delpy was all set to star in, write, and direct her passion project film My Zoe until a major investor backed out of financing her sixth directorial feature that was scheduled to begin shooting this month. The investor told Delpy, "Women directors are emotional, women directors are unreliable," to her face during a meeting, the Oscar-nominated filmmaker revealed to The Hollywood Reporter, adding that if no financial decision is made by December 15, the film will have to be shelved, and shooting will have to be put on hold.
Delpy's other films include 2 Days in Paris and 2 Days in New York, both of which she starred in, wrote, and directed. The multi-hyphenate also co-wrote the screenplay for Richard Linklater's Before Sunset, for which she was nominated for an Academy Award, and Before Midnight, the third and final installment of the Before trilogy. She has also acted in Krzysztof Kieślowski's Three Colors trilogy as well as Todd Solondz's Wiener-Dog. Delpy is a cornerstone figure of popular independent films, and fans of the filmmaker were likely looking forward to the release of My Zoe, which she has been eagerly trying to produce for the last three years.
Variety reported in 2016 that Delpy would be joined by Gemma Arterton and Daniel Brühl for My Zoe, which was about a geneticist named Isabelle "recovering from a toxic marriage and raising her daughter Zoe in conjunction with her ex-husband." Delpy would play Isabelle, with Arterton and Brühl in supporting roles. Somehow, an Oscar-nominated filmmaker with numerous credentials was not enough for the investor to keep their promised position to financially assist the film. Delpy claims that the investor who backed out of supporting My Zoe "made their decision [to pull money from the film] on nothing except the fact I was a woman," when they rescinded their support just before Thanksgiving.
Delpy had already written My Zoe and shooting was scheduled to begin mid-December, until a major investor backed out because of "a sexist American lawyer," an advisor to the investor who had bullied Delpy throughout pre-production, she said. The unnamed lawyer demanded "things they wouldn't have asked of a man if he was mentally ill and on drugs," according to Delpy. The financier reportedly had pledged to fund about 20 percent of the film, and while Delpy has pulled in some investments from smaller financiers, she still needs to acquire more money before the end of next week in order to move forward with the film.
"I don't want to be dramatic, it's only a movie but this is the shittiest situation I've ever been in my professional career," said Delpy of the fact that the film she has worked on since 1991 may have to be shelved indefinitely. "It's been my life's project, it's the best thing I've ever written," added Delpy, who promised to move forward with My Zoe no matter what.
Related: The Academy Awards Say They Will Now Hold Members Responsible for Their Actions