Julien Baker, Singer of Sublime Sadness, on Her Struggles with "God or an Ex-Lover" In Her New Album
The 21-year-old singer on the making of her much-anticipated second album, Turn Out the Lights.
---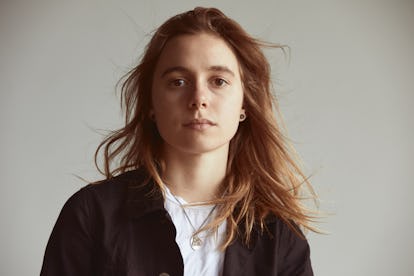 When the musician Julien Baker was in high school, she saw two school productions of the meta-musical The Drowsy Chaperone. There was one moment that stuck with her: The narrator, an obsessive, reclusive Broadway fan, explains the function of a musical overture. "It's supposed to signal to you what's going to happen throughout the rest of the narrative," Baker recalled over the phone recently. So for her much-anticipated sophomore album, Turn Out the Lights, out Friday, Baker decided to open with her own kind of overture. "Over" is a vignette that presents an abridged, music-theory version of the record's themes. The door to the studio control room squeaks open, slams shut. Baker's carabiner jingles, and the sound of her footsteps trace her path to the piano. She slides out the bench, sits down, and plays a rich piano chord that gives way to a mournful A-minor arpeggio. Camille Faulkner, the violinist who accompanies Baker on the record and on tour, weaves her way in with a keening melody and slides up to the major as an electric guitar steps in for the piano. That leads into "Appointments," the second track on Turn Out the Lights and the album's lead single, released in August.
"I wanted it to be like a musical inside joke," Baker said, "where it goes from minor to major, just like the record goes from despairing to hopeful."
It's also a fitting introduction to a record that is, in many ways, Baker's own meta-commentary on how she got here. Two years ago, Baker released her debut, Sprained Ankle, first independently, and then via the indie label 6131 Records. It quickly amassed her a small armada of fans—and a deal with Matador Records, where her label-mates now include Perfume Genius and Cat Power.
Baker was already a seasoned musician upon the release of Sprained Ankle—she had been touring since age 16 with her band, Forrister—but she didn't quite anticipate the scope of the attention it would bring her. She set out on tour, first traveling the United States and then Europe, which was also her first trip outside the country. She opened for Frightened Rabbit, Death Cab for Cutie, Conor Oberst, and Paramore. She headlined dates, too, bringing along emerging acts like Phoebe Bridgers and Half Waif. In high school and college, school was the norm and Baker would steal away on weekends, taking the Greyhound hours away to play a show, after Sprained Ankle, the road became home. For a period, she said, "I didn't exactly live anywhere," because real estate wasn't practical while touring constantly.
It was during this period of transition that Baker began writing Turn Out the Lights, accumulating tracks through voice memos and spare hours spent in her van. Her live set is captivating in its intimacy, her music so raw and visceral even a crowd of a hundred or a thousand does little to dampen it. Touring Sprained Ankle emphasized something she had always believed, which had been reinforced by her experiences in the Memphis DIY music scene and on the road: that music was not meant to be a siloed experience. Sprained Ankle was, in a way, about isolation; Turn Out the Lights is, equally, about the distance between people. The title track, for example, was borne out of conversations with her friends and peers about being present both for herself and for others while on the road.
Baker is quick to admit her songs are autobiographical, but their specificity makes them universal. She had made Sprained Ankle in relative solitude, and the result was an intensely introspective album, its songs focused in large part on Baker's conflicts with her faith and her struggles with substance abuse. ("God or an ex-lover," as she put it.) "They were all basically observations of how the world was acting and impressing itself upon me, and I wanted to flip that around," she said.
"Having to talk about the songs from the last record and interact with people and getting to see a tangible audience, night after night, I think I started to let my own ego shrink and recognize my role as an artist in a musical community," she added. "On the last record, I'm singing about emotions that are valid and real and deserve acknowledging, but I then had to analyze those songs and think, 'What was the motivation behind me feeling this way, and how do I change it and hope to cope with it?' And understanding that emotion is fine to acknowledge, but it's not fine to submit to it or remain stagnant and defeated by it."
The hopefulness she brought up when discussing her overture is perhaps best felt on "Hurt Less," but sometimes, Baker's analysis took quite literal form: "Claws in Your Back," the final track on Turn Out the Lights, was devised as a direct counterpoint to "Go Home," the final track on her first album, in which Baker grapples with the idea that the sum suffering of the world might be too much to bear, that she might be too damaged to fix. The last line of "Go Home" is, "God, I wanna go home." The last line of "Claws in Your Back," the line that closes Turn Out the Lights, is "I wanted to stay."
"That is the song where it most explicitly states that I don't believe that there are easy binaries within ourselves—like, good behaviors, bad behaviors, normal things, abnormal things. I don't think those binaries are useful, or real, because I don't think that a single empirical standard of normalcy exists," she said of "Claws in Your Back."
Baker wrote Turn Out the Lights before November and recorded it in January, before many of the uglier political and social developments of this year. And yet somehow she made a record about how far off other people can feel that feels like a necessary sanctuary at this moment. "There's less outright despair and more of an acceptance of lost-ness," she said of Turn Out the Lights. (She admitted she felt "bizarre" about putting out such an intimate, personal record right now. At the same time, "anything that is personal can be political," she said.)
"Sometimes, it feels artificial to try to come up with a solution to something that none of us know how to solve," she said. "Sometimes, what's helpful is to admit that we are discouraged and admit that we are at a loss." There's comfort in failure, so long as failure isn't defeat.
Noah Cyrus would call her sister Miley if she had car trouble, but not if she needed help with her taxes: