June/ July 2015 Editor's Letter: Social Studies
W's editor-in-chief introduces the new jet-set.
---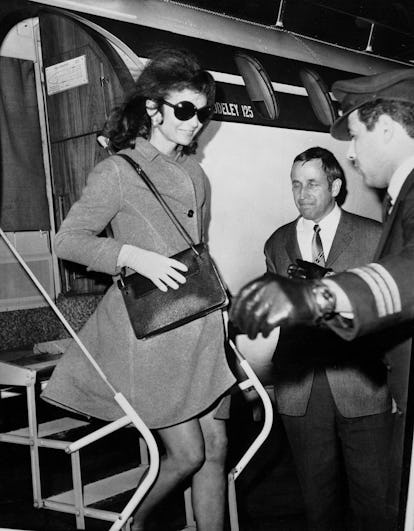 As we were starting to work on this issue ____and exploring the modern definition of "jetset," we heard the news that John Fairchild, the man who founded W magazine more than 40 years ago, had passed away. For most of his life, Mr. Fairchild was the arbiter of the international social scene, anointing its kings and queens—and occasionally dethroning them with his withering wit and legendary In/Out lists. Sadly, I had very few opportunities to chat with him, because by the time I arrived at the magazine, he had moved to Europe. But I often find myself thinking about him and why he was inspired to create W in the first place. Recently, as I was reviewing the impressive number of followers that W has amassed across social media platforms—more than 917,800 on Instagram, 1,010,000 on Twitter, 568,400 on Tumblr, and 995,400 on Facebook—I wondered whether he would be proud to see that in today's digital era, W is more relevant than ever. His instinct that what people want is a voyeuristic look into the private lives of the rich and famous and, perhaps more to the point, that empathy and envy are what drive social behavior, is still right on the mark, even if the society in question has changed considerably.
Back in Mr. Fairchild's heyday, only a select few were jetting from continent to continent, villa to villa, party to party. Nowadays, as Christa D'Souza points out in her amusing piece "Lifestyles of the Rich and Shameless", for the newly wealthy, private jets are the equivalent of taxis, and the concept of "high maintenance" is being pushed to unprecedented extremes.
On the other hand, the current flock of "swans"—the species of well-bred, well-heeled women Slim Aarons photographed 50 years ago lounging poolside or frolicking on the slopes—is far more than just a bunch of idle socialites, whose only job is to show up in the right place at the right time wearing the right outfit. Our new Contributing European Editor, Gianluca Longo, traveled from England to Italy, Spain, Belgium, and France to track down eight bright young things who, despite their privileged backgrounds, are working hard to make a name for themselves in the worlds of interior design, fashion, art, and food. And, as Andrea Lee discovered in "Prince Charming", no one understands this social order better than Giambattista Valli. The designer's close circle of friends and clients includes members of Mr. Fairchild's establishment such as Lee Radziwill and Queen Rania of Jordan, as well as enterprising newcomers like Allison Williams, Diane Kruger, and Nicola Peltz. What all these women share is an innate understanding that style is more than skin-deep.
No one, however, matches this month's cover star, Jane Fonda, when it comes to melding style and substance. At 77, she is still reinventing herself and turning heads—as her recent appearance in a certain Balmain jumpsuit at the Grammys proved. Fonda is starring in Grace and Frankie, a Netflix original series, adding "TV star" to a lengthy résumé that includes Hollywood legend, antiwar activist, fitness guru, and cultural lightning rod. In "See Jane Run…and Run and Run", Fonda talks frankly to Editor at Large Lynn Hirschberg about the various lives she's led; the many men in her life, including three husbands; and how, contrary to her jetset image, she has had to work harder than we may have thought for everything she's accomplished. The key to her success was not birthright, nor privilege, nor luck; it was, as she puts it, "resilience." That's something we could all take to heart.
Photos: June/ July 2015 Editor's Letter: Social Studies
John Fairchild at a fashion show, 1967. Courtesy of Bob Peterson/The LIFE Images Collection/Getty Images.
Jacqueline Kennedy Onassis, shortly after her wedding to Aristotle Onassis, British Isles, 1968. Courtesy of Bettmann/Corbis.
W's In/Out list from 1987. Courtesy of CNP Archives.