June Release: Naomi Campbell
Model Naomi Campbell writes about being in drug rehab, finding solace in sweeping and getting her life on track
---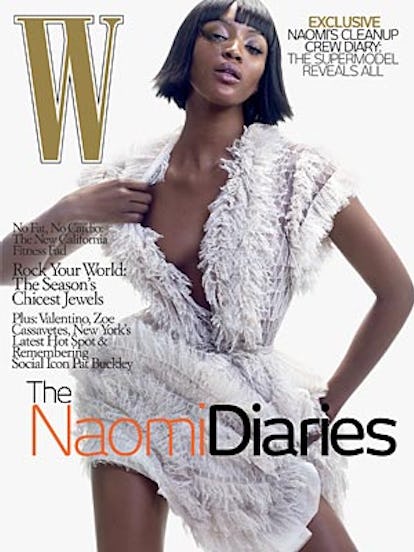 (May 7, 2007, New York, NY) Model Naomi Campbell tells W magazine what it's like getting her life on the right track: "Recently, my mother agreed to go into therapy with me. It's something I wanted for a long time but haven't started because now I need to get myself on the right path first. Part of that involves cutting a lot of working relationships. I don't really have many yes-people in my life anymore. I've gotten away from them – all the agents, assistants, people who would never tell me the truth and watch me destroy myself. But of course many of those people maybe didn't want to work with me anymore, either, which I totally understand."
Following are other comments from Naomi Campbell's diary entries found in the June issue of W:
ON DOING DRUGS…"As we are working, one of my coworkers tells me how he ended up here, which was basically because of alcohol. I bond with him, and I tell him I'm in recovery. I started doing drugs when I was 23, as a recreational thing. I had no idea of the effect it would have on me. I had been discovered at 14 and brought into the business at 15. There's no handbook to teach you how to deal with this business. It's been such a roller coaster. Before long, I started taking drugs to escape or deal with some disaster, like when someone died. I lost a lot of friends in 1997, and that was the year I really fell down emotionally. I first sought treatment for my addictions in 1999, and then went in and out of recovery. I'd be okay for a couple years and think I had things under control, but then I would relapse…"
ON SWEEPING…"…So I keep on sweeping. I'm moving so fast they tell me to slow down. I'm getting very protective of my pile of rubbish—kind of the way I feel about my Hermes handbag or my Louis Vuitton…"
ON FINDING PEACE IN CLEANING…"I head to my locker and change into my work clothes and am told, along with two other people, to sweep the garage. We start sweeping so intently and get a rhythm going. I have to tell you, I find solace in sweeping. I have no other responsibilities. I have no phone. I have time to think. I just have, you know, peace."
ON NEEDING ALL OR NOTHING…"Some people can handle a drink or a line of cocaine, but I've finally come to realize that, for me, it's all or nothing – and it has to be nothing. And my life has changed since."
ON GETTING TREATMENT FOR HER ANGER AND ADDICTION PROBLEMS…"I never really looked into myself, deep below the surface. I was just caught up in my job and flying around the world and wanting to be fabulous. But there comes a point when it all catches up with you and you have to deal with it. And that caused me to reassess myself and get real treatment for my anger and my addictions."
ON PEOPLE AT THE SANITATION DEPARTMENT…"Everyone else at the Sanitation turns out to be really pleasant too. I meet so many different sorts of people and find out how much the people who work there do for the city. Maybe doing this service at the Sanitation was meant to be like a humiliation punishment, but it isn't at all."
ON TAKING RESPONSIBILTY FOR HER ACTIONS…"I'm not saying this to excuse what I did. I threw the phone – I threw it, but I didn't bash it – and that was wrong…I'm guilty. I take responsibility."
ON HER NEW SANITATION COWORKERS…"Two of the people in the room have never been on a plane. They ask me what it's like, and I'm embarrassed to tell them I was on seven planes the week before alone…They tell me some of the things they've read about me, like that I have a diamond-encrusted BlackBerry. I start laughing. I've never had a diamond-encrusted phone! I'll leave that to Paris [Hilton]. It's not my style."
ON THE TABLOIDS TURNING HER COMMUNITY SERVICE INTO A FASHION SHOW…"…I go home and watch I Love New York on VH1. Then the 11 o'clock news rolls around, and my friends start calling and texting me. I try not to read the tabloids, and I am not fully aware of what's going on, but I find out that the press is turning this whole thing into a fashion show by commenting on what I was wearing."
ON HANDING HER BAG TO A POLICEMAN… "When I get out of the car, my bodyguard grabs my bag and just hands it to someone. It turns out it was a policeman. I'm not treating the police like they are my valet – like the papers will say later – it's just that I'm used to gentlemen. Obviously I'm wrong."
ON THE MEDIA FRENZY OVER HER OUTFITS… "I decide to wear black. It's getting crazy. I'm getting all these calls from designers and stylists asking me to wear their clothes. Apparently, people on the Internet are rating my outfits. With everything happening in the world – in Iraq, in Africa – this is what they focus on? In the car, my bodyguard looks at me and says, 'I know you don't like seeing the newspapers, but you need to look at this.' And it's that policeman carrying my bag. I feel so bad. I didn't mean to embarrass him. When I arrive, I go straight to him and say, 'I'm so sorry.' And he looks at me and goes, 'It was my pleasure.' "
ON PAYING HER DEBT TO SOCIETY… "My last day. Clean the offices downstairs. Sade's playing on the radio. The important thing to me is that I did my job, that the Sanitation people were happy with the work I did. That's all I wanted to hear. I feel like I've paid my debt to society. I'm not proud of what I did, but it's something I definitely learned from. Now I have to get on with my life, keep working on my problems and go to meetings every day."
ON HER LAST DAY OF COMMUNITY SERVICE… "I want to walk out of here with my head up. I want to go out in style, and fashion is what I've done for 21 years. It's something that I love. So, when I'm finished with my work, I slip on the silver sequined Dolce & Gabbana demi-couture gown that I packed in my bag this morning. I put it on lying down so I can't be snapped by the paparazzi, who can see in the window. When I get outside, they start screaming, going crazy, as I get into my friend Giuseppe Cipriani's silver Bentley…I go to sleep late, but I wake up early, thinking about my coworkers who are continuing their service. I call Marc, and he says, "We missed you today." But life goes on, and I learned from my mistakes. I'm enjoying my life in recovery, and I don't find it boring. And it's just one day at a time. That's how I'm going to live."
ON THE PRESS DESCRIBING HER NEW COWORKER, MARC, AS HER 'BOY TOY'… "We finished the walls yesterday, so I start washing the lockers. We've run out of things to do. When it's time to leave, one of my coworkers, Marc, walks me out. He's a lovely man who works on Wall Street. He says, "Give me your bag. I'll carry it." Later I find out the press is describing Marc as my "boy toy"! For God's sake! There's nothing physical between us. It was just two people in the same boat trying to make the best of it. I realize then that the press just has to write something. They don't care; they'll make it up.."
Please credit the June issue of W for the above. For additional information or to schedule an interview with a W editor, please contact Engelman & Co. at 212.645.9222. Thank you.