June Release: Charlize Theron
Charlize Theron Talks About Being Misunderstood For Playing 'Ugly' Women And Wanting Children But Never Wanting To Marry
---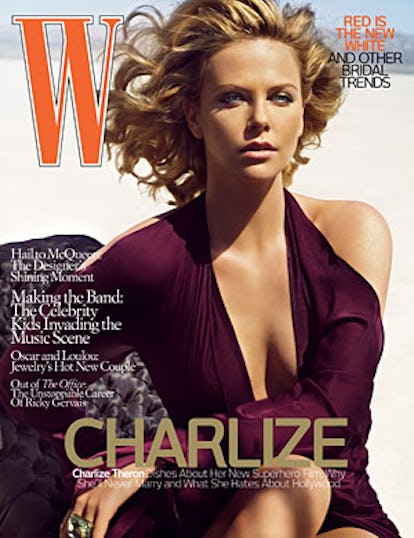 (May 12, 2008, New York, NY) Charlize Theron tells W magazine why she gets fed up with the notion that she plays predominately 'ugly' movie characters: "Oh, no, you better not be bringing up 'ugly.' Look, I get it. Monster was a transformation. North Country was dirt. That's what happens when you go into a mine. In the Valley of Elah – that's when I took real offense, because that was just my real hair color and me with no makeup."
Following are other comments from Charlize Theron's interview found in the June issue of W:
ON "GOOD MATERIAL" DRIVING HER TO CHOOSE MOVIE ROLES …"More interesting stories come my way about what we consider real people than about glamorous, beautiful people. It really irks me that people think I choose these roles because if I'm not looking attractive, they will take me seriously. I'm sorry, but if I'm going to play a cop, I'm not going to be wearing eyeliner. I'm not going to wake up in a scene with lip gloss on, because that's not how women wake up, not even the most beautiful women."
ON WANTING CHILDREN BUT NOT MARRIAGE…"I always knew that I didn't want to get married. I've always known that I'd be a mom from the time I was a little girl."
ON TURNING DOWN "HOT-CHICK" MOVIE PARTS AFTER HER LINGERIE-CLAD ROLE IN 2 DAYS IN THE VALLEY…"A lot of people were saying, "You should just hit while the iron's hot.' But playing the same part over and over doesn't leave you with any longevity. And I knew it was going to be harder for me, because of what I look like, to branch out to different kinds of roles."
ON WHY SHE CHOSE TO CO-STAR WITH WILL SMITH IN HER NEW BLOCKBUSTER MOVIE, HANCOCK…"[Will] said that there's this idea within the industry where you do your independent film that's made for under $2 million, it's a struggle and then you win your Academy Award for that, because that's your best work. And then you do what's considered these kind of sellout roles in the big blockbusters. And he's like, 'Why can't we do the best work in a big movie that can be a blockbuster?'"
ON HOW HER GREATEST TRANSFORMATION IS ON THE RED CARPET…"It's great fun when you have three people coming to your house, and one's doing your nails, one's doing your hair and one's doing your makeup. Two hours later, you look gorgeous. But that's not my life."
ON HER SEVEN YEAR RELATIONSHIP WITH IRISH ACTOR, STUART TOWNSEND…"Man, woman. Like to touch each other."
Please credit the June issue of W for the above. For additional information or to schedule an interview with a W editor, please contact Engelman & Co. at 212.645.9222. Thank you.