Justin Bieber and Hailey Baldwin Are on a Non-Honeymoon Honeymoon in the Amalfi Coast
It comes with a private butler and chef.
---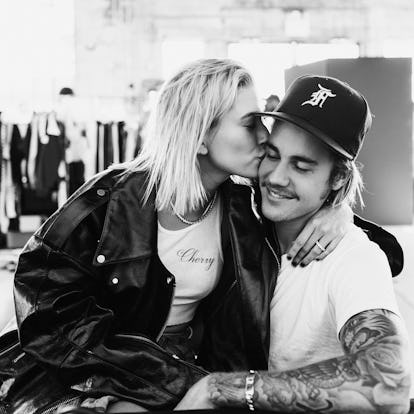 Courtesy of @justinbieber
Justin Bieber and Hailey Baldwin on a non-honeymoon honeymoon to celebrate their non-marriage marriage in Italy. If that sentence seems confusing that's because the entire situation is. One thing that isn't, however, is why they chose to stay at the Belmond Hotel Caruso in Ravello, Italy.
Bieber and Baldwin are shelling out $13,000 a night for a villa at the former 11th century palace, situated in one of the most scenic stretches of the Amalfi Coast. The pair were seen leaving the hotel grounds and having lunch there yesterday, but a local reporter confirmed that the young married couple are staying there, according to People.
What comes with that price tag? A private butler, chef, and garden. Not to mention, the room comes with views of Ravello, the town that inspired artist M.C. Escher, and views of the coast. The hotel is especially beloved because it offers views of not just the water but also the mountains. There's also its food and beverage program, which Bieber and Baldwin have been taking advantage of.
"Yesterday, he spent €8000 ($9,500) on a bottle of Petrus wine," according to the reporter. "He also loves pasta alla bolognese and loves the privacy of Ravello." A fan actually snapped a picture with Bieber and Baldwin drinking some wine, while they were out on the streets of Ravello.
Despite all of those wanderlust-worthy details, Bieber and Baldwin aren't even considering the trip to be their honeymoon, according to another source. "Justin and Hailey are having a great trip in Europe," the source told People. "They were happy to leave the US for some relaxing time. Justin isn't calling it a honeymoon, but he is treating Hailey like it is. He is crazy in love with her and just so insanely happy."
Bieber put his happiness on full display earlier in the week when the pair visited London. While there, the singer took the opportunity to serenade Baldwin — who he plans to marry once again in an official wedding — with a questionable song. He played an acoustic rendition of Tracy Chapman's "Fast Car," a song that is about a very, very different kind of life than one that entails $13,000 a night hotel stays.
Baldwin, meanwhile, opened up about her whirlwind summer, telling Coveteur, "My entire summer has been quite adventurou. I got engaged! I think that's probably the biggest OMG moment of the year for me, of my life. So that's probably top." Of course, that was before she and Bieber went to Ravello.