Justin Bieber Celebrates Instagram Comeback By Going On a Selfie Bender
Justin Bieber returned to Instagram with an unrestrained vengeance (and a possible collaboration announcement).
---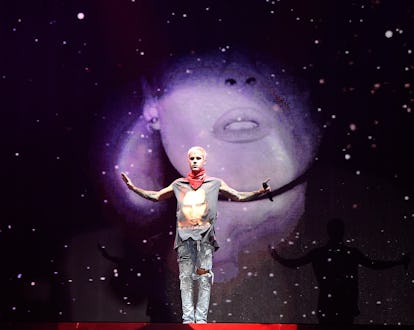 Kevin Mazur/Getty Images
Justin Bieber's departure from Instagram 24 weeks ago accompanied something of a sea change in the way young celebrities view social media. Suddenly "deleting your account" went from an insult to something of a power move. Other celebs like Kim Kardashian, Kendall Jenner, Gigi Hadid and (yes) Selena Gomez all took lengthy social media hiatuses in 2016. Jenner even framed her temporary deletion as a form of self-care.
The underlying message seemed to be that on a social network where anyone with the right cheekbones and lighting become semi-famous with enough well-composed selfies, the truly famous can afford to sit the social media mess out for a while without harm.
Of course, all those stars have since returned. They may have made their point, but, like most millennials, they can't stay away from that sweet, sweet social media action too long.
Bieber himself returned on Super Bowl Sunday with a preview of the new T-Mobile advertising campaign he's fronting (what better excuse to return than with a big payday?). He then went back to silent mode for a few more days, but last night he returned in full force with a torrent of selfies.
It's pretty common for someone who abstains from a habit for a while to return to it by perhaps going a bit overboard, and Bieber is no exception.
It started innocently enough. Bieber posted the dates for his 2017 stadium tour. Sure, self-promotion is what social media is all about at the end of the day, especially for celebs.
Then he posted his first selfie in months. It was a standard mirror shot, featuring the young performer in a floral jacket and Tumblr pink Adidas hoodie.
Then he decided he needed to give us an update on his chest and tattoos. Fair enough. As Rihanna says, "This is what you came for."
Then there was another.
At this point it's pretty clear that while Bieber had stopped 'gramming, he didn't stop selfie-ing. He appears to have stockpiled months worth of self-portraits in his Instagram absence as evidenced by his varying hair styles and colors in the pictorial onslaught. He basically chronicled his change from buzzcut to the return of his classic-era boy bangs (albeit out of order).
Of course, he had to let us know about the cool hockey thing he went to.
We're not going to post every single example of the eleven-photo set, but, his first full-on shirtless selfie in some time is necessary. It's also one of the few with an actual caption. "SOO MUCH CONTENT," he wrote. At least he's self-aware. Though, for a certain segment of his fandom, this picture alone is probably the exact right amount of content.
Then he posted these two pictures back-to-back.
At first glance, it's hardly the type of selfie shot most people would post once, let alone twice, but Bieber does seem to have a message.
The first picture basically says: "Hey, FYI, I'm back in the studio working on new music!"
The second picture follows it up with: "And I'm making that new music with 20-year-old superstar Dutch DJ Martin Garrix." At least, that's who the internet is pretty sure that the second face in selfie number two belongs to.
Then Bieber ended the great selfie binge with a bedtime shot.
It may have been nighttime for Biebs, but at least it's a brand new day for his Instagram account.
Watch Kendall Jenner and Gigi Hadid dramatically read the lyrics to Justin Bieber's "Baby":