Justin Bieber Is Rumored to Be Dating Paola Paulin
They have yet to confirm the relationship.
---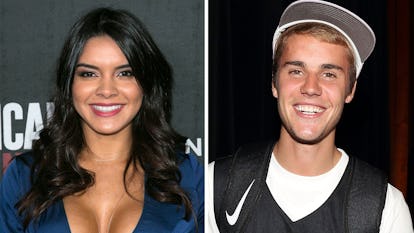 Composite. Getty Images
Justin Bieber might have a new official plus one, according to Us Weekly: Paola Paulin, who is an actress on the HBO show Ballers.
According to Us Weekly's source, Bieber and Paulin are "totally smitten with each other." The pair is apparently also enjoying Bieber's new favorite habit: attending church. The pair was present at a service in Beverly Hills in late September, then again earlier this week; they reportedly followed up their religious outing with dinner at Soho House in West Hollywood. Bieber and Paulin have yet to confirm if they truly are official, so all these outings could just be friendly encounters or the a very exclusive Bible study group.
In fact, an Bible study group more exclusive than his last. In August he attended the ZOE Church Conference in Los Angeles, where two of his ex-girlfriends, Hailey Baldwin and Selena Gomez, were also in attendance. (More recently, Justin has been linked to Madison Beer — though she denied any relationship — and in 2016, he was involved with Sofia Richie.
As for Paulin, the 26-year-old actress was born in Mexico but raised in Medellín, Colombia. According to her IMDb page, two episodes of Ballers are so far the only professional acting screen credits to her name, but she does have other talents. She's also "an avid painter, guitar player, and ballet dancer." She's also "active in various sports, including tennis and swimming." So that's nice.
She has a background as a model and was signed to Elite Model Management in 2012, where she racked up some experience on the Miami SwimWeek runways. She's also done commercial work and pulled hosting duty for Vida Miami TV and CNN Latino.
Paulin has 101,000 followers on Instagram (though, who knows how many hit the "follow" button after the Bieber rumors surfaced).
Related: Justin Bieber Is Reportedly Having Trouble Finding Someone to Rent Their Beverly Hills Home to Him
Gigi Hadid, Karaoke Star, Takes On "Baby" by Justin Bieber: