Justin Bieber and Tom Holland Had an Instagram Live "Bro" Fest
Thanks to Instagram Live, every celebrity is an interviewer during the time of the coronavirus.
---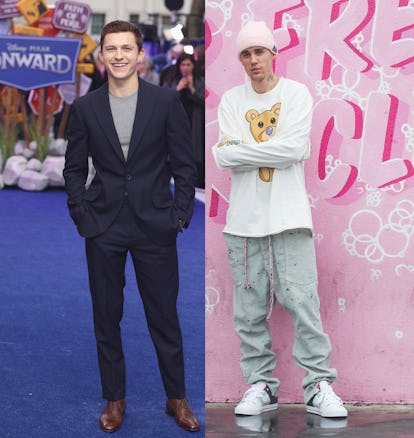 Courtesy of Getty Images.
A cursory tally of every "bro" uttered in the first 30 seconds of the two-minute clip of Justin Bieber and Tom Holland chatting away on Instagram Live during quarantine brings the number to four, which is about three too many.
"Bro, such a big fan, man," Bieber told Holland, who returned the sentiment by saying, "Likewise, bro," and asking how quarantine life is going for the pop star, who recently had to postpone the rest of his 2020 concert dates.
Bieber's Instagram followers are already familiar with the fact that he has been busy creating his own TikTok dances and playing "the floor is lava" in his palatial Los Angeles home, while his wife, Hailey Bieber, has been doling out skincare advice on her Instagram Stories.
Holland revealed that on his first day of shooting a new movie called Uncharted, which is based on a video game, production was halted due to COVID-19 concerns and the actor had to fly from Berlin back to his home in London, which is where he's been quarantined with some pals.
He told Bieber he and his buddies have been watching a show called Alone, which is a History Channel reality series that places survivalists in a harsh wilderness landscape and demands that they figure out how to endure. "Bro, you have to watch this show," he said to Bieber.
"This is kind of wild, man. This is kind of wild," Holland told Bieber, who, incredulous to the fact that Holland would find an Instagram Live session with him out of the ordinary, simply asked him "Why?"
But Holland's surprise at being invited into Bieber's Instagram Live video last night is actually quite believable, especially when you consider that the two have never met IRL.
About a month ago, while promoting his animated Pixar film Onward, Holland spoke highly of Bieber and his YouTube documentary, Seasons. "With what he's been doing with that show that he's doing on YouTube, I just really enjoyed that because it was nice to see that someone who goes through it in the biggest way possible also has a hard time, and I just felt like there was a real solidarity for young people going through—no one goes through it like he does, but we all go through it a little bit and I was really grateful to see that side of him, I guess," the actor said, sounding like a bit of a fanboy. "I'm just really happy that he's happy. He just seems so happy."
These two just prove that in the time of social distancing, friendships can be forged from miles away, and fanboys can still meet their idols.
Related: Justin Bieber's Missing Cat Sushi Was Found By a Television Chef