The New Guard: J.W. Anderson
For J.W. Anderson, London's hottest designer—and recent Versus appointee—fashion is all about pushing the envelope.
---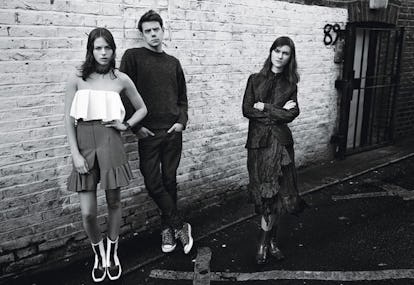 On a brisk January morning, just minutes after his spring 2013 men's wear show, Jonathan Anderson, sleep-deprived but happy, is sipping a Coke in a Central London bar. The collection, it's safe to say, caused a stir. London's Daily Mail would later comment that, thanks to Anderson, "the humiliation of models was made truly complete." Style.com described "a kind of put-together '60s jolie madame made into a twisted joli monsieur." The designer, however, doesn't seem the slightest bit concerned. "If you can get a bustier and shorts working on a man, that's a feat in itself," he says.
It's hard to argue with that statement, and the fact that said bustier and shorts—which were very short and broadly frilled at the hem—were shown on hairy muscular thighs and with ruffle-topped riding boots made the feat all the more remarkable. But while his men's wear may look like women's wear, and vice versa, Anderson—whose label is called J.W. Anderson—insists he's not after shock value. Instead, he says, the quasi-cross-dressing that has become his signature stems from a belief that, when it comes to gender, "there really is no clear divide, and the minute you put one up, you limit everything."
Anderson launched his men's collection in 2008 and branched out into women's two years later, spurred on by the many ladies who were buying his clothes. In the time since, his point of view has been uncompromisingly challenging. From a buttoned-up take on men's silk paisley pajamas to bulky waffle-knit sweaters, quilted A-line skirts, and this season's oversize, spongy cotton trousers, his women's wear is not exactly flattering. "I used to be obsessed with ugly," he says, adding that these days he's more interested in the idea of architecture and often designs with "a sort of kinky bourgeois woman" in mind. "When I'm doing a show, people have to leave either loving or hating it," he says. "If it all makes sense in the moment, then I'm not doing my job properly. It has to make sense later, in three or four months."
Despite his unwillingness to cater to convention, Anderson says sales at his indie label "are growing year after year." And as a designer, his reach extends well beyond the conceptual-fashion fringe: He's done two collaborations with Topshop and last autumn was tapped to design capsule collections of both men's and women's wear for Versace's Versus line. It's quite an impressive résumé for someone two years shy of his 30th birthday.
Anderson's path into the fashion world was a bit unexpected. He was born in Northern Ireland, where his father, Willie, is a sports hero, having headed the national rugby team in the late '80s. After school, and following a stint with the National Youth Music Theatre ("I was running around a stage being a fairy with war paint on"), he trained as an actor. "Randomly I got into the Studio Theatre in Washington, D.C. I did it for a year and a half, and then I dropped out. My parents were like, 'Come home right now! You're spending way too much money.' "
Back in Dublin, he got a job at the Brown Thomas department store selling and displaying men's wear. After a few years, he moved to London, where he dressed windows at Prada under the supervision of ­Miuccia Prada's close collaborator Manuela Pavesi. He also studied men's wear at the London ­College of Fashion but was, by his own admission, not the greatest student. He learned more from the clarity of Pavesi's eye. "I have never known anyone with such a distinct vision," Anderson says. He scraped through his degree, graduating in 2005. "I submitted window displays and a collection that involved see-through underwear, insects in resin, and Aran knits. It was a disgusting mess."
Still, he decided to start his own label, building it bit by bit. "It began with a brooch, then came knitwear, and then we did a show in a church where, like, 200 people turned up," Anderson says. Today, with a team of just 11, he designs six collections a year, not including Versus. "It's a monumental amount of work, and we're literally in the studio day and night." It's his determination to shape tastes and be part of the larger fashion conversation that keeps him going. "I want to improve with every show and also to be an influencer in some way. If you restrict yourself to doing commercial rags, this industry becomes a duty-free airport, and that's really depressing. That's not why I got into it."
Models: Rosie Tapner and Ella Warren at Storm.