Kacey Musgraves Is "Pissed" Her Gay Fans Have Felt Excluded From Country Music
"Oh, my god, you're invited to my party."
---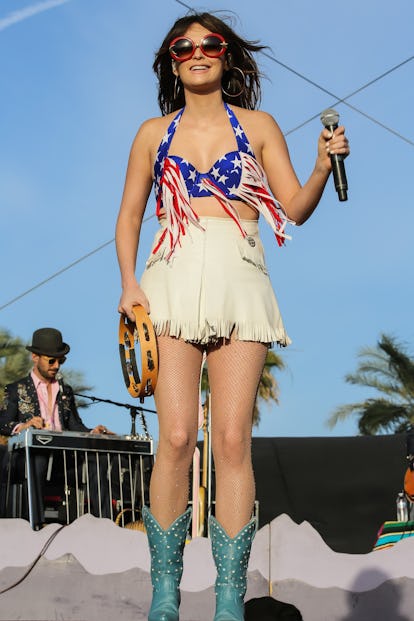 Chelsea Lauren
Kacey Musgraves is thrilled to be a gay icon but less than thrilled that country music has not, historically, been especially welcoming to the LGBTQ community.
On Friday night, Musgraves graced the New Yorker festival with her presence, sitting down for a conversation with the magazine's music writer Kelefeh Sanneh at Roulette, in Boerum Hill, Brooklyn. According to Vulture, an audience member asked Musgraves how she feels about being "an icon within the LGBTQ community," and while Musgraves said she was flattered to have earned such status, she was also "pissed" about how uninclusive the genre is reputed to be.
"Someone told me this recently, and it broke my heart: They said, 'I've grown up loving country music, and I grew up gay in a small town, and country music has always felt like a big party that I wasn't invited to,'" she said. "Oh, my god, you're invited to my party."
Per Vulture, Musgraves explained that when a close childhood friend came out to her shortly after they graduated high school, it ignited a sense of allyship with the LGBTQ community. "Thinking about him and all of those other kids who are, like, I love country music, why can't I be a part of this? Why isn't my narrative included?" she wondered. "I don't know."
In any case, her reputation as an ally has frequently been borne out in her music and career. She hosted a record-release party at a gay club in Nashville in 2015, sharing the stage with drag queens. (She's also expressed a desire to judge RuPaul's Drag Race and collaborate with Trixie Mattel. Mattel is also a fan.) She wrote an essay for Billboard at the start of Pride last year, illustrating how she was affected by her friend coming out. Earlier this year, with the release of her new album, Golden Hour, she told Huffington Post she longed for a day when she would be usurped by "a gay country music icon, that is loud and proud and really, like, a hero for country music fans," she said. "If we had someone who could be that voice, a first-person account of that voice in our genre," she added, "I think it could be a really powerful thing."
For now, though, Musgraves is going to continue to be "pissed" about how country, as a genre, has treated its gay fans.