Kacy Hill, a New Yeezus-Approved Musician
From backup dancer to signed artist.
---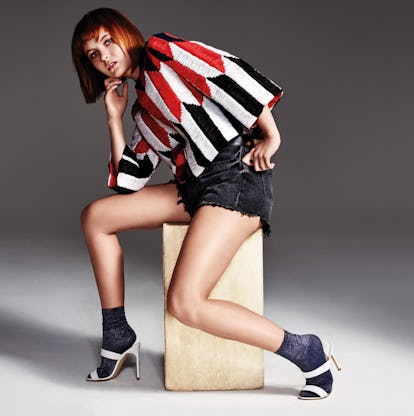 Photographer: Matthias Vriens-McGrath Stylist: Elizabeth Stewart
Just before she hit the road with Kanye West in 2013, as a backup dancer on his Yeezus tour, Kacy Hill recorded a song almost on a whim. "Experience" is an austere synth-pop ballad, in the vein of James Blake or FKA Twigs, that throbs with feeling. It was one of the first tracks she ever wrote. "I didn't even know songwriting structure," Hill, 21, admits. She played it for a makeup artist on the tour, who passed it along to a stylist, and so on, until the track finally found its way to West, who asked Hill to meet him after a show. "I was sweating the whole time," she recalls. "And I had on this really ugly jacket." It didn't seem to matter, because West signed her to his label G.O.O.D. Music, which will put out the Los Angeles singer's debut album in early 2016 (she released an EP, Bloo, in October). It's a startling trajectory, especially for someone who never really harbored chart-topping aspirations. She says she needed a year just to figure out what her music should not sound like (namely, "computer music"). What it does sound like is the propulsive work of a pop star—even if she doesn't feel like one yet. "It's still surreal to me."
Hair by Chris McMillan for Living Proof at soloartists.com (HILL) and Peter Savic at Opus Beauty (HASSON and Halsey); Makeup by Nathan Hejl for Tom Ford; Digital Technician: Casey Cunneen; photography assistant: Jay Mims; fashion assistant: Katie Bofshever.