Katie Holmes' Next Role Is the Star of The Secret
The Katie Holmes renaissance is nigh.
---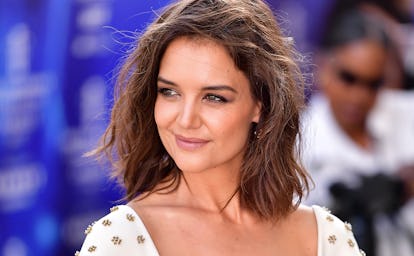 James Devaney/Getty Images
Over the past year or so Katie Holmes has spent much of her time behind camera, having made her directorial debut with last year's All We Had, but soon that will change. The Dawson's Creek alumni has just landed yet another starring role, this time bringing to life the 2006 best-seller self-help book The Secret. Yes, The Secret, the plotless Oprah-aproved book about the power of positive attraction.
The Hollywood Reporter notes that Holmes will be playing a "young widow with three children who hires a handyman to fix her house during a terrible storm." The two apparently bond and the handyman clues her in to his understanding of the universe's powers before Holmes' character realizes her connection to him. "Our filmmakers have created a compelling family love story that embodies the principles of The Secret," producer Robert Cort told THR. "We intend to make a film as funny, emotional and endearing as its message is hopeful." It all sounds pretty mysterious, which is fitting for a book and film titled The Secret.
Either way, Katie Holmes seems primed to have somewhat of a renaissance in the coming year. Aside from starring in The Secret — a film which could draw the book's mega global following, which includes over 30 million copies that have been sold worldwide — Holmes will also be appearing in another hotly anticipated project, the female remake of Ocean's Eleven dubbed Ocean's Eight.. Directed by Gary Ross of The Hunger Games and Pleasantville fame, the film co-stars Cate Blanchett, Anne Hathaway, Helena Bonham Caret, Dakota Fanning, Sandra Bullock, Sarah Paulson, Mindy Kaling and, perhaps most excitedly, Rihanna. The film revolves around Danny Ocean's sister played by Bullock who organizes a heist attempt at the Met Gala according to IMDB. As of now, the release date is slated for June 8, 2018. Holmes has also been keeping busy while shooting The Gift, which co-stars Patrick Stewart and Giancarlo Esposito.
As for Holmes public life, she's kept a relatively low profile over the past year, though she did recently grant an interview to Town & Country where she spoke about how she shields herself from the paparazzi. "There are more important things," she said. "But it's very relatable to me; if people know who you are, they might write about you, and you can't control that."
Related: Everyone From Katie Holmes to Adam Driver Shows Up In the Bonkers Logan Lucky Trailer
See What's Trending in W Video: