Sen. Kamala Harris Told to Be "Courteous" In The Middle of Hearing About Russian Hacking
Sen. Kamala Harris was asking tough questions during a Senate Hearing about Russia hacking today, but interrupted and told to remain "courteous."
---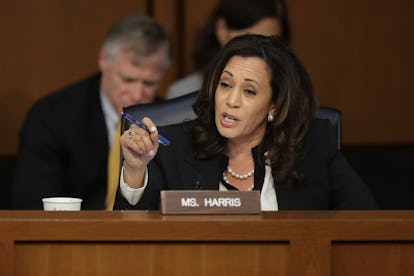 Chip Somodevilla
At a hearing of the Senate Intelligence Committee this morning Democratic Senator Kamala Harris of California was interrupted and reprimanded by the committee's chairman, Senator Richard Burr, a Republican from North Carolina for her aggressive questioning of Deputy Attorney General Rod Rosenstein.
As you can see in the video below, Harris' questions are related to the independence of Robert Muller, the recently named special prosecutor for Russia's alleged hacking during the 2016 election and its general sway over the Trump White House.
"The committee is on notice to provide the witnesses the courtesy," Burr says as he interrupts, "which has not been extended all the way across, for questions to be answered."
The interaction in question gained attention because Harris' questions not only weren't disrespectful, they were extremely germaine. In a piece from a few weeks ago titled "Recuse Yourself, Rod Rosenstein," Slate pointed out that "Mueller remains very much under Rosenstein's thumb. Under Justice Department regulations, Rosenstein has control over Mueller's budget and can decide at the start of any federal fiscal year (the beginning of October) to shut down Mueller's investigation." Rosenstein, you may recall, was the person the Trump administration tried to use to create a phony paper trail saying that the idea to fire FBI Director James Comey originated with the Justice Department, rather than with the White House Comey was investigating. This effort was almost immediately destroyed by the president himself when he told Lester Holt that the idea to fire Comey originated with Trump, end of story, but Rosenstein was the guy in the Justice Department who was tasked with writing a memo.
So what we have here would appear to be an Elizabeth Warren-style "Yet She Persisted"-style silencing. Only this time, on top of everything else, the woman is of color and until recently the state attorney general for California, meaning she's both good at law and asking questions. Almost more disappointing, though, is the idea of the chairman of the Senate Intelligence Committee not wanting to ensure the independence and longevity of Mueller investigation. Some Republicans in the Senate seem to be more and more casting their lots in with a controversial administration, and silencing women to do it.
Related: Here's The Moment Sally Yates Out-Lawyered Ted Cruz