The Vice Presidential Debate Is Shaping Up to Be Must-See TV
Reactions to Kamala Harris selected as Joe Biden's Democratic Party running mate indicate that all eyes will be on the Vice Presidential debate this fall.
---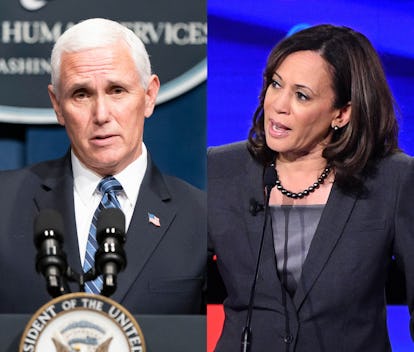 Photos courtesy of Getty Images
After days of hinting that he would announce his choice for the Vice President slot on the Democratic Party ticket for the election in November, Joe Biden finally revealed his pick: Senator Kamala Harris.
It's an historic move—Harris is not the first Black woman to be nominated for Vice President (that would be Charlotta Bass, in 1952), but she is the first Black woman to be nominated by a major party (Bass ran with the Progressive Party, not the Democratic Party). A the first South Asian-American Senator in American history, she's also the first person of Indian descent to be nominated by a major party. More surprisingly, she's also the first California Democrat to be chosen for a national presidential ticket.
The response to Biden's appointment of Harris to be his running mate revealed that, while not everyone agrees with the choice, many are looking forward to Wednesday, October 7, when Harris will go toe to toe with Republican candidate and current Vice President Mike Pence at the 2020 Vice Presidential Debate in Salt Lake City.
Given Harris' performance in the Democratic primary debates, and her strong line of questioning of Attorney General William Barr and Brett Kavanaugh, it is not out of the realm of possibility that she will come to the Vice Presidential debate with enough tenacity to win the debate.
As is par for the course when it comes to politics in 2020, the memes have already begun to circulate—with the subtext of most of them being that Pence might not stand a chance up against Harris, and that we should all buckle up for an intense night, but with the occasional reminder that nothing about this debate is solely presented for our entertainment and would hopefully yield some promises for actual structural change we can vote for in November.
Related: Kamala Harris, California Senator and Woman of Color, Makes Jeff Sessions 'Nervous'