Kanye West Protégé HXLT: "I'm Kind of Like Bernie Sanders"
Nigel Holt, on the verge of a debut album on Kanye West's label, talks musical rebirth, Beyonce and recording with Kathleen Hanna.
---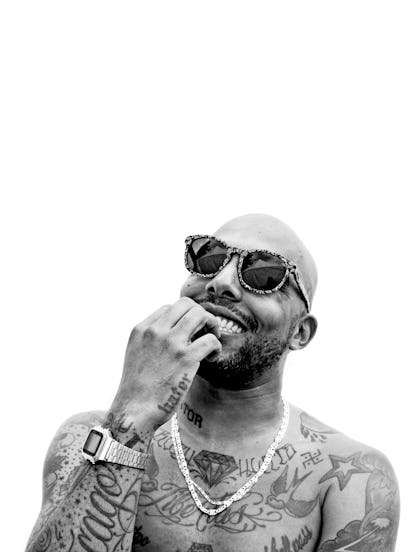 "Hollywood Holt," said Nigel Holt, with a generous laugh. "That was my rap name."
Holt, 33, now goes by the spelling HXLT, and his self-titled debut album, which exists in an intriguing space between hip-hop and punk rock, comes out Friday on Kanye West's G.O.O.D. Music. Even as he felt drawn to Chicago's vibrant hard rock scene, Holt only knew the rap world while growing up on West's home turf in Chicago's South Side.
"I always thought I was only capable of rapping because everything around me was all this gangster s–t," he said.
Not that the irrepressible Holt didn't get around. After making a couple of party rap tracks that made him Myspace-famous, Holt signed, as Hollywood, to the local label Chocolate Industries in 2007. He went on tour with Kid Cudi; promoted some of Chicago's craziest parties; fought skinheads at punk shows; and helped creative direct the career of Lupe Fiasco. "I'm kind of like Bernie Sanders," he joked. "Look back 10 years and you'll find all this crazy stuff about me."
Meanwhile, as he feuded with his label, which refused to release his albums, Holt stayed in touch with West through his manager, Don C., an old friend, and Virgil Abloh, another local boy made good. ("Virgil was always into fashion," Holt recalled. "He was always designing.") Eventually, he grew so frustrated with his rap career that he went into the studio alone, with only an engineer, and started making minimalist, guitar-driven songs with a hip-hop rhythm.
One day, in 2011, he was at a bar in New York with Joel and Benji Madden, of Good Charlotte — I must've cackled unconsciously, because Holt quickly added, "They're friends, and I don't care who knows!" — when West walked in. The Windy City natives reconnected, and after West gave him a sneak peek at the upcoming Watch the Throne album, Holt returned the favor by playing him one of the new songs he was working on, a cover of Amy Winehouse's "Back to Black."
West was intrigued, and asked Holt if he could hold onto it. Time passed, until Holt began hearing rumors that Beyoncé was recording over his production. "Then Kanye sent me a link," he recalled. "I thought it was going to just be a song, but it was the trailer for The Great Gatsby. I was trying not to freak out! The first beat I ever made, and there's Beyoncé and Andre 3000 on it, in the biggest movie of the year."
After G.O.O.D. signed him up, Holt's rebirth, from Hollywood to HXLT, began to take shape. This time, he was determined not to let any outside influences, whether it be a contract dispute or peer pressure or a stubborn producer, get in the way. "I didn't want anyone else on the album," he said (although one song is produced by his cousin, Mano). He made an exception for the riot grrrl icon Kathleen Hanna, who duets with Holt on the empowered "Together." "Because she's the triple O.G. of everything cool," he said.
Holt's fusion of rap and punk and rock is, in fact, remarkably smooth and spare. And having spent a lifetime being boxed in, he now resists any definition. "I"m not a punk artist, and I'm not a rapper," he said. "I just make music that sounds good."