9 Minutes of Artist Kanye West
The musician discusses his cinematic collaboration with Steve McQueen.
---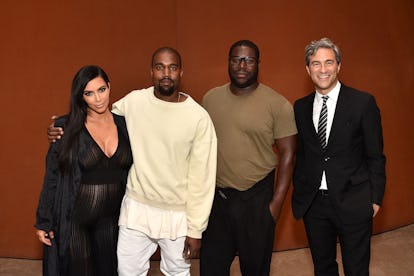 On Friday night, hip-hop megastar and fashion designer Kanye West joined artist and 12 Years a Slave director Steve McQueen, and Los Angeles County Museum of Art director Michael Govan for the stateside debut of West and McQueen's collaborative art film, "All Day/I Feel Like That," which premiered at the Fondation Louis Vuitton in Paris earlier this year. "I would trade two Grammies to be seen in an art context," West told the intimate audience, who had surrendered all phones, recorders, and cameras at the door for the screening and conversation.
"It's about the gaze," explained McQueen of the ultra-simplistic, 9-minute-long film, which features nothing but West in a dilapidated English dockyard, making intense eye contact with the camera. The rawness of his expressions span the arc between anger and vulnerability. When the soundtrack shifts between aggressive beats of "All Day" to the chillingly heartfelt notes of "I Feel Like That," West collapses of apparent exhaustion, sliding down a wall to firmly plant himself on the floor. "It's just being a Gemini," West joked about the abrupt change in mood. "You just feel how you fucking feel."
The film came about with very little preparation—maybe five days' notice, following a chance meeting between the two artists at London's Dover Street Market. West had been a fan of both McQueen's movies and the artwork he had seen at the Shaulager museum in Basel, Switzerland. Speaking on his admiration for McQueen's "genre-bending" approach to art, West lamented the "few artists in music left," describing the music industry as a war of commercial sponsorships. True art in the vein of McQueen's, he said, "reaches into your soul like Indiana Jones and pulls your fucking heart out." The admiration, of course, is mutual. "He pierced through my armor," said McQueen, describing the way goosebumps shot up his arm when he first heard West's song "I Feel Like That." "Thank goodness, there's something beautiful in the world."
"All Day/I Feel Like That" is on view at LACMA through Tuesday, July 28th.