Kanye West Reveals "The Best Album of All Time"
Will Kylie Jenner make a cameo?
---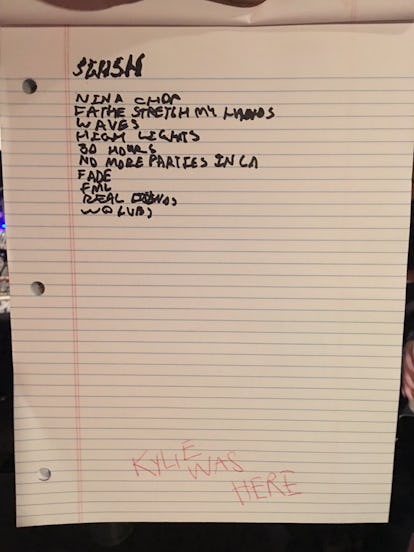 Kanye West released the track list late last night via Twitter for his new album Swish, calling it "the best album of all time."
The image of the track list featured the names of 10 songs scribbled out on notepad paper, including some of his previously released tracks like "Real Friends" and "No More Parties in L.A.," and leaving out a handful of songs that were expected to be on it, like "All Day" and "Only One." As for the other songs on the list, the Internet tried assorted tactics in an attempt to decode the nearly illegible handwriting. We zoomed in as much as possible on our iPhones, while others enlisted handwriting experts.
The easiest thing to read, as it turns out, was the note at the bottom of the paper in red ink: "KYLIE WAS HERE." Presumably, the youngest Kardashian-Jenner tagged it herself, leaving us to wonder if she might make a cameo on the album. She has said before that she's interested in a music career, so perhaps this is where she'll kick things off. Or, maybe Kylie was just being Kylie, and wanted to make her own mark on what Kanye calls his greatest work ever.
Until the highly anticipated released of the album on February 11, we have a few weeks to continue guessing what these songs will sound like, and if Kylie will play a part in it. To borrow the words of Yeezus, and the title of one of his new songs, "FML."