Celebrities Have Had It With Kanye West's Pro-Trump Antics
They're publicly staging an intervention.
---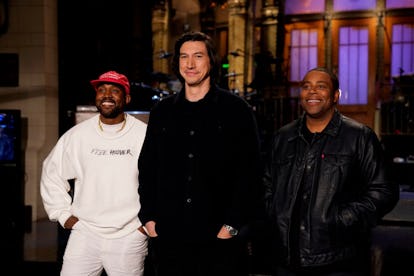 NBC/Getty Images
After Kanye West's closing performance during the season premiere of Saturday Night Live on Saturday, Chris Rock captured the rapper's incoherent post-credits rant onstage on Instagram Stories: West praised Donald Trump while wearing a red "Make America Great Again" hat, to boos and snickers from the studio audience.
The musician's appearance on SNL was also supposed to double as promotion for his follow up to Ye, the album he released this summer. The new album, titled Yandhi, did not drop on September 29 as planned, and was only confirmed on Monday to officially release on November 23, according to a tweet from Kim Kardashian. Fans, fellow musicians, and the media expressed their disappointment with the lack of the album by posting memes to their social media accounts, but it was more than just the delayed release that got under everyone's skin.
On Sunday, West posted a selfie of himself in a MAGA hat on a private jet, along with a caption that does not seem to show any significant comprehension of the United States Constitution and the 13th Amendment, which abolished slavery and was ratified in December of 1865, after the Civil War ended. "This represents good and America becoming whole again," West wrote about MAGA . "We will no longer outsource to other countries. We build factories here in America and create jobs. We will provide jobs for all who are free from prisons as we abolish the 13th Amendment. Message sent with love," he concluded. He later clarified that he wants to "amend" the 13th Amendment rather than simply abolish it, but then retweeted Trump himself, who wrote that SNL is now "just a political ad for the Dems" and that West's decision to wear the MAGA hat onstage signifies that he is "leading the charge."
This seems to have been the final straw for many fans of West, including celebrities who may have once been fans of his music but who are now officially sick and tired of being sick and tired of his MAGA antics, according to the responses to his latest tip of the hat to Trump. Earlier this year, Janelle Monae distanced herself from West's line of thought during a radio appearance, and John Legend's pleading texts to convince West to not support Trump were leaked by the rapper on Twitter. But there is now a sizable running list of musicians, actors, and other public figures who have publicly lost patience with anything West says insofar as his musings relate to Trump or ignorant misreadings of the symbolism of the MAGA hat.
Chris Evans, for one, tweeted West to explain what he sees as the danger of such an influential figure like West aligning himself with the MAGA hat and what it represents (or, rather, what West thinks it represents). "There's nothing more maddening than debating someone who doesn't know history, doesn't read books, and frames their myopia as virtue," Evans wrote. "The level of unapologetic conjecture I've encountered lately isn't just frustrating, it's retrogressive, unprecedented, and absolutely terrifying," he went on. When Captain America himself has to publicly take a stand against you, then you know you're in hot water.
Alec Baldwin, another outspoken critic of Trump, also took to Twitter to call out West in a five-part thread, reminding West that his support of Trump is his "right" while addressing West's "betrayal" of what he calls the "Artists' pact," or the unspoken agreement between celebrities and entertainers like Baldwin or West that places them in a position of servitude toward the public, or as truth tellers for the audience. "Wealth and celebrity are never signs of character. They are signs of luck, in some cases hard work, and the odd obsessions of any given culture," Baldwin tweeted. "Trump is perhaps the most perverse manifestation of the wealth/celebrity sweepstakes. The prize is the presidency itself," he went on.
Even Lana Del Rey, who performed at West's wedding to Kim Kardashian, in 2014, expressed her disappointment with the rapper in the comments section of his Instagram post. "If you think it's all right to support someone who believes it's OK to grab a woman by the pussy just because he's famous—then you need an intervention as much as he does—something so many narcissists will never get because there just isn't enough help for the issue," she wrote, before signing off with, "Message sent with concern that will never be addressed."
Snoop Dogg also went off in the Instagram comments, telling West, "Make ya music great again" before calling him an "Uncle Tom."
And Macy Gray chalked West's antics up to shoddy album promo hijinks.
And while West might chalk this response up to "cancel culture," it does not seem like much of an exaggeration to say that the culture is losing its patience with him.
Related: Kim Kardashian and Kanye West Once Had a Huge Fight Over Her Instagram Layout